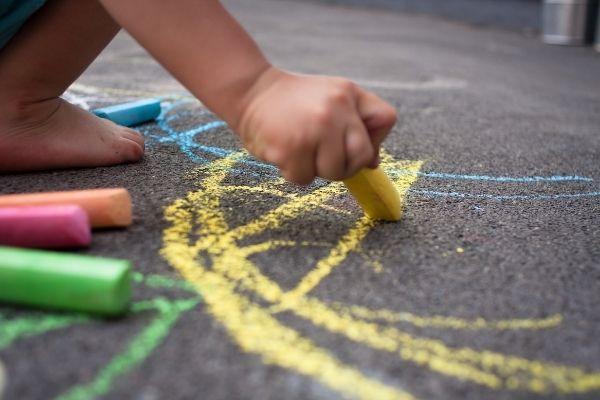 Kids have gotten comfortable being indoors with their plethora of options for entertainment. While being outside is good for kids physically, mentally, and emotionally, it can be hard to come up with creative playdate ideas. If you want to spend some time outdoors enjoying the weather with your kiddos, get your kids outside this spring and watch them flourish!
Natural Creations
We've been making art with natural materials since the beginning of time. Grab a box or bag and head outside with your kids to gather rocks, sticks, and leaves. Then, have your kids arrange them into silly faces or animals. You can also add other items on nature walks, such as acorns, chestnuts, and pinecones. They might enjoy this activity so much that they want to spend the whole day collecting things for their next creation!
Chalk It Up
Give your little ones some washable chalk so they can draw pictures on the pathway or driveway. Or challenge them to write out their letters or numbers using chalk. They won't stop until they've filled the whole driveway with pictures. Their joy will be obvious!
This activity is incredibly simple, but it works nearly every time. It's a fun way to introduce your kid to handwriting and hone fine motor skills in general (this is invaluable, especially for preschoolers). Make sure your child has enough space! If you're short on surface area outside your home, try going to your local park or playground; most have sidewalks perfect for this kind of activity.
Water Play
Water gun fights are great fun when it's hot out. Kids can run around, get wet, cool off, and have fun simultaneously. Don't forget to put on sunscreen before going outside! The sun will often be shining, and it will be easy to get burned if you forget. Make sure to protect their little heads with hats too!
While it may be fun for kids to swipe away on a tablet, I don't know a kid anywhere who can turn down a water fight. Grab your swimsuit too, Mom! Getting your kids outside this spring means you must participate as well.
Grow Some Fun
Have your children help you plant seeds in containers such as empty egg cartons. As they watch their plants grow over time, they'll be more likely to respect and care for nature in other ways as well.
When children grow plants from seeds, they learn about responsibility and may even be more willing to try new fruits and vegetables. Plant a bean seed in a yogurt cup or build a garden together in the backyard.