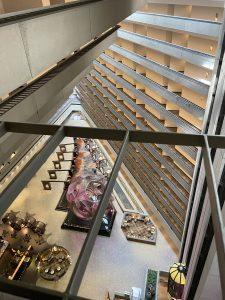 The San Franciscan waterfront is home to the world's most famous wharf as well as the viewpoint of one of the most iconic harbor views ever. From Full House to Princess Diaries to Shang Chi to How to Lose a Guy in 10 Days, San Francisco is THE CITY to be based. When we were living in the City, our son was too young to remember any of the iconic destinations by the bay – in particular, he had no idea we used to frequent Fishermen's Wharf, Pier 39, and the Ferry Building for special occasions and after an afternoon Giants' game. It is well-known that Hyatt Regency San Francisco has the best waterfront view in town, and we chose to spend the very special Father's Day long weekend there as a staycation to create some lasting memories for our little family.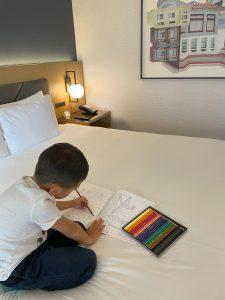 The Hyatt Regency San Francisco, located in the heart of the Embarcadero district, originally opened in 1973. The hotel was designed by renowned brutalist architect John Portman, with a neo-futuristic vision that remains just as captivating to this day. The property's unique plaza features a wedge shape that opens to the bay providing unparalleled views of both the city and the water. From the moment we arrived at the cavernous lobby, which holds the Guinness World Record for the largest hotel lobby spreading at 42,000 square feet, we were immediately greeted by a towering 17-story atrium.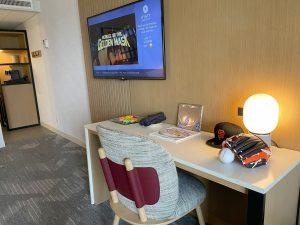 After a smooth check-in, we swung by the Market for some snacks and juice, and I noticed a shelf filled with OTC medicine in sample packs for allergies and other common ailments, free for guests to take – this mama approves! The 821 guest rooms, including 45 suites, recently received a $50 Million renovation that transformed the spaces into sophisticated urban retreats with an inviting modernist style. And boy, did we revel in our renovated room with a bay view! Upon entry into our room, 'oohs' and 'ahhs' escaped all of our mouths as we marveled at the many thoughtful touches made to make our family staycation special.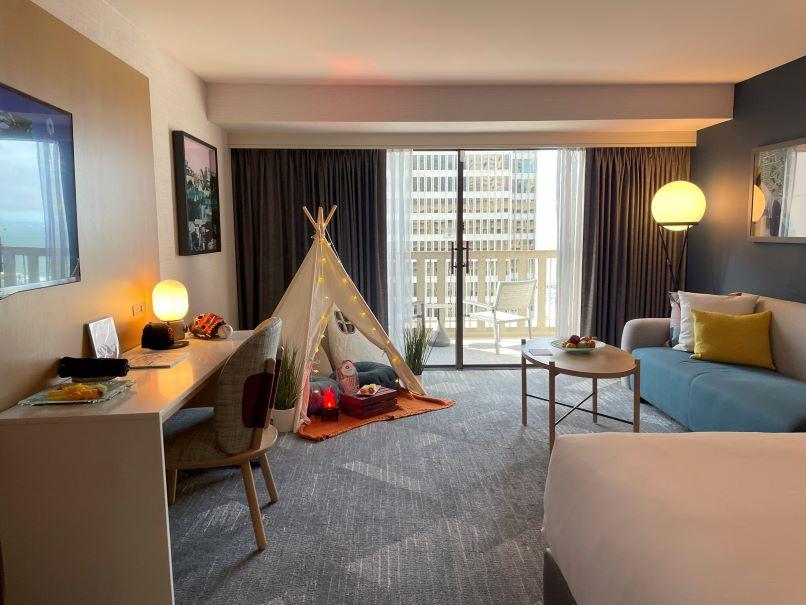 There was a most adorable teepee set up in the back corner of the room, which our son claimed within the first 2 seconds, and before that – a great entryway closet with slippers, soft robes, fridge, coffee machine, ice bucket, and plenty of room for luggage. The bathroom is spacious and equipped with a bathtub perfect for younger kids and tired parents. We loved the bright, urban modernist vibe of the room and its furniture.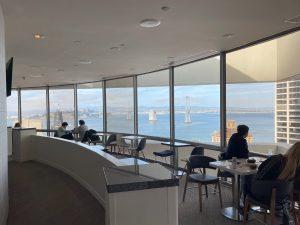 It was most difficult to tear us away from our room, but we couldn't miss catching the sunset with 360-degree views of San Francisco and its iconic bay at the rooftop Regency Club! Oh, and there are plenty of snacks and beverages for the hungry bears in the fam. If you haven't already, I highly recommend checking out Eclipse Kitchen and Bar, located at the lobby level and adjacent to a shared play space for all ages (with a TV broadcasting family movies on rotation too!). The service and food were equally exquisite – so much so that it was one of our most enjoyable dining experiences as a family so far.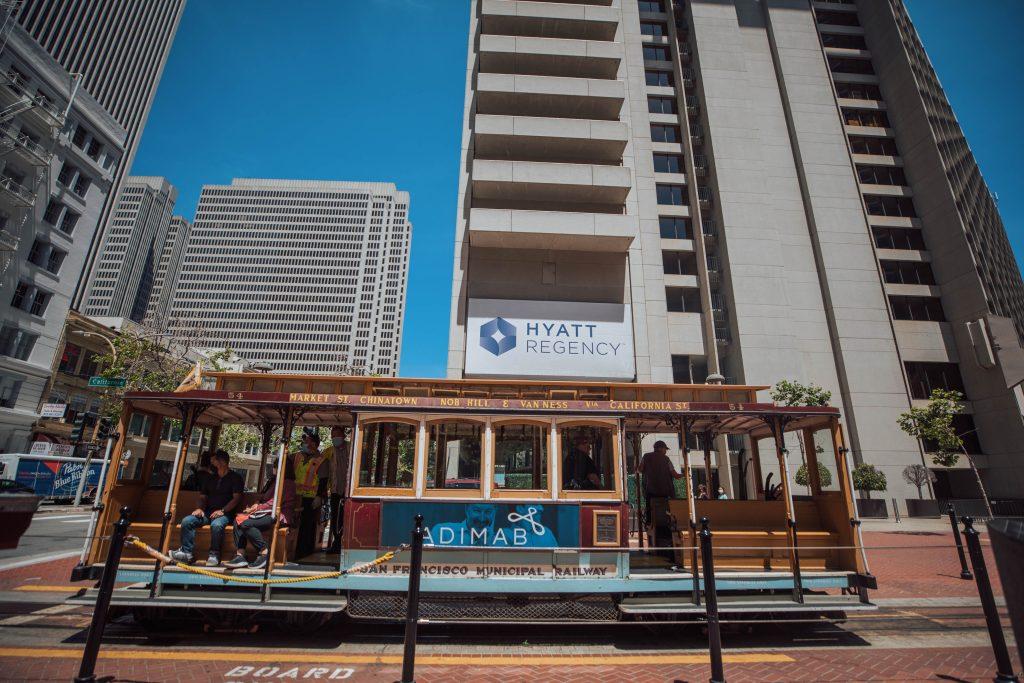 San Francisco is also celebrating the anniversary of two other iconic relics in the Embarcadero District. Just steps away from Hyatt Regency San Francisco, the historic Ferry Building is celebrating 125 years and the world-famous San Francisco Cable Cars, which has a stop just outside the hotel doors, is celebrating 150 years. We took full opportunity of these anniversaries and played tourist to our hearts' desire by utilizing our Muni all-day passes (pro tip: always get the passes if you're planning on exploring the city by public transportation/on foot) before exploring the Ferry Building to shop for local delicacies (you won't regret El Porteño empanadas), artisan goods (we love Heath Ceramics and Fog City Flea Trading Post), and more delectable eats (our must-try: Señor Sisig).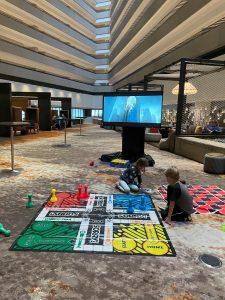 This year, Hyatt Regency San Francisco is celebrating 50 years as the Embarcadero's premier waterfront hotel with the Golden Anniversary Escape package, available for booking starting May 11 through the end of the year, for reservations from now until  December 31, 2023. The celebratory package will include:
An upgraded room type
Complimentary access to the Regency Club
(2) Two signature Anniversary Celebratory Cocktails upon check-in
(2) Two tickets to the world-famous Cable Car (Embarcadero stop is just outside the hotel)
A custom-designed John Portman postcard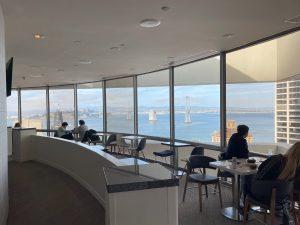 In honor of National Dog Day (August 26) Hyatt Regency San Francisco is making it even easier for travelers to experience the Bay with four-legged friends. The Embarcadero District's premier waterfront hotel is waiving the $100/night pet fee for weekend stays during the month of August. Request a dog-friendly room upon booking and hotel staff will have dog amenities in rooms upon arrival.
If you're planning a staycation for the Fall, here are some family-friendly events you may consider checking out:
Outside Lands (AUGUST 11 – 13): Brace yourself for the epic Outside Lands festival, hitting the Bay Area from August 11 to 13! Get ready to immerse yourself in a whirlwind of music, arts, and culture as this incredible event takes the city by storm.
Ghirardelli Chocolate Festival (SEPTEMBER 14 – 15): Calling all chocolate lovers! The delectable Ghirardelli Chocolate Festival is back, gracing the Bay Area on September 14 – 15. Prepare your taste buds for a delightful journey as you savor an array of mouthwatering chocolate creations from the renowned Ghirardelli Chocolate Company. From luscious truffles to sumptuous chocolate ice cream, this festival is a true paradise for all sweet enthusiasts!
Fleet Week (OCTOBER 2 – 10): Get ready for a week of high-flying excitement! Fleet Week is back, soaring into action from October 2 to 10. Brace yourself for heart-pounding performances by the world-renowned US Navy Blue Angels, taking to the skies on Friday, Saturday, and Sunday afternoons (October 6, 7, & 8) from 3 pm to 4 pm. It's a spectacle you won't want to miss!
Alcatraz Night Tour: Brace yourself for a hauntingly captivating experience with the Alcatraz Night Tour! This exclusive evening adventure takes you to the infamous Alcatraz Island after dark. Wander through the historic prison grounds under the moonlight, and let chilling stories of notorious inmates send shivers down your spine. This spine-tingling tour provides a rare glimpse into the eerie history of Alcatraz and is not for the faint of heart!