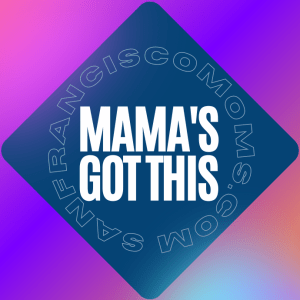 Bumper stickers – gotta love them! Nowadays, they not only go on the back of your family car, but also on your luggage, tumblers, and laptops. With quality printing and materials, bumper stickers can last for years and won't leave any residue when it's time to change things up. As millennials, we have a soft spot for well-designed stickers and those that stir up childhood nostalgia. As moms, these stickers can also be used to cheer on our kids' sports teams, our own special projects, or just simply to represent a proud San Francisco Bay Area mama!
With the help of AllStickerPrinting, SFBAM has printed some nifty custom stickers in support of motherhood. Now, we're completely hooked and are looking at printing more. If you're looking to join the club, we have come up with some hella fresh sayings for bumper stickers for your family car or whatever surface that tickles your fancy:
Mama's Got This
Shout it from the rooftops! You got this!
Family on Board
This one will last a lot longer than the baby version.
Wife. Mom. Boss.
Stay hella proud of all you are and all you do.
The Mom Mobile
Print it on a bat-shaped decal and you'll gain tons of street cred.
Live Long & Prosper
Let's all live to drive another day!
Momster Mobile
You don't want to be on the wrong side of the road with this one.
Mom's Taxi Service
For the hustling and bustling chauffeur mom life.
Good Mom with Hood Playlist
Say what, say what, say what. Girl, you know what's up.
Instant Mom: Just Add Coffee
Read the instructions!
Parenting Style: Survivalist
Just scraping by, please don't tailgate me.
Messy Bun & Getting Stuff Done
This is how we do it.
"Drive Safe!" – Mom.
Because mom says so!