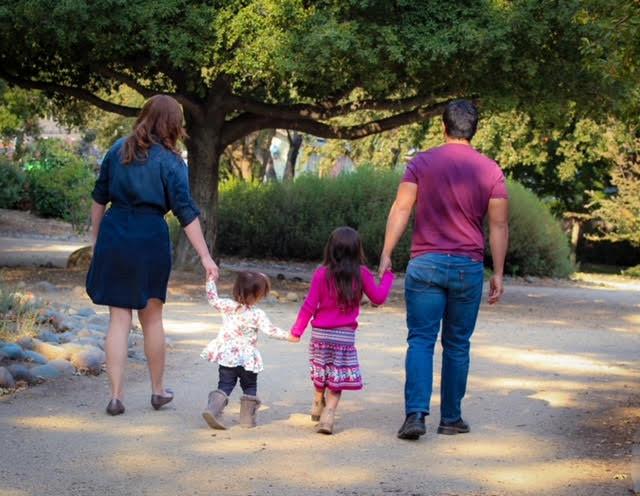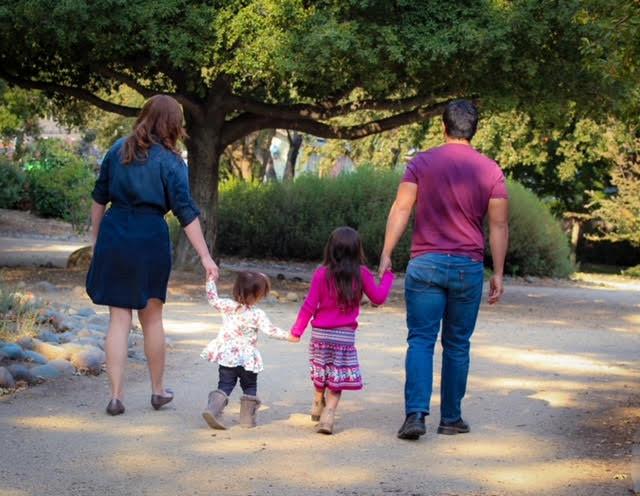 At the start of COVID, my husband and I agreed we would do whatever it took to keep the kids safe. My husband is a respiratory therapist, which is probably the worst job if you want to be away from COVID. But he is quite extraordinary and has kept us all safe. I was pregnant before the vaccine came out and terrified. We never took any chances, stopped going indoors, and didn't see many friends or family. I only did outdoor things and always had masks.
What are your limits of risk?
It got tricky when my older two were old enough for preschool and kindergarten. We were so focused on their physical health that we didn't focus on their mental health. How to do both was and still is a challenge. I recommend you talk with your doctor and find out what's at stake. Then talk with your partner and decide what your limits of risk are. If it happens, what will you do? How will you care for the kids if you get sick or vice versa? We don't have help, and the thought of risking the baby was just not something we wanted. We found outdoor and masked options. When our older child turned 6, the Pfizer vaccine came out, so she could be vaccinated, and we decided to have her join the masked classes.
Everything seemed to be working out. We had a few colds but no COVID. And best of all, our older children were in school, making friends and learning. I was grateful to be able to give them some joy in such dark times. Slowly things seemed to feel like we had a groove going, and that's always when life changes things. Suddenly because the omicron surge seemed less severe, they lifted the mask mandate. From one day to the next, my kindergartner was one of 3 kids with a mask inside her classroom. I had hoped they would give us till the end of the school year before changing things.
Our oldest daughter's test returned positive for COVID
A few weeks passed, and people seemed to think the pandemic was over; I rarely saw a mask in sight. Then we saw COVID positive cases rising, which, of course, would happen when no one was wearing masks. But I digress, soon, my daughter's teacher was COVID positive. I was worried, so we pulled them out of school for the week. Then two weeks later, the week before the last week of school, another classmate tested positive for COVID. Out of caution, we PCR tested. Not thinking much, my oldest daughter's test returned positive for COVID. I was shocked, scared, and angry. My daughter is vaccinated, wears her mask all the time (inside and out), and knows about keeping her distance. Why did she get it? I didn't know if any other students tested, but I was still so disappointed for her. She missed her last week of kindergarten and her kindergarten graduation party. Once again, the COVID pandemic had taken more away from her childhood experiences, crushing my mama bear heart.
A Positive Take on Being Positive
On a positive note, and yes, there are a few! She has been asymptomatic, which is great because I've been terrified of her. As for my younger and the baby, we are still waiting for their PCR test results, but they've also been asymptomatic. My husband and I had symptoms: body aches, fever, chills, nausea, diarrhea, headaches, and shortness of breath. At one point, I felt so weak that I couldn't get out of bed. I'm sure I didn't have it as bad as others, but it wasn't fun. We are both vaccinated and have one booster shot, but for whatever reason, we both tested negative. I'm still kind of confused.
Part of me was hoping to have all of us test positive, so I could ease up on the COVID caution. Yes, to be irresponsible and just let the kids be outside without their masks and play with friends, go to the community pool, and not worry if several people are there. I wanted that freedom. But when we tested negative, I felt like that was taken from me. And I have been quite angry about it. Thankfully, I have a great partner who helps me slowly calm down.
We had always said that once the younger two can have some protection, we will venture out a little bit more. I'm not saying we won't care; we will feel better about upping the risk because we will all have been vaccinated.
Take a deep breath.
From one mom to another mom: take a deep breath. I hope you avoid COVID, and I hope your children avoid COVID. Another positive note from this experience is how lucky we have so many beautiful friends. They showed up for us in wonderful ways, making me feel like we weren't alone in all of this. From flowers delivered, door dash gift cards, door dash meals, multiple donut deliveries, home test kits, handwritten get-well notes, chocolate croissants, and all the texts and calls to see how we all were doing and that they would be happy to help with anything we needed. I was very overwhelmingly surprised at all the love and kindness. For such a hard and dark time, I felt the light and love upon us. Thank you, everyone! So, it had a positive outcome after all, and I'm incredibly grateful for that.