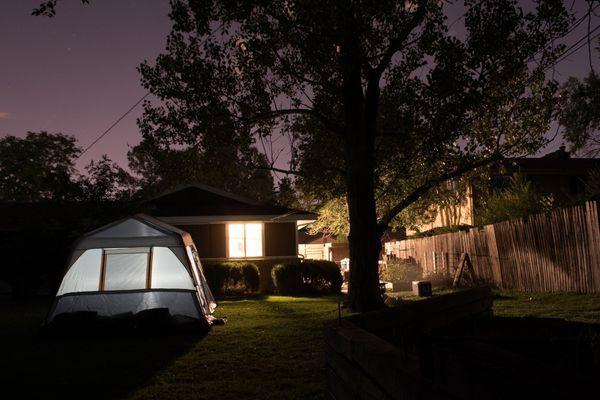 Many people love spending time outside, and one of the best ways to enjoy the outdoors is to go camping. Camping offers plenty of fun things for you and the family to do, but sometimes the packing and travel may be a bit too much. Instead, you can go camping in your backyard and give these four fun ideas a try, knowing the comfort of home is only a few steps away.
Create a Scavenger Hunt With Items in The Backyard
A scavenger hunt during the day is a good way to get active while outside, and when camping in your backyard, it is a fun and safe way to move around the campsite. You can use numerous items found in your backyard for the hunt, such as planting pots, lawn ornaments, sticks, leaves, or some of your camping items. Using a prize as an incentive to get people involved and excited about their localized camping trip can improve the fun.
Cook a Meal Using the Firepit
Eating around a firepit is a special occasion for many, and using fire to cook your food will make a unique meal. You can cook anything over a fire when you have the right cookware, and given that your home is only a few yards away, you won't need to worry about being unprepared. Aside from the fire-cooked meal, the firepit is great for s'mores and roasting hot dogs so that you can round out the camping experience for the whole family.
Camp Out Under the Night Sky
The sky during the night is normally tranquil, with a dark canvas and blots of stars. Laying out on the grass or blankets underneath the night sky is a great way to spend the evening camping in your backyard. In your yard, you won't have to worry as much about some common insects you find while camping, such as ticks or mosquitos, because you'll have a trimmed backyard and the option of lighting lanterns to keep the bugs away.
Pitch a Tent and Spend the Night Talking
Pitching a tent in your backyard can be as simple as placing two poles connected by a sturdy rope into the ground and draping a large sheet over the rope, or you could use a traditional, full-sized tent that you'll need to place stakes into the ground for and tie down. Regardless of the method, spending time in a tent and sharing pleasant conversations with your family is a great way to end the day.
While the tent is a classic place to sleep in as you camp, it certainly helps that your house is nearby, so you won't have to worry about finding a place to use the bathroom. When you wake up in the morning, you also have the choice to continue the camping trip or pack it up and head back inside.
Using your backyard for camping is fun and a great way to get outside and spend time with the family. There are numerous activities to do for fun while you camp, and with your house so close, you'll have more options compared to a few nights out in the woods.