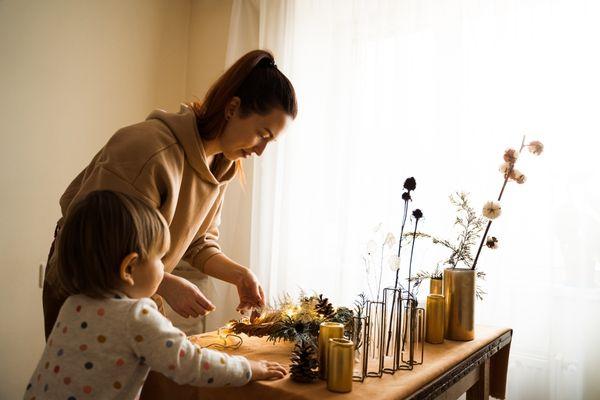 During this time of the year, it can be easy to feel overwhelmed by the hubbub of the holiday season. When you acquaint yourself with the current holiday, you might walk into your grocery store and notice the décor changing each time you visit. However, you can take your time to enjoy each celebration by engaging in these fun crafts to get you and the kids into the spirit of the holidays.
Colorful Gourds
Kick off your holiday crafting with a colorful gourd. This craft is fantastic for transitioning from Halloween into Thanksgiving; gourds have unique shapes that you can paint into a turkey or a silly monster. You are free to utilize any type of paint you have around the house to color your gourd. Before you begin, clean and wash your gourd. If you want your craft to last longer, spray it with an acrylic coating.
Turkey of Gratitude
Thanksgiving provides the perfect opportunity to think about all of the things in our lives that we are grateful for. That is why creating a turkey of gratitude is the perfect crafty way to get into the holiday spirit.
To make this craft, all you need is your hand, craft paper, scissors, and a range of colorful markers. Trace your hand on the craft paper, cut it out, and then decorate the palm area to look like a turkey. Many people love to use googly eyes to give their turkey extra character. Finally, write the different things you are grateful for on the "feathers" or finger areas.
Jumbo Wreath
Before we know it, we are in the gift-giving season of Christmas. During this time, we love to decorate our homes with beautiful décor to commemorate the season. The best part is that you can actually make your own easy crafty, DIY decorations. You can use pool noodles for many Christmas-themed crafts, one of which is a jumbo wreath.
To make your jumbo wreath, you need to duct tape a pool noodle together at either end and create a loop. You can then use an assortment of holiday-themed accessories to glue onto your wreath. You can get as creative as you want with this unique craft! Consider adding photos, elves, lights, and candy canes to bring out the holiday spirit.