Something I've learned from living in the Bay Area for six years: Lake Tahoe is the obvious first choice for local families looking for a getaway into nature, no matter the season. But for Southern Californians, that choice is Mammoth Lakes. 
I'm here to argue that the trip to Mammoth, while a bit further, is worthy of a trip for Bay Area families, too.
Lake Tahoe is only a couple of hours away — in theory (traffic in and out of the weekend can be brutal) — while Mammoth is around six, but I've found traffic to be more forgiving heading to Mammoth. I've made the trip twice, both with kids and without, and while I love Tahoe, Mammoth offers a super relaxing, less crowded, and breathtaking vacation with a ton to do for kids and adults alike. 
Here's a look at some tips and activities I did with my family (including my three-year-old and four-month-old). This was during a warmer season, but I also include tips for winter — it's primarily thought of as a ski town, after all. 
Mammoth Activities with Kids
Biking.
Biking is one of the most popular activities in Mammoth. I recommend a bike rental with Footloose Sports — you can get adult e-bikes, kid e-bikes, and attached chariots for little ones. The Town Loop is the best place to ride your e-bike with kids. Ride from Footloose down Old Mammoth Road to Mammoth Creek Park, and then follow the directions here. For a longer adventure, the Lakes Basin Path is another popular spot and a paved downhill trail. Take your bike on the free town trolley up to Horseshoe Lake and ride 5-miles back to the village.
For even more adventure, head up to Mammoth Mountain Bike Park, which has 80-miles trails for mountain biking. The park allows pedal-assist e-bikes, making mountain biking less daunting. I did this several years ago and had a blast as a complete rookie. 
Get out in the water.
If you're there in the summer, your kids will love getting on the water. For kayaking, grab a two-seater at Pokonobe Marina on Lake Mary and enjoy the majestic views. For older kids, SUP (stand-up paddleboarding) is a good choice; grab a rental from one of the outdoor stores and head to the calm waters of the Lakes Basin. You can also reserve one at the Pokonobe Marina. If relaxing on a pontoon is more your style, reserve a boat at Convict Lake and head out for a cruise.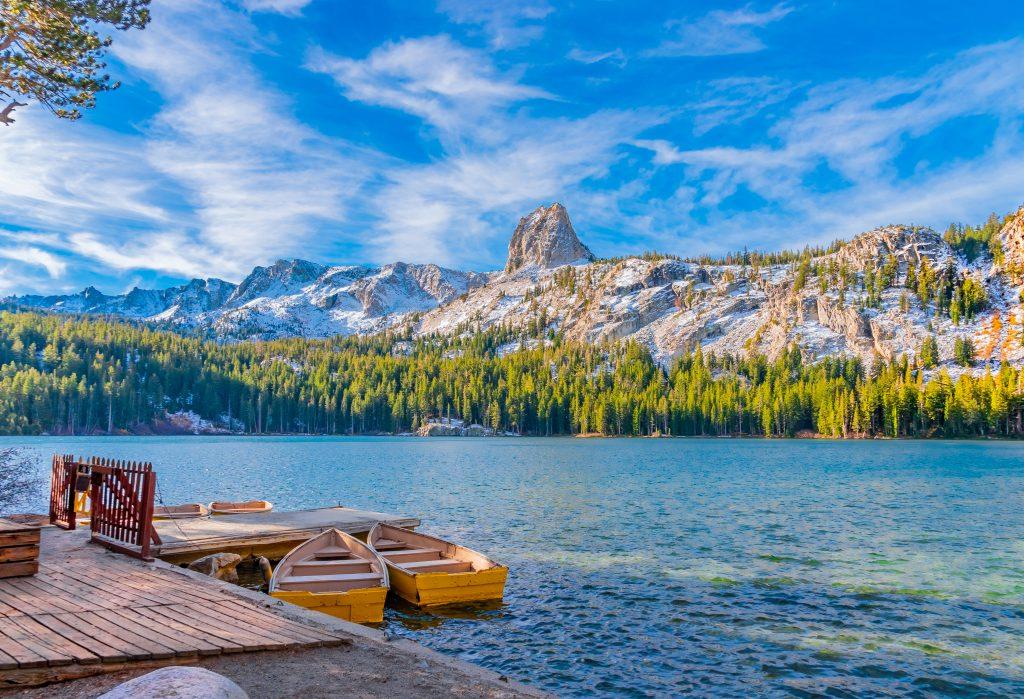 Hiking
Mammoth has countless breathtaking hikes. One that's great for children is McLeod Lake–with an elevation gain of only 300 feet, this is one of the easiest and most rewarding trails well-suited to young children. Look for the trailhead at Horseshoe Lake. Another great family-friendly hike is the Convict Lake Loop, only two miles roundtrip. 
Skiing and Tubing
Mammoth is one of the best ski towns in the country. At Mammoth Mountain, kids four and under ski free — so start them early! The resort has Adventure Zones hidden in the woods that will delight the kids and small slopes perfect for beginners. If you're not quite up for skiing but want to enjoy the snow, Mammoth Mountain also features a high-speed snow tube that can accommodate all ages. 
Take a Gondola Ride
Hop on the Panorama Gondola to the summit of the 11,053-foot Mammoth Mountain. Take in the views, and at the top, check out an interpretive center to learn about the region's geology. Once back down to the base of Mammoth Mountain, there are plenty of other kid-friendly things to do, including a climbing wall, zip line, and bungee trampoline at the Main Lodge. Open Memorial Day to Labor Day
Fuel Up
Mammoth is full of kid-friendly restaurants. Some of our favorites were: Gomez's Mexican Restaurant, Burgers, Stellar Brew, The Stove, and The Warming Hut.
Here are some tips for your trip to Mammoth with kids:
If driving, plan your route carefully before you go. 
You have a few options when driving to Mammoth. In the summer, many high-alpine passes are open for travel, but you'll need to check online to ensure. California Hwy. 120 (Tioga Pass) through Yosemite National Park is the quickest and most scenic route (roughly 6 hours). In recent years though, Yosemite has implemented a reservation system for visiting the park – so this option didn't work without one. Unclear if this will be the case next year, but something to consider. 
California Hwy. 108 (Sonora Pass) is also a stunning drive, and the foliage is spectacular during the fall. 
In the winter, the best option is Hwy. 50 to South Lake Tahoe and then south on Hwy. 395 to Carson City, NV (six-seven hours.) And, of course, if you don't have four-wheel driving, bring chains. 
Stay close to The Village
.
Mammoth has great resorts, hotels, and Airbnb's throughout the area, but with kids, it's helpful to be located near the Village so you can walk to restaurants and shopping. We stayed at the Westin Monache Resort, which has spacious family suites and a heated outdoor pool.
Town shuttle
The town also operates an easy-to-use shuttle that picks up and drops off in this area, even going to the top of Mammoth Mountain.