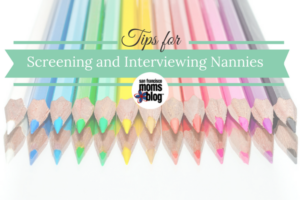 Getting bites on your nanny search is exciting. You've gotten past the daunting task of getting started, and you're one step closer to finalizing your childcare plans for your return to work. Before you can reach the finish line, though, you've got to weed through the applicants. Here are our tips for making the screening and interviewing process go smoothly.
Screening
Not every applicant will be a quality candidate for a variety of reasons. Often, you can eliminate some before even speaking to them on the phone. Review these areas to determine whether it's worth learning more about them.
desired rate of pay
availability to start
how close they live
level of experience
language skills
professionalism in contacting you
For the ones you want to decline, politely reply, "Thank you for your interest in this position. At this time, we will not be moving forward with a phone interview."
Phone Interviews
For the nannies with whom you are interested in getting to know, arrange phone interviews and keep notes of your conversations. Learn more about them by asking about…
past experience
what they like about being a nanny
salary and health care coverage requirements
whether they're looking to be paid under the table or through payroll
confirm that they're eligible to work in the United States
Remember that the nannies you speak with are also evaluating you and your family to decide whether they want to work for you, so leave time to answer their questions and be prepared to provide basic information about the requirements of the job and your expectations.
Introduce yourself and share a little about your family and your work.
Review the number and ages of your children
Explain any housework you'd like the nanny to do (e.g. children's laundry, preparing their meals, picking up toys and cleaning the kitchen)
Discuss whether she will be required to drive.
In-Person Interviews
Once you've narrowed down the candidates to the serious contenders, set up face-to-face interviews. Some people choose to meet at a neutral location as a safety precaution, so that rejected candidates don't know where you live. If you do this, make sure that a second interview is held in your home, so that the nanny has a good understanding of her day-to-day work environment. Especially in San Francisco, where we have lots of hills and steep stairs to climb, nannies may self-select out of the interview process once they see what they'll have to deal with on a daily basis. While this is frustrating in the short-term, it's better that they not waste your time or theirs.
Schedule an hour interview to allow time to chat and for the nanny to meet and interact with your child(ren). If you're arranging multiple interviews in the same day, be sure to leave a buffer of time in between, so that you have a moment to take notes on your immediate thoughts and reactions from the conversation.
Prepare your questions in advance, so that you're sure to hit all the topics you want to cover. Care.com has a comprehensive list of questions, as does ParkSlopeParents. Be open with your biggest concerns about leaving your child in the care of someone else. Naming your fears will probably help you feel better and hearing nannies react and respond to your concerns will give you insight into how she will care for you child and integrate into your family's life.
Background Checks and References
Before making an offer, it's important to contact your top candidate's references and conduct a background check. Many caregivers will already be certified through TrustLine, a database of nannies and babysitters who have cleared background checks in California. PinPoint, Enannysource, and Care.com all offer background check services, as well. Use reference checks to confirm your perceptions from the interviews and tease out any red flags that you sensed during your discussions, but couldn't quite put your finger on. Here's a helpful list of specific questions to ask, covering these topics.
Find out the basics of her employment history.
Dig into her performance on the job.
Ask for advice in managing her.
Trust your gut
Lining up childcare is an anxious time, but it's not the time to settle. At best, you will find yourself looking for a new nanny within a few months. At worst, you will be concerned for your child's safety. This means that you may need to repeat the screening process several times until you find the right fit, if you're not lucky enough to find her in round one. While even the best nannies don't always work out, feeling confident in the decision at the start will give you immense peace of mind while you're at work.
Read on for insights on setting up contracts for nannies and nanny shares.