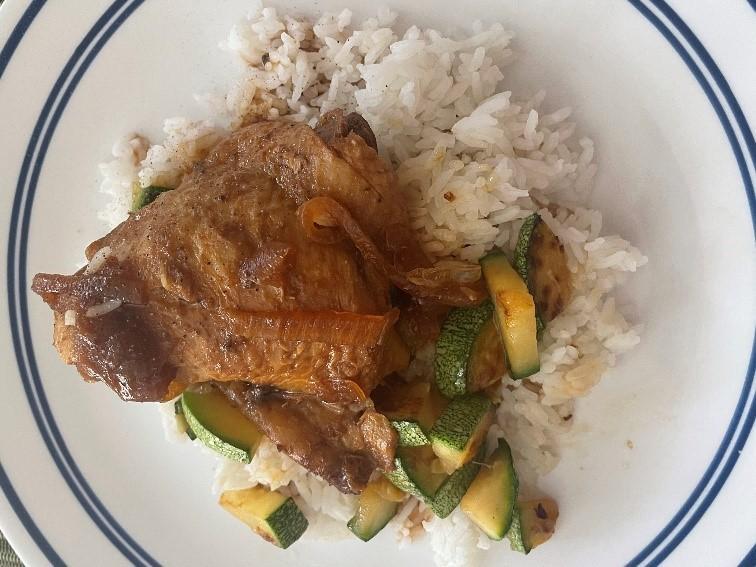 Chicken adobo is one of many Filipino dishes my mama cooked regularly. It was fast, served many, and made incredible leftovers. Every family has its version of the dish. The sour-salty combination of vinegar, soy sauce, and bay leaves is at the heart of adobo. Other seasonings are optional. Even the protein is optional. I love adobo with beef, pork, fish, or squid. Adobo can be veganized with the new plant-based proteins and plant-based soy sauce. Adobo is on my regular dinner rotation, like my mama, aunts, and lolas before me. My daughters love it so much; I make a huge, 3lb batch of it monthly. In honor of Asian American Pacific Islander (AAPI) heritage month, I am sharing a little piece of my heritage with you.
RECIPE
Chicken Adobo
Ready in 45 minutes
Makes 4 servings
Ingredients
½ cup low-sodium soy sauce
¼-1/3 cup coconut vinegar (I prefer Datung Puti brand)
5-2lb bone-in chicken thighs or mixed chicken pieces
1 yellow onion, sliced
2-3 cloves smashed garlic (keep whole)
2 Bay leaves
Optional, 1 tsp black peppercorns
Preparation
In a glass measuring cup, combine the soy sauce and vinegar. Taste and add more soy sauce or vinegar to your liking. Set aside.
In a four-quart pot, dump the chicken, onions, garlic cloves and optional peppercorns.
Pour soy sauce-vinegar mixture over.
Turn up the heat to medium high and stir gently with a wooden spoon until the liquid comes to a gentle boil. 3-5 minutes. Cover and simmer on medium- medium low for 40-45 minutes.
The adobo is done when the meat pierces easily with a fork or knife.
Ladle meat and sauce over rice and serve with your favorite veggies and enjoy! At our house, I cook adobo in the morning before work and we eat it for dinner that night. As my daughters know, the adobo tastes better when the meat has time to soak in the sauce.
Recipe Tips
Rice is the traditional starch of choice for adobo, but my children also like it over ramen noodles and egg noodles.
Swap out the coconut vinegar for distilled white vinegar or apple cider vinegar.
If using regular soy sauce, use less (as it is saltier than the low-sodium version).
The ratio of soy sauce to vinegar is up to you. I like mine sourer, so I always add more vinegar.
To prevent the meat from getting soggy, separate the meat from the sauce after the first meal (if you have leftovers). Keep in different containers. Shred or dice cooled meat.
If shredded, Fry to make adobo flakes and eat silog-style (with rice and eggs).
If diced, ese leftover meat for omelets, sandwiches, pizza toppings, or my favorite quesadillas
Freeze the leftover sauce in labeled quart containers. It is delicious! The sauce can be reused to make another batch of adodo. I refresh the sauce with additional vinegar and/or soy sauce to taste