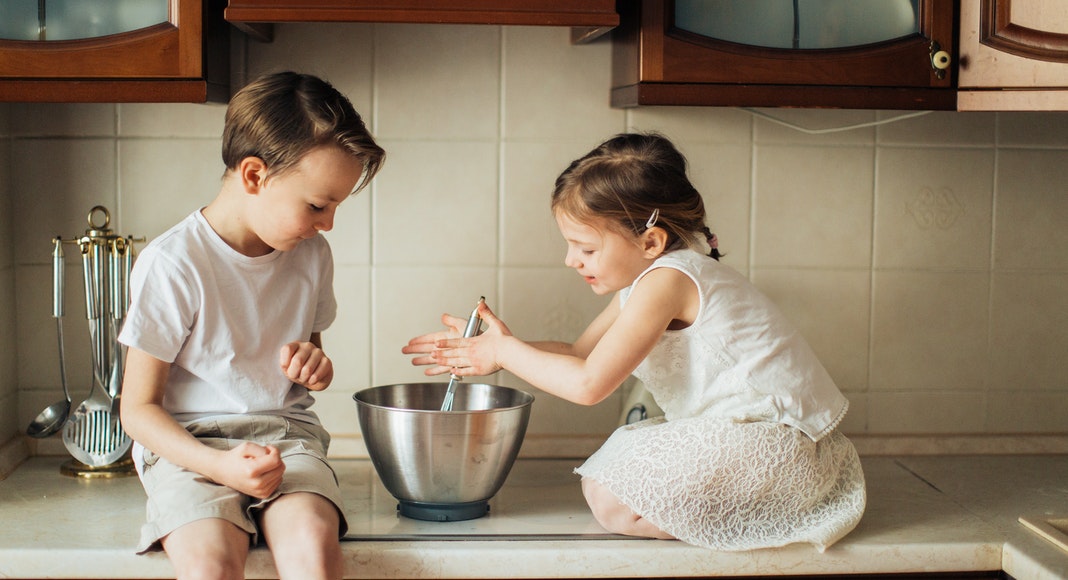 If you have started baking while sheltering-in-place, or you want to but you don't know where to start, keep reading. I sat down with Cathy, our team's Master Baker to get all the best tips and recipes for baking at home as a family.
Baking has been a hobby of mine since I started making Tollhouse cookies back in the '90s. I love what many people don't love about baking: it's so very precise. There's something special about being able to follow the directions and make what you meant to make.
After years of basic cookies, muffins, and loafs, I enrolled in The Kitchn's Baking School where I discovered how much more science can be applied in baking and my husband discovered how good it all tasted. But when I got pregnant, I quit when I couldn't deal with morning sickness and food aversions.
COVID-19 has given me the opportunity to get back into baking, and I'm excited to see how many others are doing the same. Baking gives you something to do while at home and kids of all ages can participate. Whipping up recipes from scratch is also a great way to stick to a food budget, which makes a difference to families who have been hit financially by the crisis.
Cathy is our resident Master Baker. She owns P.S. I Cake You, a custom cake and desserts business in the East Bay. Cathy had some great tips for making baking a fun, low-stress activity to do at home. My favorite part was the banana bread recipe she shared with us!
What are some easy tips for baking with beginners and with children?
For beginner bakers and for baking with children, I would suggest finding simple recipes or even start with making something from a box. Cookies, brownies, muffins, and banana bread are some great recipes to start off with. Baking is more precise than cooking, so it is important to use exact measurements, follow all the directions, and have patience (especially when baking with kids). Also, many recipes have a range for the cooking time because all ovens vary. Check on your baked good at the beginning of the range and then add 2-3min increments as needed. A great way to easily check if a baked good (Cupcakes, muffins, brownies, banana bread) is done, is use the toothpick trick. Take a clean dry toothpick and poke it through the center of the baked good. If it comes out clean with a little bit of crumbs, it is done! Cookies are a little trickier because they continue to cook while cooling on the pan. Pay more attention to the browning of the cookie and the glossiness of the dough. If the cookie is a nice golden brown and the dough looks dry, it is done!
A great tip for baking with children is know that they just want to be involved as much as possible. Depending on their age and capabilities, you can have them contribute to every step and also incorporate learning! Math, science, reading and art are incorporated throughout the baking process. Enjoy this special time!
How can families make baking a family event?
Baking can be a family event by simply getting the entire family involved.
Start off with a family pizza night! Make your own homemade dough and let everyone create their own individual pizza or create a big one together.
More complex recipes with multiple steps can be accomplished faster with more family members involved. For example, making a homemade fruit pie. Someone can work on making the pie dough, while other members can work on cutting fruit and preparing the filling.
Another idea is to do a family bake-off. Split the household into teams and agree on a baked item to create. Each team will then make their own recipe, and either the family as a whole or an outsider can judge the final products.
What are the must-have baking essentials?
Flour
Sugar
Brown sugar
Baking Soda
Baking Powder
Salt
Unsalted Butter
Milk
Vegetable Oil
Eggs
9×13 Baking Dish
Cupcake Tin
Cookie Sheet
Parchment Paper
Hand mixer
Large bowl
Spatula
Measuring Cups & Spoons
Whisk
What are some common substitution ingredients if the grocery store is out of what you need?
Baking Powder
1 teaspoon baking powder = ¼ teaspoon baking soda + ½ teaspoon cream of tartar + ¼ teaspoon cornstarch
Baking Soda
½ teaspoon baking soda = 2 teaspoon baking powder
Butter
1 cup salted butter = 1 cup margarine
1 cup salted butter = 1 cup vegetable shortening + ½ teaspoon salt
1 cup salted butter = 7/8 cup lard + ½ teaspoon salt
1 cup unsalted butter = 1 cup salted butter = 1 cup vegetable shortening = 1 cup lard *minus* ½ teaspoon salt from recipe
Buttermilk
1 cup buttermilk = 1 tablespoon lemon juice or white vinegar + enough milk to make 1 cup. Let stand for 5 minutes
1 cup buttermilk = 1 cup plain yogurt
Cake Flour
1 cup cake flour =  ¾ cup sifted all-purpose flour + 2 tablespoons cornstarch
Chocolate
1 ounce unsweetened chocolate = 3 tablespoons natural unsweetened cocoa powder + 1 tablespoon unsalted butter, vegetable oil or shortening
Cocoa Powder
3 tablespoons natural unsweetened cocoa powder = 1 ounce unsweetened chocolate + reduce fat in recipe by 1 tablespoon
3 tablespoons Dutch-process cocoa powder = 3 tablespoons natural unsweetened cocoa powder + ⅛ teaspoon baking soda
Eggs
1 egg = ¼ cup applesauce
1 egg = 1 tablespoons ground flaxseed + 3 tablespoons water
1 egg = ¼ cup silken tofu pureed
1 egg = 3 tablespoons mayonnaise
1 egg = ½ banana mashed with ½ teaspoon baking powder
Half-and-Half
1 cup half-and-half = ½ cup whole milk + ½ cup heavy cream
Milk
1 cup whole milk = ½ cup evaporated milk + ½ cup water
1 cup whole milk = 1 cup skim milk + 2 tablespoons melted butter or margarine
Pumpkin Pie Spice
1 teaspoon pumpkin pie spice = ½ teaspoon ground cinnamon + ¼ teaspoon ground ginger + 1/8 teaspoon ground allspice + 1/8 teaspoon ground nutmeg
Sour Cream
1 cup sour cream = 1 cup plain yogurt
Vanilla Beans/Vanilla Extract
1 vanilla bean = 2½ teaspoons vanilla extract
If you're out of vanilla extract, use the same measurement of honey or vanilla almond milk

Vegetable Oil
1 cup vegetable oil = 1 cup applesauce = 1 cup fruit puree
Vegetable Shortening
1 cup vegetable shortening = 1 cup butter
1 cup vegetable shortening = 1 cup margarine
Yeast
1 envelope (¼-ounce) active dry yeast = 2¼ teaspoons active dry yeast
1 envelope (¼-ounce) active dry yeast = 2¼ teaspoons rapid-rise yeast
1 envelope (¼-ounce) active dry yeast = ⅓ of a 2-ounce cake yeast
Tell us about the latest baking trends on the rise. We are hearing about mini pancake cereal and other TikTok trends.
Since COVID, the greatest baking trends have been banana bread, pancake recipes (including the mini pancake cereal, which is just tiny mini pancakes served in a bowl with milk), sourdough/yeast breads, pizza dough, brownies, crepes, meatloaf, lasagna, and cheesecake.
Why is banana bread the biggest baking trend nationally?
Banana bread is one of those simple recipes that provides a feeling of warmth and comfort to the home. It is one of those low-maintenance recipes where you can throw all the ingredients in a bowl, mix it with a spatula, and throw it in a pan or cupcake liners. Children love to participate by mashing up the bananas and if allowed, adding a handful or two of chocolate chips. Banana bread is a win-win recipe for all ages!
Do you have a simple banana bread recipe to share with us?
INGREDIENTS
3-4 ripe bananas, mashed
1/3 cup butter, melted
3/4 cup granulated sugar
1 egg, beaten
1 teaspoon vanilla
1 teaspoon baking soda
1 teaspoon baking powder
1/4 teaspoon cinnamon
1/8 teaspoon salt
1 1/2 cups all-purpose flour
1 cup chopped walnuts or chocolate chips, plus extra for topping if desired
INSTRUCTIONS
Preheat oven to 350 degrees F. Lightly grease and flour an 8.5×4.5-inch loaf pan or spray with baking spray.
In a large bowl, combine the mashed bananas with the melted butter, then add the sugar, egg, and vanilla. Stir well with a large wooden spoon.
Sprinkle the baking soda, baking powder, cinnamon, and salt over the banana mixture. Stir to combine.
Add flour and walnuts or chocolate chips (if desired), and stir just until no streaks of flour remain. Pour the batter into the prepared loaf pan.
Bake for 50-60 minutes, until a knife inserted in the center of the loaf comes out clean. Cool in the pan for 10 minutes, then turn out onto a wire rack and cool completely. Slice into 10 thick slices and serve.
NOTES
If your bread pans are larger or smaller, your bake time might be on the shorter or longer side, respectively.
This banana bread recipe can also be made as muffins. Just divide between the cups of a muffin tin and bake for 20-24 minutes until muffins are done and a toothpick inserted into the center of a muffin comes out clean.
With holidays like Father's Day, 4th of July, etc. coming up, are there any treats you suggest to bake?
Father's Day is all about Dad, so a good suggestion would be making his favorite dessert or treat. If he doesn't have one, then go with a theme of his hobby. BBQ grilling = hamburger shaped or grill themed cupcakes
handyman/constructing = sugar cookie tools
Bacon lover = bacon chocolate chip cheesecake blondies
Beer/favorite alcohol lover = incorporate his favorite beverage into a cake or cupcakes
4th of July is all about Red, White, and Blue, and summer fun! Some suggestions are Red, White, & Blue Cheesecake Bars, Flag fruit pizza with fresh blueberries, strawberries, and raspberries, Red, White, & Blue rice crispy treats, or strawberry blueberry yogurt pops.
A great tip for any occasion is the next time you make a batch of cookies, double the recipe, freeze balls of unbaked batter and have them on hand for your next event. If it is summer time, add some ice cream in between two cookies and you have an instant homemade ice cream cookie sandwich!
Cathy owns
P.S. I Cake You
, a custom cake and desserts business in the East Bay.