This is the second installment in Cooking with Sujaya. My dear friend, Sujaya, teaches me how to cook Indian cuisine. I'm no chef, but the meals that I cook (that I'm comfortable cooking) are the meals that my mother passed down to me. In this same vein, Sujaya, teaches me what her mother taught her. Her recipes teach us how to include spices in every stage of the cooking process, as well as, how not to be scared of spices or ingredients you might not know anything about.
We used a pressure cooker for this recipe, but a Dutch oven would have done the trick. The pressure cooker is mostly to speed up the cook of the Sambar. If you have time, and don't have a pressure cooker, a Dutch oven will be fine.
I didn't include the process of the Dosa you see in this picture because it was pre-made batter. Making the Dosa was as simple as pouring the batter on a hot-flat-skillet and rounding out your desired shape. Wait until the edges form, and then flip. Easy.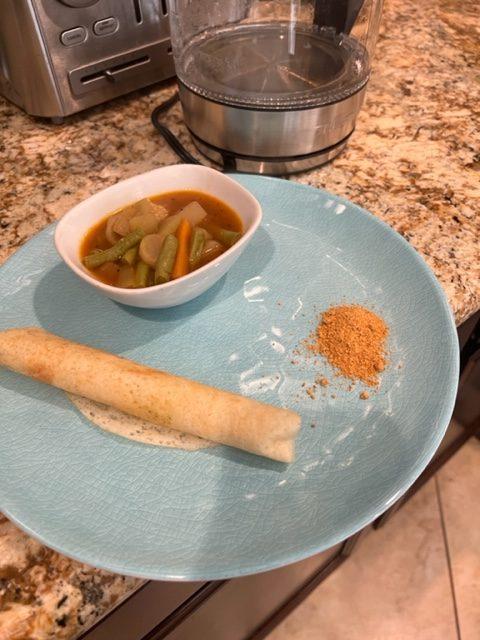 Comment below and let us know what you think!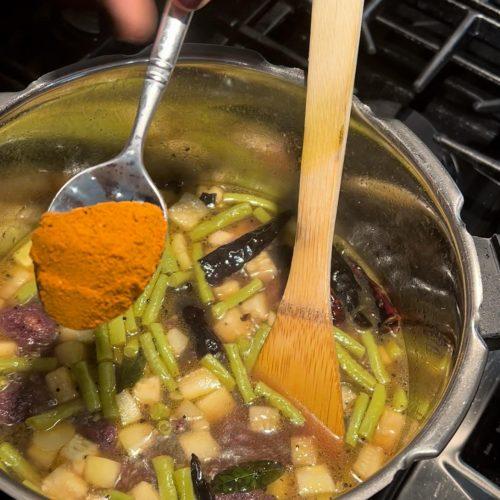 Cooking with Sujaya: Indian Cooking for Beginners
Sambar (spiced vegetables with lentils) and Dosa
Equipment
Pressure Cooker

Dutch Oven
Ingredients
1

Medium

opo squash

1

white raddish

1

cup

cauliflower

1

cup

green beans

1

cup

carrots

1

cup

toor dal

(Split yellow pigeon peas)

1

tbsp

tamarind extract

1

tbsp

sambar powder

salt to taste
Tempering Ingre
2

tbsp

Gee

1

tbsp

mustard seeds

1

tbsp

urad dal

5

dried red chilies

1

sprig of curry leaves

1/4

tsp

hing
Instructions
Cut the vegetables up into small pieces. Cook toor dhal in a pressure cooker / instant pot for 10 minutes and allow the pressure to release naturally.

How to Temper:

Heat a pan and add 1 tbsp Gee/oil. Once hot, add the mustard seeds, urad dal, chana dal, curry leaves, dried red chilies and hing. Let it all splutter and when it stops, pour it on top of the Sambar.

For Sambar:

Put one tbsp oil in the instant pot and when it is hot, add the vegetables, turmeric and salt. Fry it all for about two minutes before adding two cups of water and the tamarind extract. Let this cook until it comes to a rolling boil. Next, add the sambar powder and let it cook for 5 minutes. Once the vegetables are soft, they are cooked, and you can add the cooked toor dhal.
Notes