Fabulous Modern Cookies, by Chris Taylor and Paul Argun, was a really fun book to flip through and I couldn't wait to try the recipes! To see cookie names like Blush and Bashful (IYKYK) for a girl who grew up with Steel Magnolias – I was sold. Every cookie sounds delicious, the book is so fun to read through. It felt as if I was sitting in the kitchen with the authors laughing and listening to their stories as I read through. The only thing I struggled with was – which cookie to make first! This would make a fabulous holiday gift, birthday gift or wedding shower gift for any baking fan. I can't wait to put these recipes to the rest this fall in "cookie season!" ~ Patricia O'Brien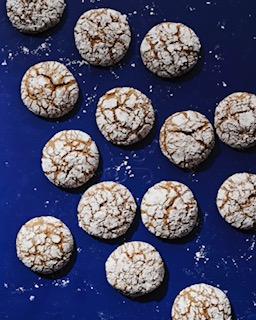 ---
Pumpkin Snickercrinkles
snickercrinklification (snik•er•krink•li•fi•kay•shun) noun 1. the process by which a yummy
cookie is made with traits of both a snickerdoodle and crinkle cookie
*This is a reprint from Fabulous Modern Cookies, by Chris Taylor and Paul Arguin
Ingredients
2 1/4

cups

unbleached all-purpose flour

319 grams

1 1/4

tsp

baking soda

1/2

tsp

salt

6

tbsp

unsalted butter

85 grams

1 1/2

cup

dark brown sugar

packed

1

tbsp

ground cinnamon

2/3

cup

canned pumpkin puree (not pie filling)

163 grams

3

large

eggs

room temperature

3/4

tsp

pure vanilla extract

1/2

cup

confectioners' sugar

57 grams
Instructions
Position two racks to divide the oven into thirds and preheat to 350°F. Line two 18-by-13-

inch baking sheets with parchment paper or silicone baking mats.

Whisk together 2 cups (283 grams) of the flour, the baking soda, and salt in a medium bowl.

To make brown butter, melt the butter in a small saucepan with a light-colored bottom (so

you will be able to see the butter browning) over medium heat. Continue to cook and it will

start to bubble noisily as the water boils off. Once the bubbling begins to quiet down, swirl

the pan constantly for about 1 minute, or until the milk solids at the bottom of the pan have

turned golden brown, and the butter has a nutty aroma. Remove the pan from the heat and

add the brown sugar and 2 teaspoons of the cinnamon. Stir with a whisk or silicone spatula,

making sure to scrape all of those luscious, browned bits off the bottom of the pan. Transfer

the mixture to the bowl of a stand mixer.

Stir together the remaining ¼ cup (36 grams) of flour and the pumpkin puree in a small,

microwave-safe bowl. Microwave this mixture on high (100%) power, stirring every 30

seconds, until the mixture has thickened into a paste, about 2 minutes. Transfer the pumpkin

paste to the brown sugar mixture. Fit the stand mixer fitted with a flat beater, and beat the

mixtures together on medium speed to break up the pumpkin paste and incorporate the sugar.

Allow this mixture to cool completely before proceeding, 10 to 15 minutes.

Once cool, mix the egg yolks and the vanilla into the batter on medium speed. Reduce the

mixer speed to low and mix in the flour mixture. Use a silicone spatula to scrape the sides of

the bowl and the beater to make sure all the dry ingredients have been incorporated.

Whisk together the remaining 1 teaspoon of cinnamon and the confectioners' sugar in a

shallow bowl. Portion 1½ tablespoons (22 grams) of dough, using a #40 scoop, and drop

them directly into the bowl of cinnamon-sugar. (The dough is a little too soft to roll in your

hands.) Gently roll them around to get them completely coated and place them 2 inches apart

on the prepared baking sheets (you can fit 13 on each sheet).

Bake until the cookies have puffed, cracked, and the edges are set, 11 to 15 minutes. Halfway

through baking, rotate the pans from front to back and top to bottom. Remove from the oven

and let cool for 10 minutes on the baking sheets before transferring to a wire rack to cool

completely. Repeat with the remaining dough once the baking sheets have completely

cooled, or prepare additional baking sheets. After cooling, the cookies can be stored in an

airtight container at room temperature for several days.