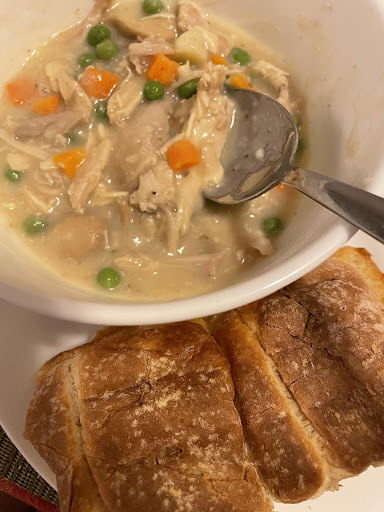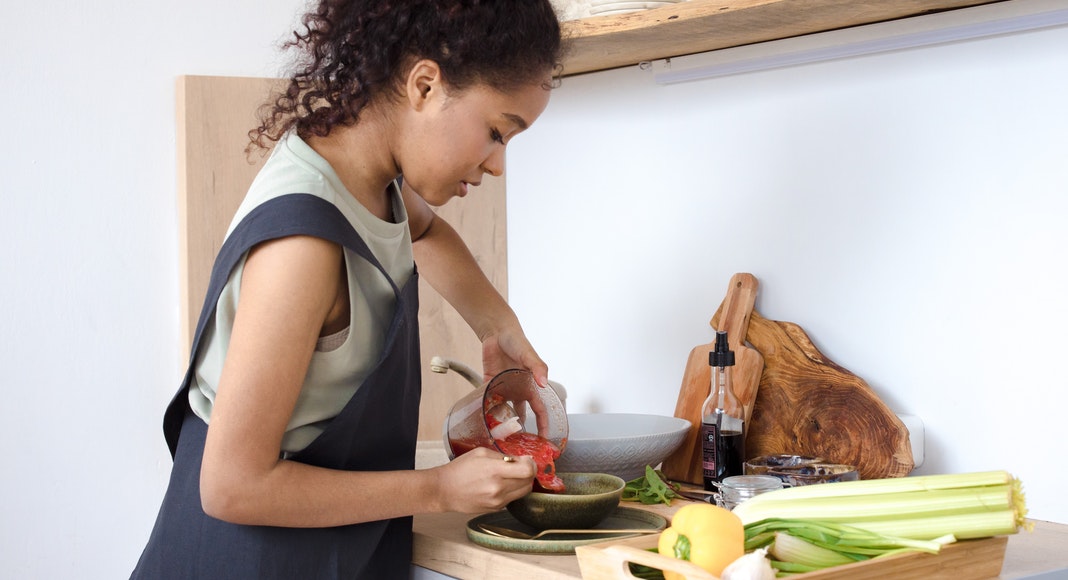 Fall is in full swing in my house. The Thanksgiving prep is underway. Christmas gifts are filling up our bedroom closet. All we want to eat is food to warm our bellies on the cooler nights. I roast a meat once a week, so I can get a few meals out of it, like roast pork: a pork roast on the first night, a stir-fry on the second night, and quesadillas on the third night. This weekend, I roasted a chicken. I shredded a portion of the meat for Ilse's and Alice's lunch, and saved the rest for another meal. With this week's roast chicken dinner, I ended up with more mashed potatoes than we could eat in two meals. So, I decided to experiment with our dinner components (chicken, mashed potatoes, gravy) and transform them into chicken chowder. The result was a delicious, flavorful soup that was on the table in under an hour. We ate the soup with toasted, buttered dinner rolls. Heavenly and soul-satisfying! 
Roast Chicken Chowder
Ready in 30 minutes
Makes 4-6 cups of soup
Ingredients
2 -3 cups shredded rotisserie chicken or your own roast chicken

1 -1 and ½ cups frozen vegetable (peas & carrots, pea, corn, any mix you like)

1-2 cups lumpy leftover mashed potatoes

1 cup leftover chicken gravy 

2-3 cups of water or milk or low sodium chicken broth

2 tbsp softened unsalted butter

Salt and Pepper to taste

Optional, add ½ tsp dried herbs like thyme or sage
Preparation
In a four-quart pot, dump the chicken, frozen vegetables, mashed potatoes, gravy, and 2 cups of water.

Turn up the heat to medium high and stir gently with a wooden spoon until the chowder comes to a gentle boil. 3-5 minutes.  Keep stirring until the ingredients come together. Break up any potatoes with the spoon. If the mixture looks too thick, add the remaining 1 cup of water.  Cover and simmer on medium- medium low for 15-20 minutes.

Before serving, stir in unsalted butter. The butter gives the soup a wonderful creamy texture.

Add salt & pepper, optional herbs to taste.

Ladle into bowls and enjoy!

Recipe Tips
After you have enjoyed your roast on the first night, prepare the meat for the next meal. Whether you shred, dice, or slice it, taking the extra step after the first meal makes for quick meals later. Store the prepared meat in a covered container for future meals.

Add the vegetables your family likes, just avoid leafy ones like spinach and chard, as they don't hold up in soup as well. I added mushrooms to ours.

Don't have chicken gravy, make a quick one from a dry mix (find chicken gravy mix with the dry seasoning packs in your grocery store)