Are you looking for edible crafts that work for any age group? I have three that look like masterpieces to the youngest artists and that even your teens will enjoy doing. So gather everyone around the table, prepare all the supplies, and be sure to put down a washable tablecloth. Then watch the Holiday Magic unfold.
Holiday Trees
Don't want to do the whole gingerbread house? How about just trees?
What you'll need:
Sugar cones
Icing
Candies for decorating; think little sprinkles, mini m & m's, mini marshmallows, and coconut (which can be colored with food coloring). This is a great time to go through the pantry and use up any cake decorations you have.
Butter knives
Cookie sheets
Wax paper
What you'll do:
Ice the outside of the sugar cone with icing. Before the icing can dry, place the decorations on it. If your child wants to cover the tree in something, spread it out on a cookie sheet and allow them to roll it in the decoration of choice (or perhaps they mix many).
Set the trees upright to dry (if they can wait). Eat or use in your gingerbread house scene.
Snowmen
What you'll need:
Mini powdered donuts
Orange and green jellybeans or similar candies
Red fruit leather
Skewers (make sure they aren't pointy)
Black icing pen
Kitchen scissors
What you'll do:
Slide three donuts onto the skewers. Place green jellybeans in the center of the bottom two and an orange one in the center of the top donut (for the nose).
Use kitchen scissors to cut the fruit leather into a length that will work for a scarf. Wrap it around the "neck" and cross in the front.
Make eyes and mouth with the black icing pen.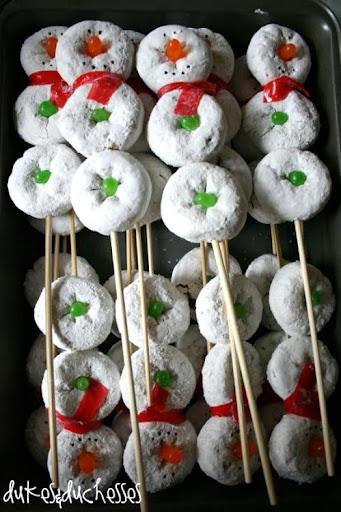 Candy Cane Marshmallow Pops
What you'll need:
Full sized marshmallows
Peppermint pieces (or use candy canes and break them into pieces with a rolling pin)
Mini candy canes
Bag of semisweet chocolate chips
Double boiler or microwave-safe dish (to melt the chocolate)
Waxed paper
What you'll do:
Push a mini candy cane into the large marshmallow. Then dip the marshmallow into the melted chocolate (be careful with hot chocolate and little ones). Allow excess chocolate to drip and roll into the crushed candy cane.
Place on a waxed paper-lined baking sheet and allow to set.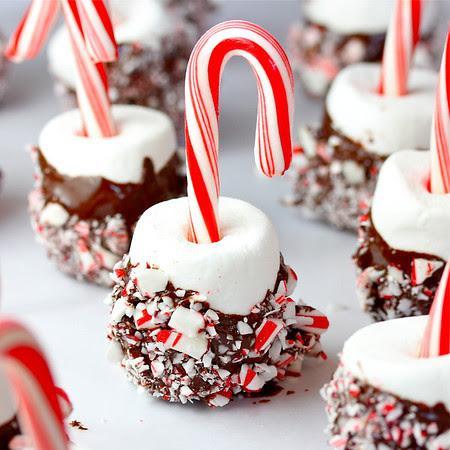 We want to see your creations! Be sure to post pictures and tag San Francisco Bay Area Moms.