We participate in Amazon's Affiliate Program.
Christmas is barely behind us, and we're on to the sweetest holiday of the year: Valentine's Day. Here are three crafts to enjoy with your little ones or a playgroup of friends. We did these with a group from pre-school and all three crafts below were a huge hit with the 3 to 6-year-old crowd. Don your smocks, grab a pack of wipes, and dive in!
The Light of My Life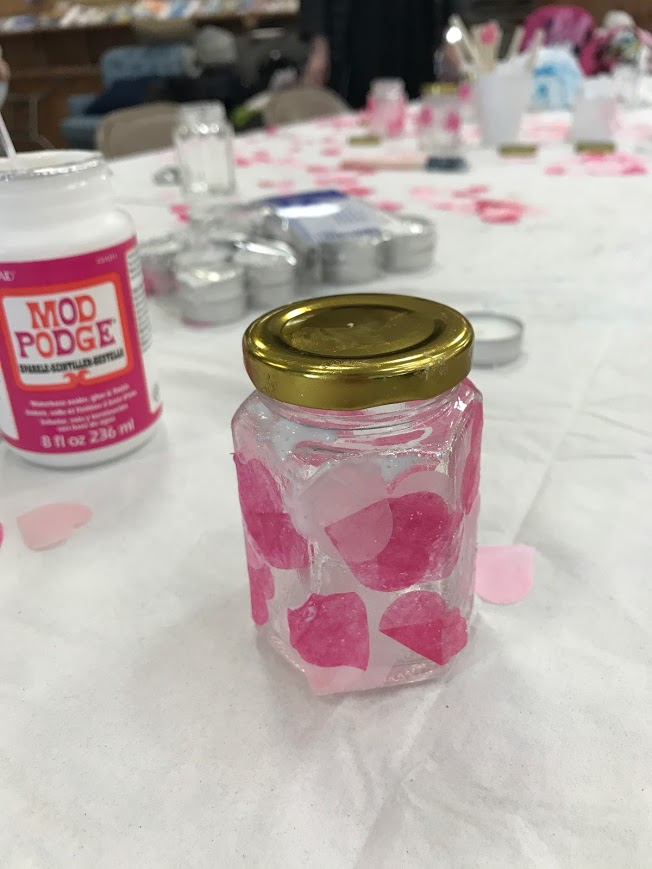 This adorable craft uses a clear jar to create a candle holder that can be given as Valentine's gift. We decoupaged the outside of the glass jars with tissue hearts and glitter glue to make luminescent treasures for the artists and his/her chosen recipients, too!
Supplies:
Small glass jar or candle holder

Tissue paper hearts (or torn pieces of tissue paper)

Modge Podge (regular is ok but the sparkle kind is even better)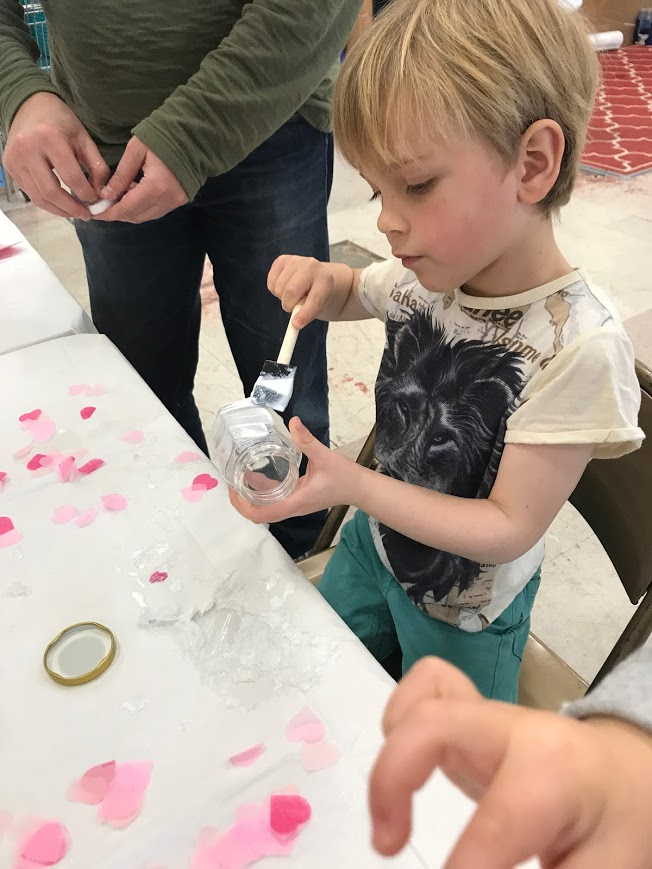 Instructions:
Apply a layer of Modge Podge to the glass jar, using a foam paintbrush.

Place tissue paper on top of the glue in any desired pattern. Layering works really well to create interesting colors and effects.

Apply another layer of Modge Podge. It will look white, as if you've covered up all of the colorful paper. Don't worry – it will dry clear.

Allow to dry completely.

Insert a tea light candle inside the jar before giving it as a gift to your Valentine.
Fizzy Hearts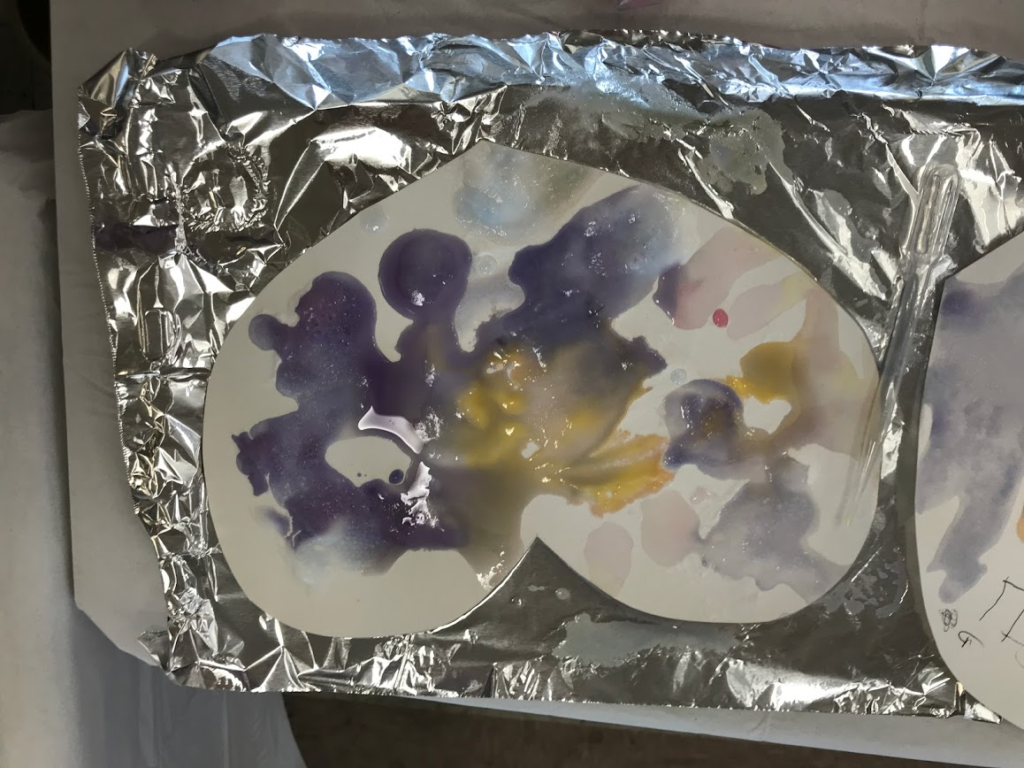 Part craft, part science experiment, this is a fun activity that was thoroughly enjoyed by all ages. My almost-2-year-old loved watching the bubbles appear as he dripped colorful water on the paper; it was equally engaging for the 6-year olds at our party who came up with some really impressive designs. All the kids were intrigued by the chemical reaction happening before their eyes, sending their inquisitive little brains into overdrive and creating a stream of questions a mile a minute!
Supplies:
Watercolor paper (It's worth the splurge. Plain/thin paper doesn't absorb the color nearly as well and the colors just don't take)

Vinegar

Food Coloring

Baking soda

Cookie sheet or tray

Scissors

Small cups or bowls

Instructions:
Cut the paper into heart shapes of any desired size

Fill a few cups with a couple drops of food coloring, and 1/2c vinegar each.

Place the paper hearts onto a cookie sheet or tray with edges. This will catch the excess liquid and make clean up a lot easier.

Give your little one a spoon and help him/her sprinkle baking soda all over the heart. A little dusting is fine.

Using a pipette, draw some of the colored liquid up and squeeze it onto the baking soda covered heart. Tip: encourage your little one to use just a few drops of the colored vinegar. It still produces a great effect without a soggy piece of paper.

Let dry.
Valentine's Carriers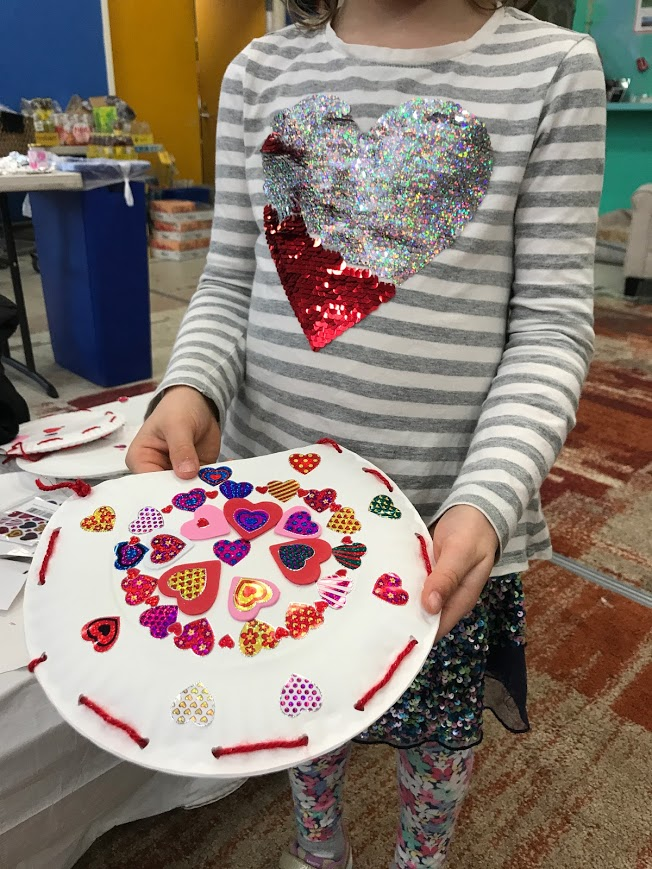 You know all those little Valentine's cards kids get from friends? Here's a neat way to keep them tidy, in a decorated carrier.
Supplies:
Thin paper plates (the cheap, dollar store variety work great for this)

Hole punches (standard circles will do, but heart-shaped punches are even better)

Scissors

Tape

Yarn or string

Stickers, stamps, foam hearts, etc for decorating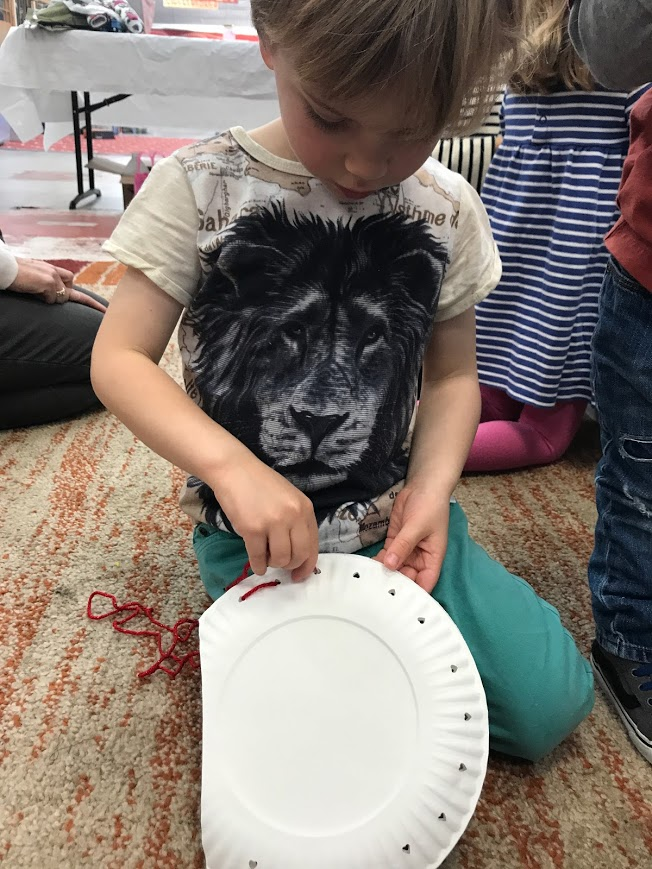 Instructions:
Cut a straight edge along the paper plates. This will form the opening in the carrier and make it easier for their hand to get inside.

Place 2 paper plates face-together and lightly tape them together.

Use a hole punch to punch holes around the rounded perimeter of the plate. Do not punch holes in the straight edge that you've just cut.

Cut a piece of string about 2 – 2-½ feet long. You may want to wrap a piece of tape around one end of the string to make it easier to push through the holes.

Help your little one thread the string through the holes, leaving the straight side open and a long loop of string at the top as a handle or strap.

Decorate with stickers, stamps, etc.

Fill with Valentines!