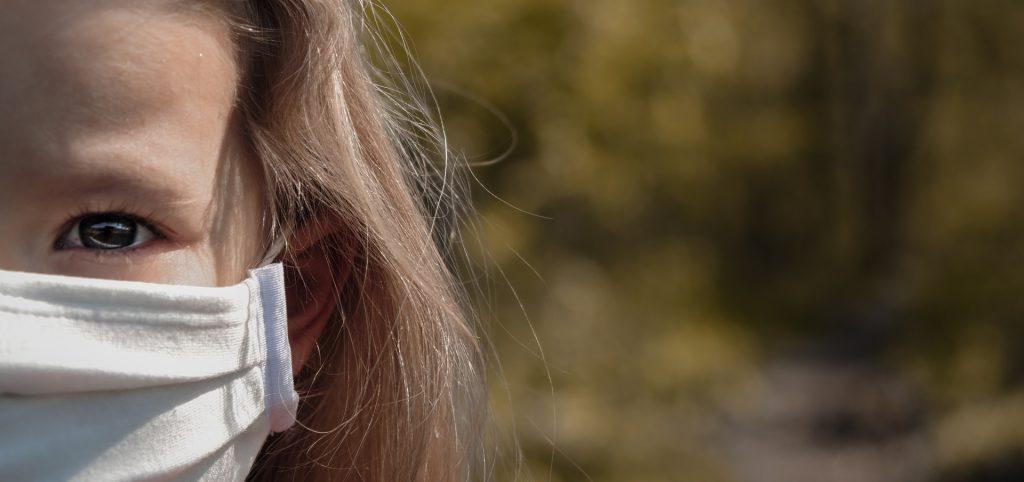 This content was paid for by the U.S. Department of Health and Human Services, and San Francisco Bay Area Moms is proud to support the effort to share facts about COVID-19 vaccines. To find a COVID-19 vaccine near you, visit vaccines.gov; text your ZIP code to 438829 (GETVAX); or call 1-800-232-0233. Talk to your doctor if you have questions about the vaccine.
_____________________________________________________________
We know that many parents still have questions about COVID-19 vaccines. We polled our audience over the last few weeks and found that many questions overlap among families! We are grateful for the opportunity to sit down with Dr. Sanjeev Jain of Columbia Allergy to get answers to YOUR questions about COVID-19 vaccines. We know this information will be helpful to Bay Area families as they make their decisions. Check out the Q&A recap and the full interview below! 
Should unvaccinated children remain masked up, even among vaccinated people?
Masks can help protect you, your child, and others from COVID, especially if the COVID risk in your community is high. Of course, always refer to the CDC for updated county-level transmission data and talk to your doctor about whether you and your family need to wear a mask and take other precautions. The best way to protect young or unvaccinated children from COVID is to make sure everyone in the household is vaccinated and to get them vaccinated as soon as they are eligible.
Can we go about normally after young children are fully vaccinated, i.e., no masks?
CDC recently released a new tool that shows whether the COVID risk in your community is low, medium, or high, and this can help you make good decisions about masks based on risk in your community as well as your individual comfort level. You can find the tool on CDC's website here.
How safe and effective are COVID vaccines for kids?
COVID vaccines for children are safe and effective and are being carefully monitored using multiple reporting systems. More than 26 million kids have already gotten a COVID vaccine. Before vaccines are made available for kids, they go through rigorous testing in clinical trials and data from the trials is reviewed by independent committees of physicians. The vaccines must meet the highest standards for safety and effectiveness set by both the Food and Drug Administration and CDC before they are authorized for use.
Can children get natural immunity against COVID instead of that provided by vaccines?
We can't predict how COVID will affect your child but we know children are four times more likely to be hospitalized from COVID if they live in a state with low vaccination rates compared to states with high vaccination rates. The best way to protect your child and others is not to roll the dice on what will happen if they get infected. Vaccines can help protect your child from getting seriously sick or needing hospital care, even if they do get COVID.
Should we be concerned about COVID vaccine side effects for kids, including the risk of myocarditis?
COVID is a greater threat to your kids than any potential risk from vaccine side effects. Some kids have no side effects at all and if they do, the most common are a sore arm, tiredness, or headache that lasts a few days. Symptoms from a COVID infection can last much longer. Extremely rare cases of myocarditis have been seen after vaccination in kids 12-17, but the risk of myocarditis is much higher from COVID than from the vaccine. CDC and the American Academy of Pediatrics both recommend that all children eligible for a COVID vaccine get one as soon as possible.
Should my child be vaccinated even if they already had COVID?
Yes, kids should be vaccinated, regardless of whether they already had COVID. We don't yet know how long they'll be protected from getting sick again after getting COVID. We do know that although getting infected with COVID may give kids some natural immunity, getting vaccinated against COVID is the safest and most effective way to be protected.
What have you told your friends and family members about vaccinating their children?
I've told all my friends and family members to get their kids vaccinated as soon as they're old enough. Since the beginning of the pandemic, millions of kids in the U.S. have had COVID. Vaccines can help protect children from getting COVID and help keep them from getting seriously sick even if they do get COVID.
_____________________________________________________________
Catch the full interview here: