The Oakland Museum of California, located just off Lake Merritt, has long been a destination for kids and adults alike to learn about California art, history, natural science, and culture. Pre-kids, when I lived near the lake, I enjoyed visiting for their always well-done rotating exhibits. Now that I have two littles, it also makes for a great family activity, especially with the museum's recently opened Nature Playspace. 
Here's a guide to visiting OMCA with your family. 
The Nature Playspace 
This new dedicated play-focused learning area that opened in June of this year is great for children five and under (though older kids could likely have fun here too!) To spark creativity through play in environments commonly found in and around Oakland, kids can run up and down a hill, plant veggies in a garden, maneuver a train through a forest and cook a meal in a pretend kitchen. 
My three-year-old spent almost two hours playing here and could have easily kept going if we didn't have to make it back for nap time. She spent most of the time making me farm-to-table meals but also enjoyed telling stories with shadow puppets, sitting in the reading nook, and checking out the large fish tank. My six-month-old also had fun enjoying the soft-sided infant area, separated from the rest of the space. 
Exhibits at OMCA
The play space is located on the first floor of the Gallery of Natural Sciences. My toddler liked exploring the entire floor, which provides hands-on learning about seven places throughout California and their diversity of climate, ecosystems, and wildlife. 
As I mentioned, the rotating exhibits are always worth checking out. I took my family through the "Angela Davis-Seize the Time" and "Hella Feminist" exhibit, on view through June 2023 and January 8, 2023, respectively. I would love to go back to child-free to take more of it in, but I loved talking about Davis with my older daughter. 
Another not-to-miss feature is the gardens, free with or without a ticket at any time and a great place to let kids run.
Lunch at Town Fare Café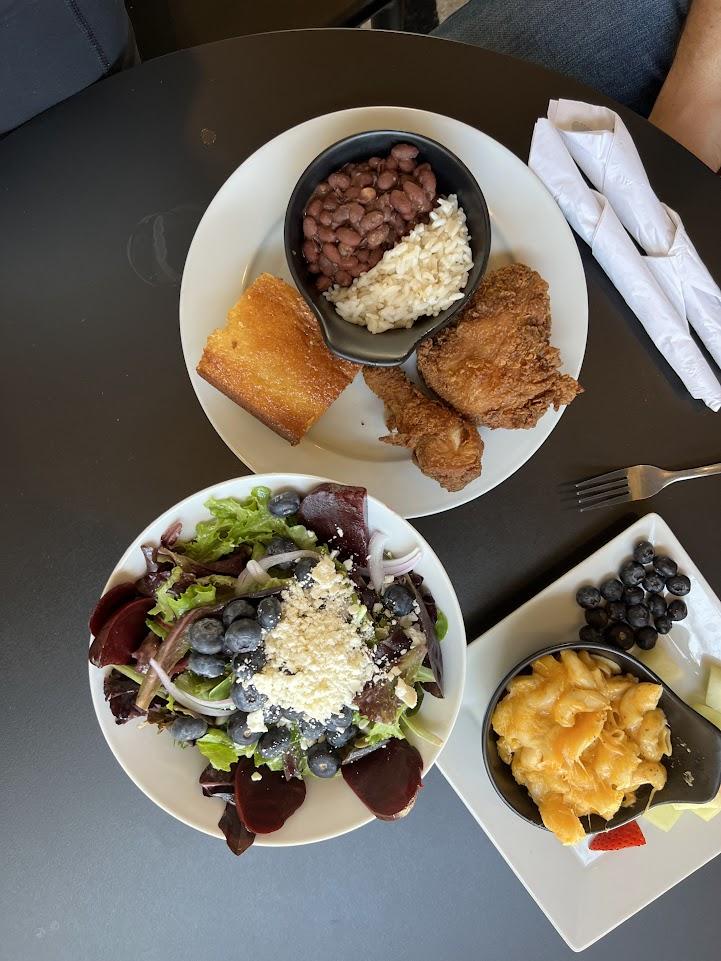 All of that play and culture is bound to leave you hungry, and luckily, OMCA has a fantastic restaurant on site. Town Fare Cafe used to be run by Tanya Holland, but she parted ways with the space in January. The restaurant is run by Chef Michele McQueen, a soul food restauranteur best known for founding Gussie's Chicken and Waffles in San Francisco. McQueen's dishes are rooted in her Oakland upbringing and community diversity. The menu includes items like low-country shrimp and grits, fried chicken, mac and cheese, and an assortment of salads and starters. 
When to Visit and Tickets to OMCA
The museum is open Wednesday through Sunday, 11 am to 5 pm, with extended hours on Fridays until 9 pm. Children 12 and under are free. Adults are $16, and kids ages 13-17 are $7. As mentioned, the gardens are free.