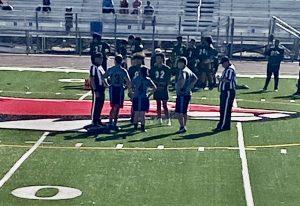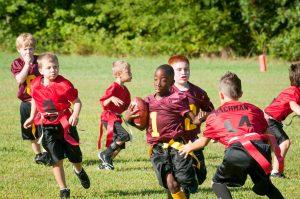 Flag football is the fastest-rising youth sport in San Francisco Bay Area, especially with co-ed teams where female players play equally to their male counterparts. The National Football Foundation is celebrating the game with a special campaign called Future for Football. It's all about highlighting the positive impact football has on players, coaches, and fans.
San Francisco Bay Area Moms had the opportunity to speak with football mom Sysamone Phaphon about the impact that football has had on her and her family. Her teen son, Ari, is an outside linebacker on his middle school co-ed flag football team in Albany, CA.
Football was always around Sysamone's family as her kids were growing up. Uncles played football (one even played professionally), and extended family gather around for Sunday night football every week. Football is interwoven within collective family memories and acts as the glue to strengthen bonds between relatives across all generations. Even now, Ari's sister shows up earlier at his practices to help him warm up and give him pointers about playing on a co-ed team, having experience from the baseball equivalent herself. 
"The kids are seeing beyond cliques. They're seeing beyond colors, genders, interests – everything. It's really good to see that being on a co-ed flag football really helped reinforce that mindset."
With aspirations for a football scholarship, Ari is in a prime position after two seasons on his co-ed flag football team to transition to contact football in high school. Sysamone credits football with keeping him focused and helping him develop not only a strong work ethic, but also a broad mindset and leadership skills. Regardless of gender, the teammates on Ari's team quickly became close friends. They encourage each other, motivate each other, and push each other to be at their very best.
Visit FutureForFootball.com to find a league near you and for other helpful resources.