Did you grow up playing with remote control trucks and making them do stunts to see how extreme of a stunk you could do without breaking it? If you've had a blast doing that as a kid, then watching Monster Jam should be right up your alley! Monster truck drivers are big kids who refuse to grow up and have never stopped playing the game of "look what I can do". On Friday, August 5, 2022, my family and I watched six Monster Trucks go head-to-head to see who could do the coolest tricks without breaking. And guess what? A girl beat all of the guys at this challenge!
The Monster Trucks that competed at the event were: Grave Digger, Rockwell Red, Megalodon, Velociraptor, El Toro Loco, and Soldier Fortune. The six trucks had to compete in a set of four competitions.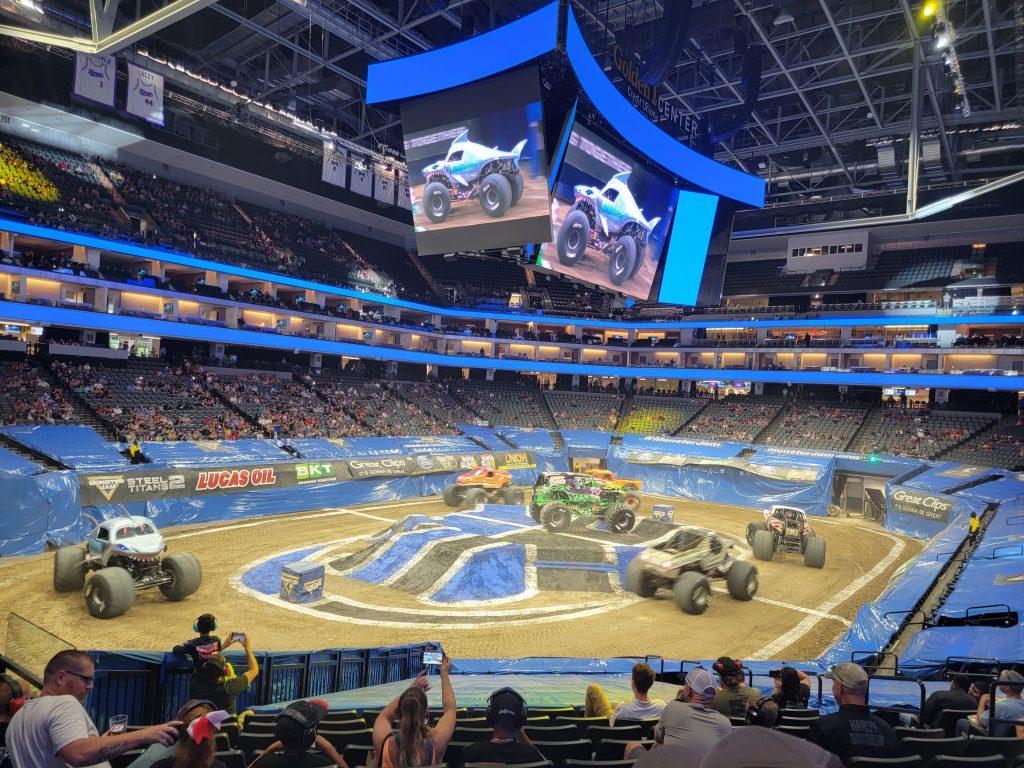 Challenge 1: The Race
Who can be the fastest to drive a loop without cutting corners? Surprisingly, it's a difficult
task to perform in a large truck with oversized wheels. With 40 years of experience under its hood, Grave Digger made this challenge look like a piece of cake and won this challenge.
Challenge 2: 2 Wheel Skills Challenge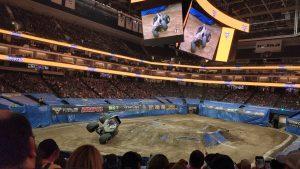 This was where they started to include the audience in the show. Each truck had to do really cool tricks on two wheels. Some of the stunts that the trucks were challenged to perform were: Stoppie, Popper, Wheelie, Sky Wheelie, Nose Wheelie, and Bicycle. Once their time to show off was up, the audience went online to JudgesZone.com and voted on how impressed they were with that truck's stunts. Grave Digger won this round again!
As a half-time show, the Freestyle Motorcross bikes came out to play. An inflatable landing ramp was laid across the stadium for the bikes to land gracefully after doing their stunts. There were four riders who performed: Dean Pate, Derek Garland, Jeremy Noriega, and Sterling Myer. Their challenge was to see who could perform the coolest trick in the air, like the 2 Wheels Skills Challenge, where the audience got to vote on how impressed they were with each rider. Dean Pate won this challenge.
Challenge 3: Donut Competition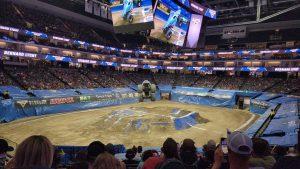 The Donut Competition was interesting to watch. They really needed to gain enough momentum to spin their truck around in circles. The judging criteria for this challenge were: speed, creativity, performance time, and completion. Grave Digger and Rockwell Red were unable to perform this challenge due to mechanical issues. Even with two trucks missing, there was no disappointment during this competition. Soldier Fortune won this round!
Challenge 4: Freestyle Competition
This was the last challenge for the night! The goal of this challenge was to complete all the following criteria in a 15-second period: use all the obstacles on the course, creativity, wow factor, technical moves, and combinations. Grave Digger made it back for this challenge, but unfortunately, Rockwood Red could not repair in time and had to call it a night. You could tell during this challenge most of the drivers were a bit cautious and not giving it their all, possibly afraid of breaking themselves in the process. Soldier Fortune, on the other hand, had nothing to lose and gave it her all to win this round!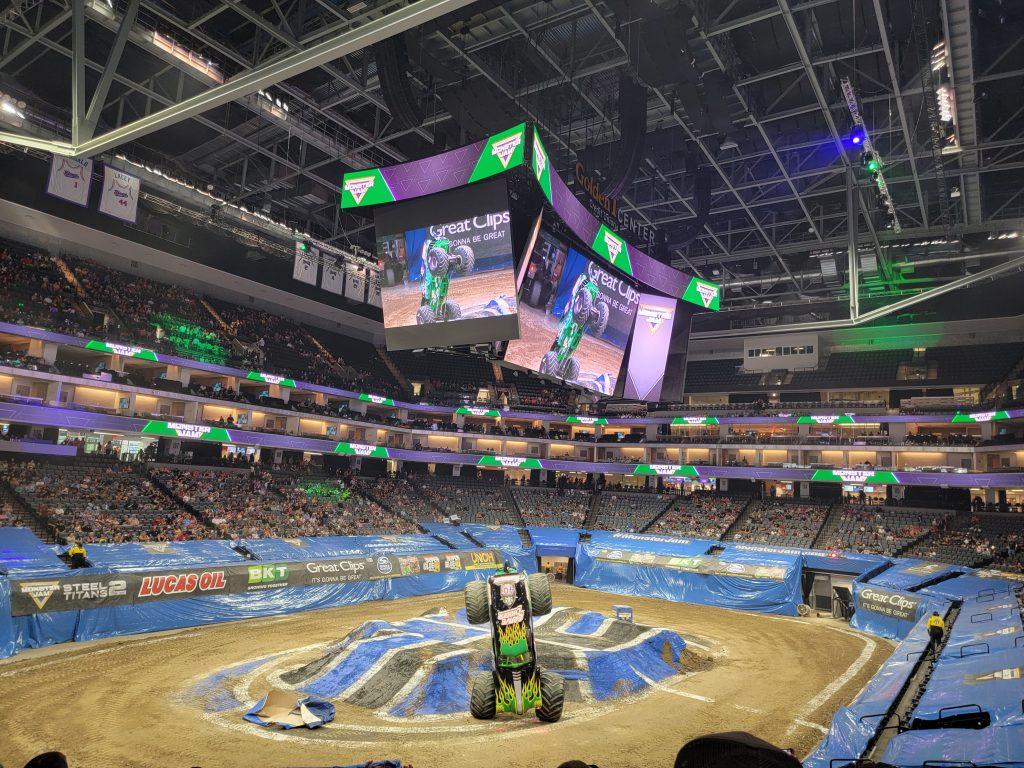 Even though The Grave Digger and Soldier Fortune were tied by the number of challenges won, Solider Fortune won the night with 22 points while Grave Digger earned second place with 17 points, because the last three competitions were rated by the audience with a numerical score from 1-10. Nobody was disappointed with the final results, and the crowd went wild for Soldier Fortune's victory! With this type of energy to wrap up the day, I would definitely recommend giving Monster Jam a try to anyone who is high energy and loves a good adrenaline rush!
Monster Jam will continue its party in the Bay Area with shows over the Labor Day weekend. Check the schedule out here!
---
Sara Swarts is a South Bay Area native from Sunnyvale that has found her way up to the Sacramento Valley in Lincoln.
Aside from being a stepmother to four, she is a real estate agent and travel agent. In her downtime, she likes to find fun things to do with the family such as camping, bowling, or going to the movies.