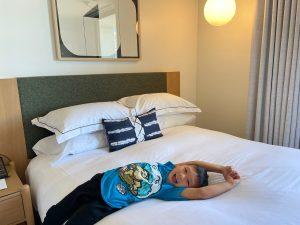 San Francisco is a city like no other. It is vibrant, enriched by cultural diversity and dynamic landscapes around every corner. You could be within walking distance of a neighborhood that might as well be a different world than the one you're in. When we were living in Mission Dolores, we thoroughly enjoyed the bustling and soulful vibes throughout the neighborhood just as much as we enjoyed the tranquility and baby-friendly energy of the adjacent Noe Valley. We frequented a handful of neighborhoods around town, with Japantown being one where we'd often swing by for a quick ramen fix.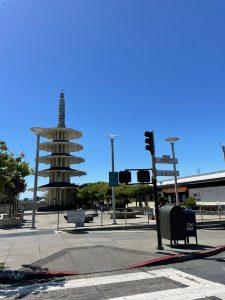 Last month, we took a family staycation at the newly refreshed Kimpton Hotel Enso, an eccentric boutique hotel situated in the heart of Japantown within the historical Fillmore district. It's literally across the street from our favorite ramen shop! Even though, logically, we knew we were still in the Bay Area, it felt like we were on vacation in Japan throughout our stay. A version of Japan where we could read all of the signages and menus – bonus! San Francisco's Japantown has a significant, rich history dating back to 1906 – making it a living museum for those interested in learning more. It boasts a courtyard plaza with a striking, 5-tiered Peace Pagoda, and hosts the annual Cherry Blossom Festival. We never tired of exploring different parts of Japantown throughout our stay, and found many hidden gems that we haven't uncovered before.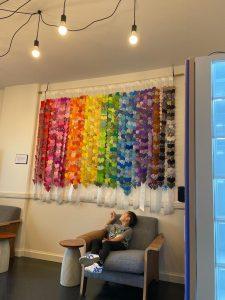 Some of our favorite things about our hotel room included the minimalist deco, the sizable bathroom with a large, walk-in shower, and the big-screen TV (one of the biggest screens we've ever seen in a hotel room!). We also loved having breakfast (I had a kouign amann from a fabulous bakery just a 7-min walk away) on the balcony of our room and listening to the birds chirping in the trees below. Pro tip: if you have forgotten to pack your toothpaste, the hotel has a supply of a wide variety of trinkets that could be provided. There's also a pharmacy, a grocery store, a convenience store, and a Daiso just a short walk away. Speaking of toiletries, the Kimpton shampoo + conditioner + body wash line smelled amazing. I was transported to a spa every time I showered, and put in an order to get my own set right after I got home.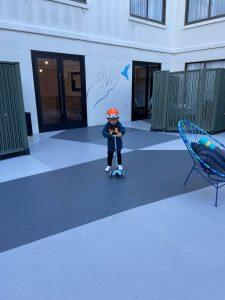 One of the best family-friendly features of Kimpton Hotel Enso is their outdoor courtyard, featuring lawn games, comfy furniture, cozy fire pits, and ample space for our son to scooter in. You may be wondering why in the world we'd think of packing a scooter. Let me let you in on a little secret: the hotel provided the scooter and helmet! All you have to do is make a request to borrow them. There's also a technicolor room with vending machines next to the courtyard and the fitness center. We took a family stroll to the nearby Lafayette Park, one of the great playgrounds close to the hotel, and took in the Bay views atop the hill while our son had a ball in the gated play area.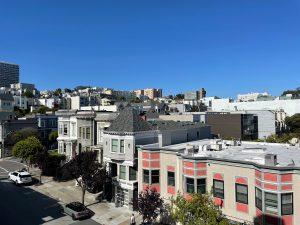 There is a curfew in the neighborhood which deters nightlife, making a restful night's sleep very easy for children and early risers (parents). I cannot recommend Kimpton Hotel Enso enough as a boutique home away from home for families and singles alike. It checks all the right boxes: safe neighborhood, great eats and shopping nearby, parking garage available, big-screen TV, fabulous toiletries, and is conveniently located from playgrounds. If you have family and friends visiting San Francisco regularly, this is the place to book!