On May 20th, the Reimagined Ghirardelli Chocolate Experience Store opened in Ghirardelli Square! Aquatic Park, Fisherman's Wharf, and Ghirardelli Square have always been beautiful landmarks that my family and I enjoy visiting. So, when I heard about the reopening of the Ghirardelli Chocolate Experience Store, I took my boys, 6 and 4, to visit the new store the first chance we got; and let me tell you, it was summertime magic.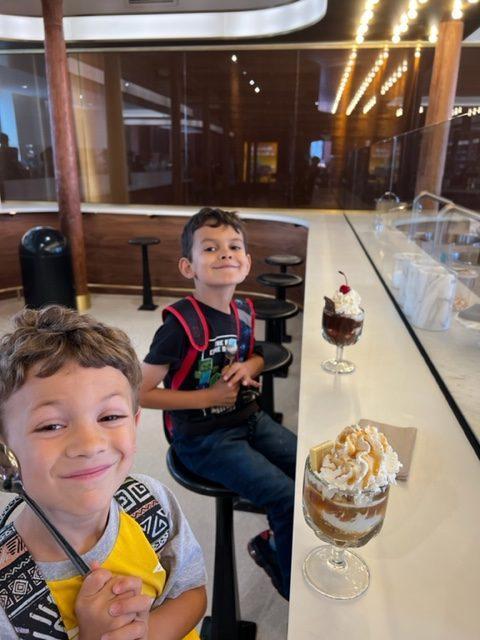 If, like me, you're intimidated by trying to park in this area of town, don't worry. Ghirardelli Square has a parking garage directly onsite. Because of the parking garage, within minutes of driving into the city, we were surrounded by world-famous chocolate! All three of us huddled around the new Pick & Mix experience, featuring 20+ flavors of Ghirardelli's famous chocolate squares, the largest selection of their squares in the world. Although enthusiastic about the flavor choices in front of him, my youngest son chose two handfuls of caramel squares. What can I say? He knows what he likes. The store also features new technology where you can customize your own Pick & Mix tin or bag with photos and text, perfect for gifting.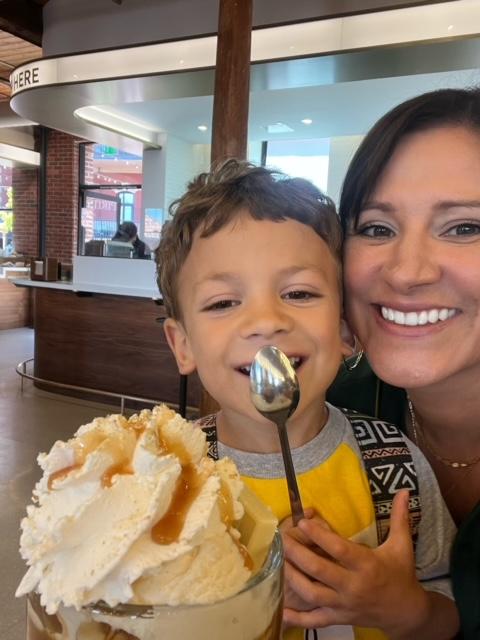 My firstborn son skipped the Pick & Mix experience and stood below the giant poster of the World-Famous Hot Fudge Sundae and said, "This!". He did not use his inside voice when he said it, so I was assured he'd made his choice. We lined up and ordered the World-Famous Hot Fudge Sundae and the Sea Salt Caramel Sundae and waited (not so patiently) by the hot fudge station. And, come to find out, Monday, 7/25 is World Hot Fudge Sundae Day, so Ghirardelli will be offering a buy-one, get-one deal on all of their sundaes.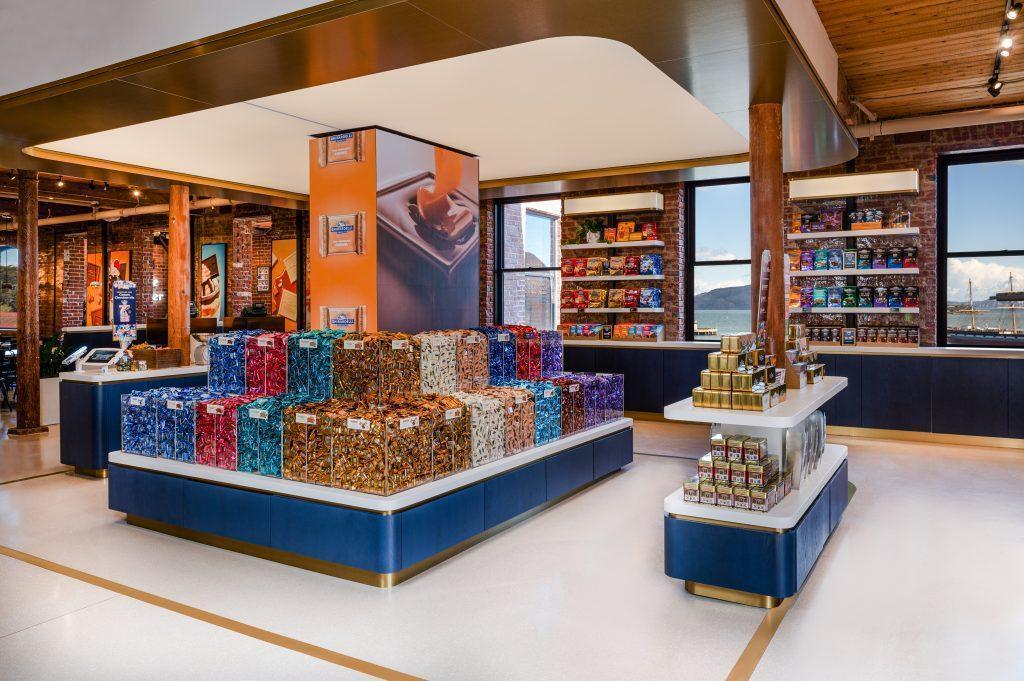 Looking around the beautiful new store, I was reminded that Ghirardelli was founded in San Francisco by Domingo Ghirardelli in 1852, making this year its 170th anniversary. Spearheaded by SF-based design firm Eight Inc., responsible for Bay Area Apple stores, the renovation highlights core elements of the historic building's structure while integrating unique design elements like custom terrazzo floors and hand painted murals. The iconic red brick exterior follows throughout the newly remodeled open floor plan, carrying your eyes, taste buds and nose from the large Pick & Mix station to the Alcatraz room with ample seating and sweeping views of the Bay, to the chocolatier station where fresh chocolate and hot fudge is made in-house daily, to the sundae zone. Their hot fudge is made with three, simple ingredients: milk, vanilla, and Ghirardelli Chocolate, and the smells of fresh chocolate had our mouths watering the whole time. The newly renovated store is smart, and the chocolate was just like I remembered, fantastic.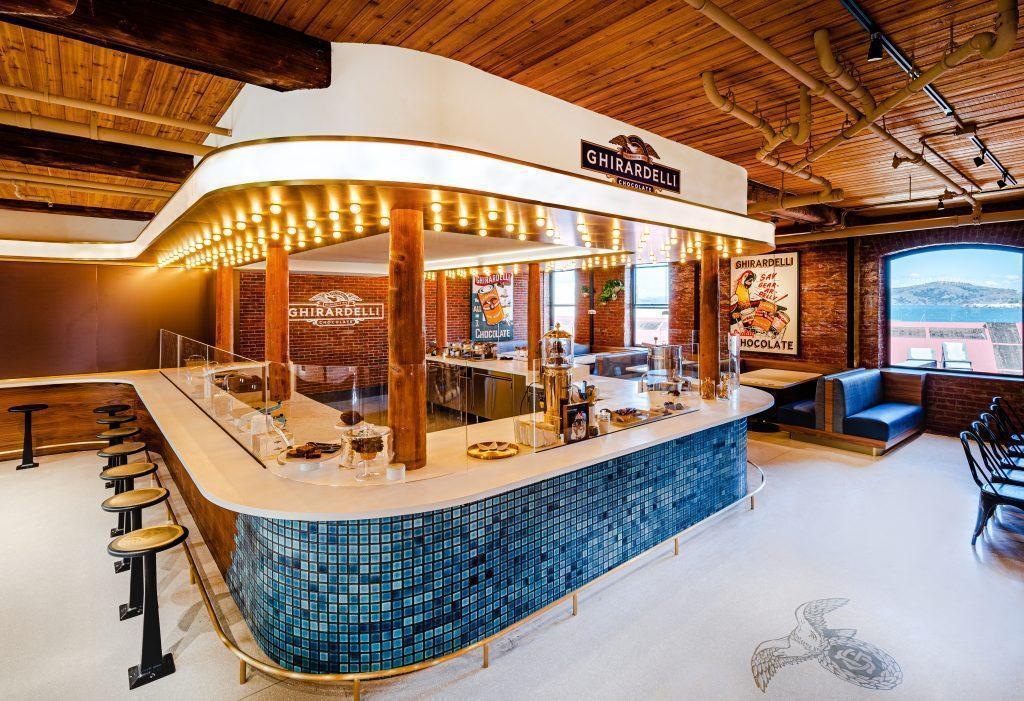 Soon, our sundae's arrived, and all of our favorite things surrounded us. We got free samples of the hot fudge to drizzle on our treats, and I tried not to cry when my boys squealed with joy. Motherhood has many moments that take your breath away; this was one of those moments.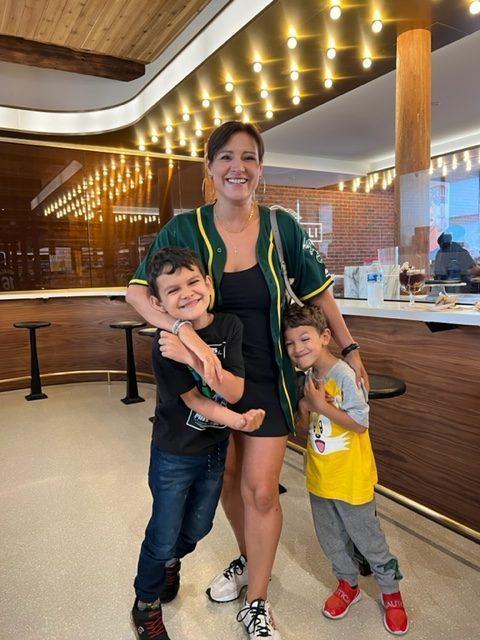 We laughed, ate, and got that famous sugar high, but, more importantly, we had a great afternoon in San Francisco. I highly recommend this experience for you and yours.