Did you know that Gilroy, CA, is buzzing with wineries and brunch spots? As a Northern California native, I've always considered Gilroy a place with great outlet stores and unique recipes for all things garlic related. I was due for an update.
This past weekend I had the opportunity to visit Gilroy with my family in a completely different light. We visited Gilroy as tourists. I grew up just 20 minutes south of Gilroy, in Watsonville, CA. As kids, we did our Christmas shopping at the Gilroy Premium Outlets. Gradeschool field trips happened at Gilroy Gardens, and we attended Gilroy's Garlic Festival every summer. Coming from Watsonville, we usually stopped to picnic or camp at Mount Madonna, the mountain that connects the neighboring towns. Gilroy, like Watsonville, will always feel like home to me. That is why this weekend was particularly unique. Seeing Gilroy as a tourist made it feel brand new. I highly recommend visiting this beautiful area (or re-visiting, like me) filled with wineries, shops, and fun.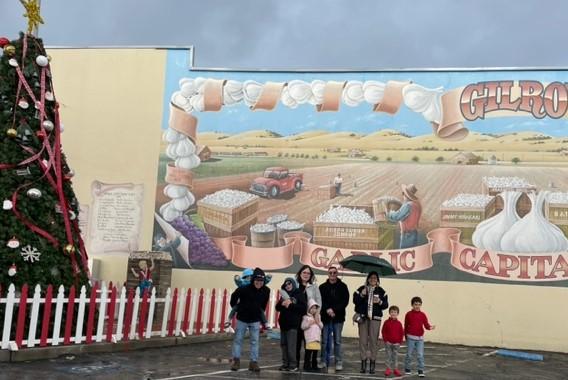 First up, brunch! 
We started the day at Tempo Kitchen & Bar, which hosted San Francisco Bay Area Moms and our families for brunch. Tempo K&B, located at 5th and Monterey Rd, in the heart of Downtown Gilroy, describes itself as a modern American cuisine with an elevated flair. I agree! At first glance, the decor felt like a cross between San Francisco chic and country warmth. We felt welcomed, and my heart was happy. There was live music (at brunch!) and a full bar. I had the salmon eggs benedict, prosecco, and a handful of my kid's garlic fries – delicious!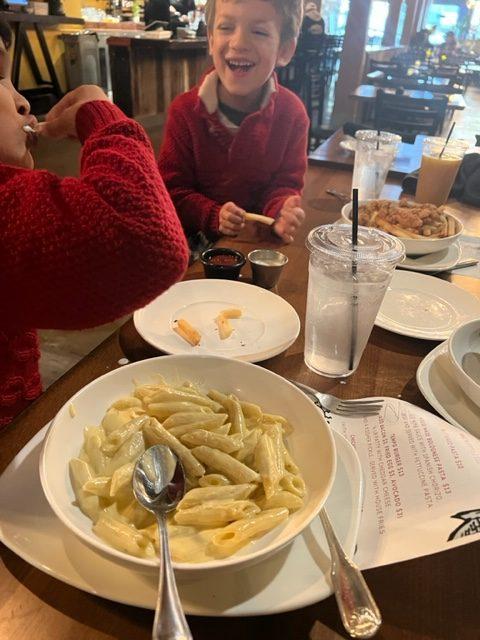 Our next stop was the Gilroy Visitors' center for a quick shopping experience and photos with a prominent garlic cutout. My kids got to use the virtual reality experience headset to learn more about Gilroy Gardens and Gilroy. If you're new to Gilroy, this quick five-minute stop is a must!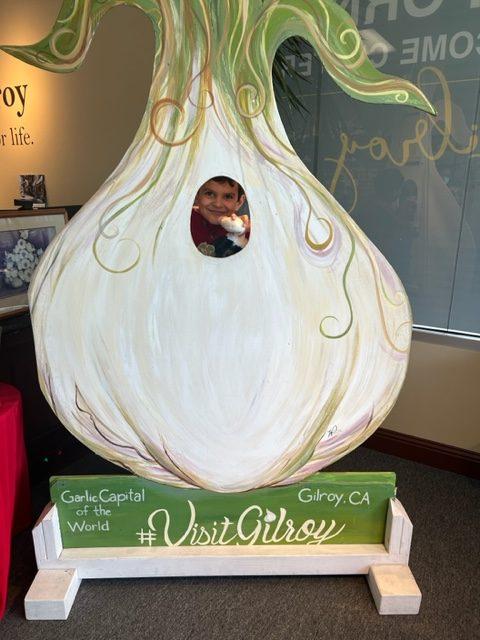 Did I mention wineries?
After our stop at the visitor center, we found our way to Cinnabar Winery. This winery is a family-owned winery rooted in the Santa Cruz mountains with tasting rooms in Saratoga and Gilroy. Cinnabar Winery hosted our group for tastings. They had a table set up for our kids, complete with goodie bags and crafting projects. We, moms, enjoyed chatting with the staff, tasting delicious wines, and having our kids play in the vast open space of the vineyard. 
"…we partner with local growers to coax the transformation of the finest California grapes into distinct and delightfully approachable wines." – Cinnabar Winery.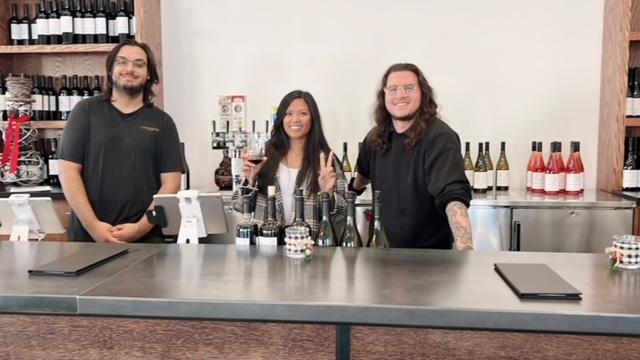 I enjoyed the 2020 Chardonnay from the Santa Cruz Mountains and the 2020 Rose, California, described on their website as a wine with "fragrant rose petals, Geranium and Cassis are the delicate aromas inviting one to tastes of melon and hints of lemon tea. The acidity is well balanced, with a bright, enjoyable finish." The reds were also delicious; however, even on a cold rainy day, this mom would choose Rose all day. That's just me.
I snagged a few bottles, packed the kids, and headed to our final stop, Gilroy Gardens!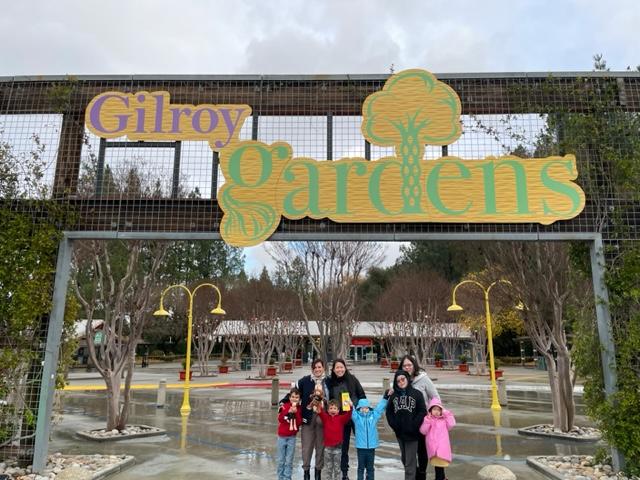 The first thing we did was walk into a fantastic holiday display at the front of Gilroy Gardens. It was magical. Even though it rained a little, the park stayed open, and the staff was friendly. Everywhere we turned, there was a ride or attraction that my kindergartener and first grader enjoyed.
If your kids are older, they might enjoy the Banana Split thrill ride or the Timber Twister Coaster, and adults might enjoy the Artic Ice Bar that features Candy Cane Martinis, White Christmas Margaritas, and other adult beverages. If you go now through December 23rd, there will be Visits with Santa available between 4:00 pm-8:00 pm. A Charlie Brown Christmas sing-along experience is also happening at the Lakeside Amphitheater at 6:15 pm, 7:15 pm, and 8:15 pm (excluding 12/23 and 12/30). We missed it this year, but we won't next year! We're returning to the park with friends and umbrellas (because sometimes it rains in California, apparently).
I'm not going to lie. The ride home from Gilroy to the Bay Area was long. Next year, I'll book an Airbnb or stay at local hotels like Corde Valle, the Hilton, or the Hampton Inn. Gilroy Gardens' website lists a variety of hotels here. Plan a trip to Gilroy! Plan to stay! We would have visited Tempo for brunch again before returning if we had stayed.
Plan your next family outing in Gilroy, a town I'm excited to include as a fun tourist destination.