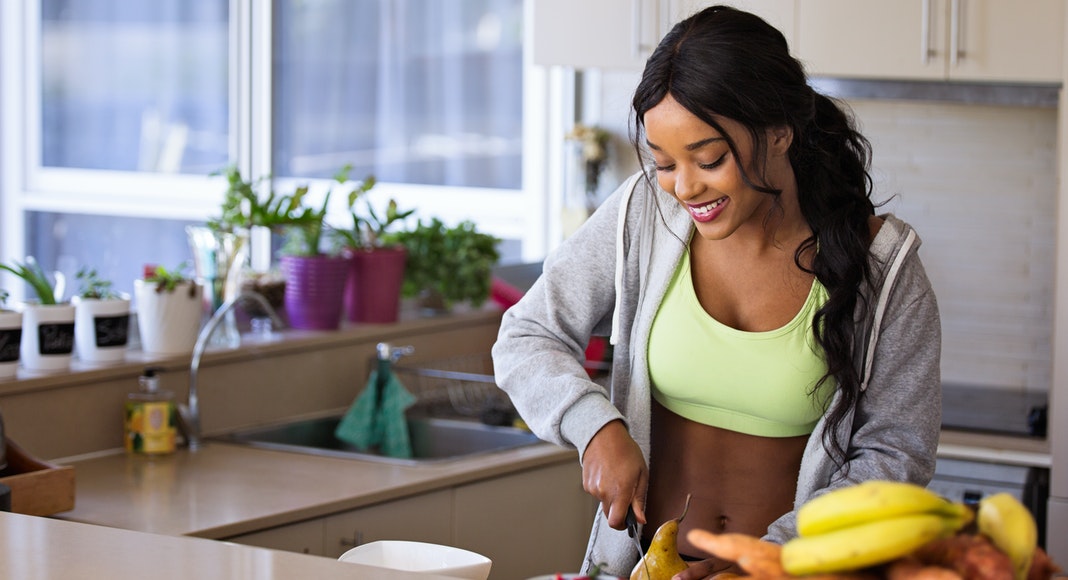 Sheltering in place has finally forced me to nail down a good system for feeding my family, and I'm definitely going to keep it up post-pandemic. 
Lunches are full meals at my house, because I married an Italian. My weekly plan also includes a lot of pasta, and hey, I'm not complaining. Here is what I'm doing:
Meal Planning
I create a meal plan using a table I have saved in a Google doc at the end of each week. Then I create a grocery list based on what I need. I used to organize my list so that the items were ordered by their aisles in Trader Joe's, but now I'm getting most of my food from Amazon Fresh. I still do a TJ's run, but I only get a few things, so I don't need to put the items in order. 
How do I decide what to make? I follow a general pattern each week. 
Breakfast
Once a week I bake something, like banana bread or chocolate chip cookies. That becomes breakfast until we run out, and then I alternate between cereal, oatmeal, smoothies, or peanut butter and jelly. I always offer fruit with my breakfast choices. 
Lunch
Monday

I make some kind of wrap, usually a breakfast burrito or a hummus wrap with cucumbers. 

Tuesday

is bagels and lox

Wednesday

I make a chicken dish, usually tacos but I also get fancy and whip up chicken cordon bleu or other yummy chicken recipes. I buy a whole chicken each week, cut it up, and freeze what I don't use. Once I accumulate enough wings, I will make a meal out of it. 

 

Thursday

I make a bean dish. Chili with cornbread or chili-mac are my go-to options, but I also do a lot of garbanzo-based meals.

Friday

is for leftovers. Usually, my leftovers are a medley of pasta that I have served for dinner throughout the week. If I'm short, I will make mac and cheese with peas. 

Saturday

is frittata day. I scramble half a dozen eggs with whatever spare fresh ingredients are in the fridge and call it lunch. 

Sunday

is pancake day. I make buttermilk pancakes with berries, or sometimes chocolate chips. I usually make roasted potatoes as well. 
Dinner
Like I mentioned, we do a lot of pasta. But I also use it as a chance to pack in a bunch of veggies into the sauces. 
I always triple or quadruple my sauce recipes so I can freeze portions to use the next week. For casserole like lasagna or enchilada I do the same. 
Monday

is pasta with pesto. I make my own pesto, either the traditional basil variety, spinach, kale, or even broccoli

Tuesday

is spinach tortellini. This is one of my easiest meals. 

Wednesday is lasagna or enchilada day. Lasagna can be vegetarian or meat-based, and enchiladas are either with chicken or beans.

Thursday

I always make rigatoni, but I switch between eggplant sauce, meat sauce, and carbonara (eggs and bacon).  

Friday

is pizza night! I take this chance to use up any leftover fresh ingredients, like mushrooms, salmon, pesto, or tomatoes. I make the dough in the morning and it's ready to make into four yummy pizzas by dinner. 

Saturday

I make either fusilli with a sauce of tuna, peas, and tomato, or I make butternut squash ravioli

Sunday

I make sandwiches for dinner! Tuna, turkey, chicken, or ham are my go-to sandwiches 
Sides
I serve either a salad, usually with tomatoes, avocados, and sunflower seeds and/or a side like sweet potatoes, spinach, green beans with most meals. I am always trying to get more leafy greens and yellow/orange vegetables into our diet.
Snacks
We aren't crazy about snacks in my family, and I try to keep healthy options around to fill the hunger between meals. I keep bananas, apples, mixed berries, applesauce, yogurt, string cheese, seeds, and nuts at home for snacking. On special occasions we might get ice cream or milkshakes for an afternoon snack.  
Fighting the Waste
Meal planning saves money and it can save time. But my favorite thing is how little we waste. I really don't see much other than banana peels or onion skins when I look into my compost bin. My meal plan system ensures that I'm using up what I buy instead of throwing it out. It feels good to cut down on waste, because that's not always easy when you're feeding a family with kids!