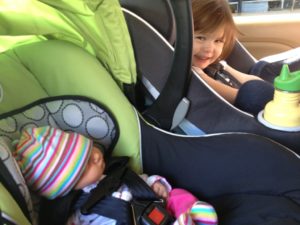 *This post is sponsored – but the thoughts and feelings are our own, and we only work with businesses we believe to be reputable and resourceful to our readers.
Is your child under 2 years old? Well then you're part of a bunch of parents statewide that will be making some car seat changes in the very near future…
Starting January 1, 2017, a new California state law mandates children under 2-years old must be rear-facing in a vehicle unless they weigh 40 pounds or more, or are 40 inches tall or more. Most children will fall into this category and because of that, many parents are wondering how their child will fit rear-facing and why it's so darn important. Let us explain.
First, the importance part. Children 1-2 years old are 5 times safer rear-facing. 5 times! Why? Because in a crash, their car seat takes the brunt of the crash forces, not their fragile neck, back, spine. It's all about crash dynamics. In other countries, children ride rear-facing until they're 4 or 5! We're behind the times on this.
Now the fit part. See above: in several other countries, children ride rear-facing until they're 4 or 5 years old. Your child will fit. Promise. They will naturally learn to crisscross their legs and, if they've never been forward-facing, they simply won't know any different. My niece and daughter rode rear-facing until they were 3 & a half years old. Some parents worry their child may break a leg in a car crash. A child is actually more likely to break a leg forward-facing due, once again, to crash dynamics.
So your little one falls under this new law, what type of car seat should you use for your rear-facing child? You have 2 options: 1) rear-facing only seats (these are the type of seats infants ride in and typically click into a base) and 2) convertible car seats that grow with your child and "convert" from a rear-facing seat to a forward-facing seat. Both are great options, as long as your child fits properly in the car seat. Yes, many rear-facing only (infant) seats now have high weight limits (up to 40 lbs.!), but most children outgrow their rear-facing only (infant) car seat by height way before weight. Typically a child outgrows their rear-facing only seat between 12-18 months old. Make sure to check your child's car seat for its specific height and weight limits.
If your child still fits that rear-facing only seat by both weight and heights, by all means use it. If not, it's time to look at convertible seats. There are a ton of options for convertible seats. Your best bet is to buy a seat with a high weight limit. As mentioned above, most kids outgrow their car seat by height before weight, but a seat with a high weight limit typically has a higher height limit as well. Ideally you'll buy a seat that your child can use until they're ready for a booster seat at approximately 5-6 years old (or 7 years old, like my son). Shop around, test fit seats in your vehicle (lots of stores allow this if you ask), check out how easy or difficult the seat is to install. Then, once you have a great rear-facing seat for your little one, get that car seat properly installed by a certified child passenger safety technician and have confidence your child is riding the safest way possible. Parenting win.
*Pictures courtesy of beep! beep! car seat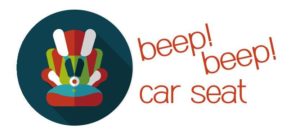 beep! beep! car seat was founded by Benjamin Arias and Karli Tedeschi as a way to share their combined 17 years of child passenger safety knowledge with parents and caregivers. Both Ben and Karli are certified child passenger safety technician instructors (CPSTI) and have installed over 20,000 car seats! In addition to being the West Coast's car seat experts, they also share a background of injury prevention program management. As parents of 4 young children, they know the importance of car seats and are on a mission to educate parents & caregivers with connected, meaningful car seat education. They offer pop-up car seat fitting stations in the Bay Area, among other services. Please visit beepbeepcarseat.com for more information.