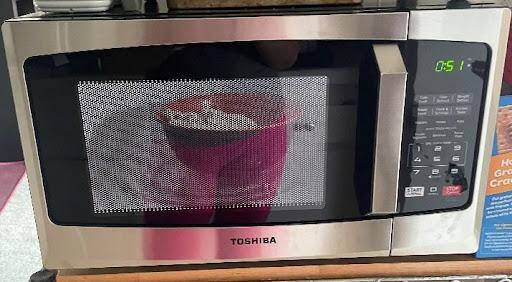 A few weeks ago, our microwave broke. I couldn't believe it myself. Microwaves don't break. We had had ours for over ten years. It was older than our daughters were. We kept it clean. We didn't nuke metal things. The machine was indestructible, or so I thought. I knew it was broken when I heard a snap to open it. All I did was press the button to open the microwave door; that last press was all it took to break the button. I just wanted to warm a cookie. Sigh! Immediately after, I yelled for my hubs to grab his tools to see if he could open the microwave. He didn't have the right tools! He needed a day or two to order parts. So, we were stuck without a microwave for a few days, heading into a work week. How were we going to manage without a microwave for a few days?
Rethinking meals and meal prepping.
Our microwave was our appliance workhorse like our refrigerator, stove, coffeemaker, and toaster. We used it every day for every meal to defrost or warm foods. Not having a microwave meant rethinking how we would prepare meals for the week because batch-cooking meals did not work without a microwave. Meals had to be made on the spot versus in advance. Meal planning had to be done differently.
I looked at our stove and set aside our huge stockpot on our mini freezer. I grabbed my two non-stick skillets (9″ and 12′) and placed them on the two front burners. A kettle and a small-lidded saucepan already lived on the two back burners and were part of our daily cooking arsenal. We relied on these four items to cook and reheat foods while the hubs waited for details. Not having a microwave was challenging for us! Cooking took a little longer, so our daughters had to wait to eat. Primarily our eldest daughter Ilse. She is used to waiting 2 minutes to warm her breakfast ramen or fried rice in the microwave versus the 5- 6 minutes it took on the stove. I prepared our meals close to mealtime, so our food would be hot. For our daughters' weekday hot lunches, I cooked them later in the morning. The timing was everything for all our meals, but it was time well spent. It was nice to spend more time cooking versus the mad dash to heat all different meal components at once. I just had to dedicate more time to cooking.
We survived ten days without a microwave.
After the microwave tools arrived, the hubs opened the microwave and freed my cookie. Upon closer examination of the broken piece, he realized that the broken part was irreplaceable. We had to order a new microwave. Argh! More waiting. While we could have bought a microwave from the local Best Buy or Target, we saved $30.00 by ordering it online. We couldn't pass on the deal. A few more days of waiting would not hurt us. In the end, we survived without a microwave for almost ten days. We appreciated our meals a little more during that week because of the time it took to prepare everything. The best part of our new microwave is the door handle. No more push buttons for us! Do you think you could survive without a microwave?