*This post is sponsored- but the thoughts and feelings are our own, and we only work with businesses we believe to be reputable and resourceful to our readers.
Did someone say healthier hair? Yes!
I recently had the opportunity to try the Eva NYC Clean It Up Shampoo, and I quickly found myself feeling less guilty about my much needed self care for my "mom" hair! First of all, this shampoo smells amazing. This is important to me because in my two-minute showers, I'd like to feel, just for a moment, like I am at the spa.
Secondly, and most importantly, The Eva NYC Clean It Up Shampoo is made with Argan oil and KeravisTM protein and without harmful parabens, phosphates, and mineral oils! Plus they don't test on animals!
"Argan oil feeds hair with vitamins and nutrients, while KeravisTM protein delivers optimal anti-breakage benefits and is scientifically proven to triple the strength of hair. The result is stronger, healthier, softer hair."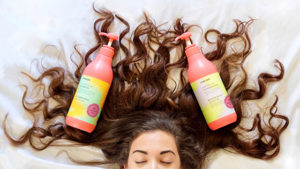 I'll take it! And my hair does feel softer! I have really long hair and after using the Eva NYC Soften Up Conditioner that pairs with the Clean It Up Shampoo, I was able to brush through my wet hair without major tangles. I can't wait to continue using this to really strengthen my hair. I feel like my hair has changed so much with pregnancies and kiddos- ugh, and now I feel like my kids are always pulling at my hair. Ouch!
I want healthier hair!
Right now, Eva NYC's exclusive sizes are sold at Costco nationwide and online at costco.com with free shipping! Even better, from May 18 – June 4, 2017, the price is $7.99 ($19.99 value), instead of $9.99. We know you all love Costco, right? So, how about picking up something for YOU the next time you shop.