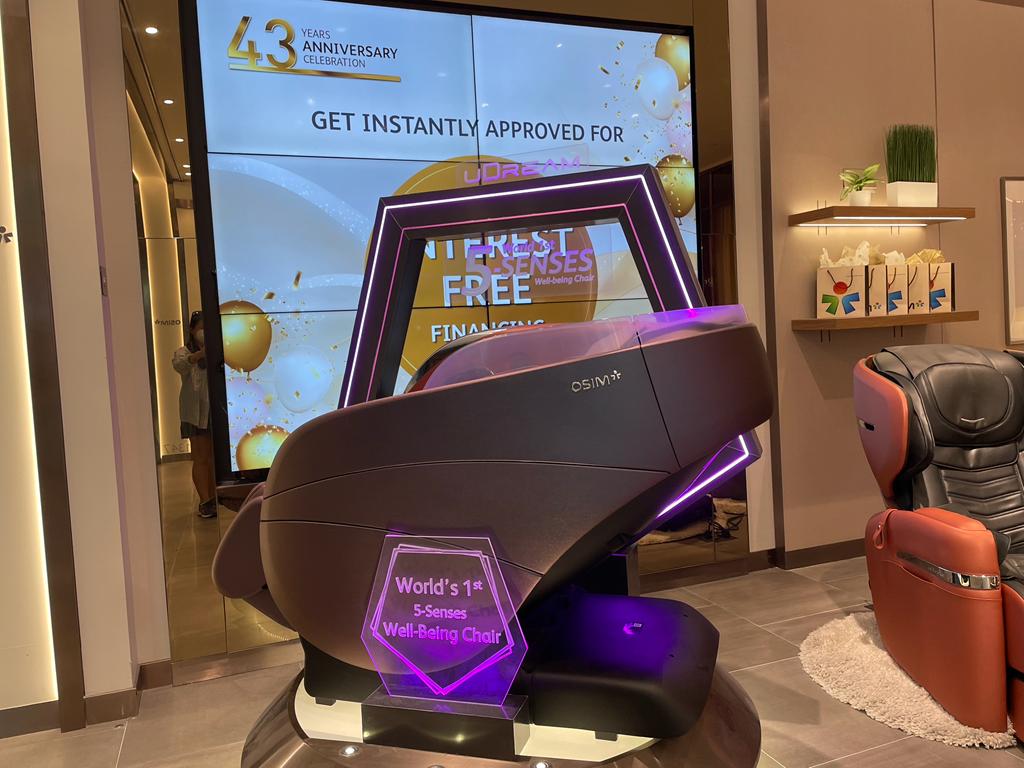 It was the weekend before the start of the school year, and this mama bear was both anxious and exhausted. If there was anything I missed from living in South East Asia, it was the easy access to full body massages. Just when my tight muscles were screaming out in protest, I dragged my aching mom bod to the OSIM experience store at Westfield Valley Fair. OSIM is a global leader in branded healthy lifestyle products with over 40 years of experience and boasts a wide range of avid fans – from my mom to Snoop Dogg. Fo' shizzle.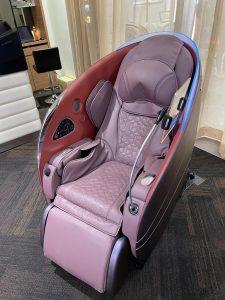 Having tried my mom's OSIM uLove, which she uses daily before bedtime, I had high expectations about their new product, uDream, world's 1st 5-sense well-being chair. Upon first look, the uDream looked like a luxurious space capsule, complete with a sleek purple shell shaped like a butterfly wing and a modulating color light strip at the top. The seat itself reminded me of a first-class seat on an airplane, inviting me to make myself comfortable. The bottom part of the seat flipped out to house my calves and feet, and a tablet sat on a stand right in front of me, inviting me to get started. By placing my hands on the BioSensors, the smart technology immediately measured my body tension and heart rate. I had a body tension rating of 67, which translated to: You are feeling pretty stressed! Start engaging in mood-lifting activities more often, and actively make time to relax or unwind.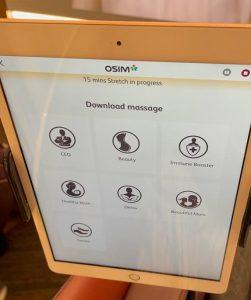 Catching a whiff of lavender from the surrounding DreamScent Aroma pods and soothing sounds coming from the surround sound speakers, I embarked on a reflexology journey tailored to my stress level and sore spots (shoulders, neck, lower back, calves) from working on the computer and carrying my preschooler. As the uDream adjusted its rollers to my body, I was already feeling certain tight spots that I had no idea needed easing.
There are many proprietary programs, such as healthy mum, beautiful mum, CEO, etc. that I could choose from, with each program targeting specific issues. I opted for healthy mum and CEO – and boy, did they press my buttons (in all the right ways)! OSIM utilizes acupressure points and massage treatment, which applies the same principles as acupuncture to promote relaxation and wellness, as well as to treat ailments. Acupressure has been used in Traditional Chinese Medicine (TCM) to help restore balance throughout your body. Everyone can benefit from this treatment – whether it be to prevent illnesses, alleviate #momlife stress, promote circulation, or boost overall immunity. Besides acupressure, OSIM also utilizes massage to help stretch out your body. OSIM signature massage technologies – their patented 4-Hand & V-Hand Pro Massage – simulates the agile hand-grip of a professional masseur, producing a realistic massage grip that is adept at extracting deep-seated knots and aching muscles. The 720° roller balls move to the body contours, delivering the most comfortable and enjoyable massage experience.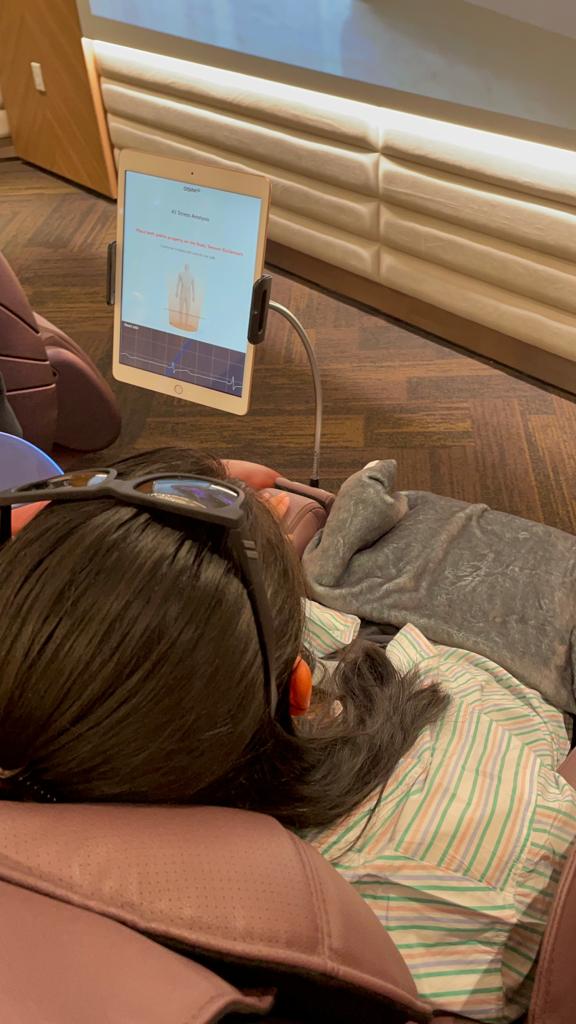 OSIM implemented safeguards into the uDream, so that we don't need to worry about not being able to pull our hands out to take a call or to pause a session to attend to a fussy baby. There are also sensors and locks in place so that kids and pets cannot operate the chair or open up certain compartments while you're not looking. With adjustable programs and customizations, the uDream is the perfect self-care solution for moms. By the end of my 45-minute session, I was recharged and ready to face the (school) week ahead!
If you don't like being touched by other people in the way of massaging, but find yourself in dire need of a massage, OSIM is the answer! If you are constantly aching to go to the spa or to get a massage, get an uDream to complete your home spa and an uCozy for your on-the-go or office life. If you are a new mom with sleep deprivation or are suffering from insomnia, the uDream will greatly help you improve your quality of rest. If you're new to the wonderful world of massage and acupressure, there's no need to fret – you can customize the strength with which you'd like to be massaged and ease yourself at your own pace. If you're an active mom, rest assured that you'd be able to get that strong sports massage too!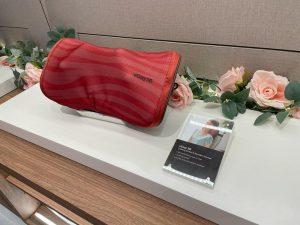 Nothing matters more than our family's health, and as pillars of the family, we moms need to remember to put self-care first! Instead of splurging on a spa trip, you can invest in an OSIM product (they offer 0% interest financing plans), which enables you to have a full body massage every. Single. Day. Another thing I love about the uDream is that I can control my own entertainment program on a smart device just a fingertip away. I can binge shows, check the baby monitor, read fantastic articles, plan the next family vacation, read a book, look up recipes, or just close my eyes to my favorite playlist. Dreams do come true, thanks to OSIM!