Hella MomVersations™: February 2023 Podcast – "Love, Sex, and Rock n'Roll"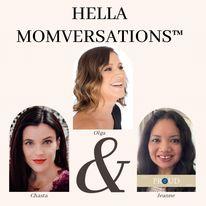 Welcome to Hella MomVersations, Keeping it Real With San Francisco Bay Area Moms. Local moms contribute to this community for local moms, and this podcast, Hella MomVersations. Managing Editor, Olga Rosales Salinas, hosts this show, and contributing writers from the community co-host. As a member of the well-known, nationwide City Mom Collective, we are a top-rated online parenting publication and community focused on sharing information, ideas, and personal stories to support, inspire and connect San Francisco Bay Area families.
Love, Sex, Rock n'Roll, and Tom Cruise, oh my!! We had fun with this show! Listen and let us know if you attended The Exotic Erotic Ball at the Cow Palace in the 90s and early 2000s.
We're excited to have Chasta, Program director and co-host of "The Lamont & Tonelli Show", joins us to talk about Love, Sex, Rock n'Roll, and Tom Cruise!
Chasta is a small-town girl originally from Southern Oklahoma with a passion for the "big city." She moved to California at age 21 to pursue her dreams of radio and TV. After working in LA for 5 years she relocated to Northern California where she married her drummer husband, Jay. She now resides in the beautiful beach town of Pacifica with Jay, their 6-year-old son Cody and pit bull Roxy. After 10 years at 107.7 The Bone in San Francisco Chasta now serves as Program Director as well as co-hosting "The Lamont & Tonelli Show" and hosting mid-days. She's also the Host and Producer of Soundwaves TV and The Rock Your Life Podcast. When she's not on the mic or in front of the camera, you'll often find Chasta running, traveling, rockin' out at local shows and going on adventures with her family. 
Follow her:
IG – @chastalynn
Facebook – @chastaradio
And us! @SanFranciscoBayAreaMoms on Facebook, and @sfbayarea.moms on Insta!
Donate to this podcast and help us keep going!