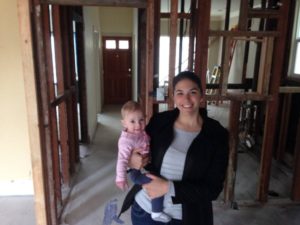 Affording a condo or house is no small feat anywhere in the country, but particularly in the Bay Area. More often than not, the place in your price range will need some work. This happened to my husband and me almost three years ago. With our second child on the way, we wanted to move out of our two bedroom flat in SoMa into a bigger place in a more kid-friendly neighborhood. We loved SoMa's vibrant downtown energy, easy access to just about everything and new bars and restaurants opening on every corner, but having a baby shifted our needs away from the nightlife to the park life, and outdoor space became a priority.
That led us to Laurel Heights, a tiny neighborhood sandwiched between the Inner Richmond and Lower Pac Heights that has all of the conveniences of the city but is also near lots of playgrounds and parks. Frankly, the only way we were going to afford a house in this area was to follow HGTV's Property Brother's advice and buy a fixer upper at a lower cost than an already remodeled home.
So, that's what we did. We broke through some walls to make an open concept living area, added a half bath, and remodeled the kitchen and existing bath. It was only after we finished that we realized just how ignorant we were about the entire remodeling process because HGTV is NOT an accurate representation of how it goes down. Here's what we learned along the way. Even if your planned project is a smaller undertaking than ours, this is worth a read first.  
Accept that everything will take longer than you want.
Six months elapsed between buying our house and moving in (it was unlivable during construction). The downtime was literally costing us money, so we were anxious to move the process along as quickly as possible, but there were a lot of steps to go through and many of them were out of our control. For example, it was two months before demolition even began. During that time, we found an architect who designed the plans for us in conjunction with a structural engineer. Then we worked together to find a contractor, and we submitted our plans to the city for permits. Because our changes were within the original footprint of the house, the permits were issued the same day, but it can easily take eight months or longer to get permits approved, if you're trying to put an addition on your home or make other major changes.
Plus, your architect or contractor may not be able to start on your project immediately, depending on the other projects they have. Right now, all of these people are very busy. Their services are in high demand because lots of people are doing what we did, and our six month project would likely take nine months or more, if we started it today.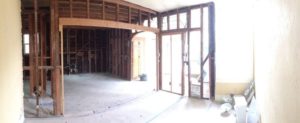 Expect to go over budget.
Like, by a lot. The professionals say you'll probably spend an extra 12% over your original construction budget. We ended up spending 50% more, and I promise you this wasn't due to us making wild changes or buying extravagant finishes. It's just the way it goes. The final bill from your contractor will never be less than their original estimate. This is because they can't foresee everything that will happen on the job, and there will always be surprises.
We lucked out and didn't have major setbacks. Still, along the way, we discovered old knob and tube electrical wiring that had to be replaced, a second ceiling hidden above the exposed one, and lots of other small things that added up in the end.
Look closely at the construction estimate to see if they've factored in the cost of finishes (e.g. cabinetry, flooring, tiles and counter tops). The price of these things varies greatly depending on your preferences and the quality of the products, so you may have to account for the costs in addition to the construction estimate your contractor provides.
Depending on the size of your project, you may have additional costs, as well. Your architect's total fee will be somewhere between 10% and 15% of the cost of construction. Your structural engineer will charge you for his or her services (in the thousands), and the permits cost money, too. We didn't use an interior designer (I like doing this stuff myself, and it wasn't in the budget, anyway), but if you work with one, you'll need to factor that cost in, too.
Anticipate some bickering with your spouse or partner.
I put this item directly below the budget discussion for a reason. This was the biggest point of contention for my husband and me. Once the walls were open and construction was in progress, we had no choice but to move forward and write the checks, but, man, was that a bad feeling. Renovations are an emotional roller coaster.
We have the same aesthetic taste, so we side stepped disagreements on the design decisions, but this is also a common stressor for couples who have different style preferences.
Build the right team of professionals.
Get at least three bids for everything but don't always go with the cheapest. Trust your gut when you speak with contractors, architects and anyone else who will be on the remodeling team. You need to feel like they are listening to you, that they will proactively communicate with you, and that they are trustworthy.
A good team will help you ride out the emotional roller coaster by giving you an idea of what dips and turns to expect along the way. For example, our contractor warned us that the plumbing and electrical phase would  feel like it was taking a long time. They were right. I visited our house during construction several times a week, so I knew they were really working, but it didn't look like very much was happening to the untrained eye. Waiting for building inspectors to sign off on the work often slows it down, too. We were so anxious to close up those walls, but at least we knew going into the electrical and plumbing phase that progress would be slow.
Be realistic about what kind of project you can take on.
It's tempting to go the Do It Yourself route to keep costs down, and, by all means, go for it, if you can. Remember that any free labor your family and friends provide is great, but it can bring with it a whole host of other awkward situations. Their timeline or work quality may not be what you expect.
DIY wasn't in the cards for us, so we worked with a general contractor right from the start. At first, we hoped that we could do the painting ourselves to save money. Our contractor supported this idea but gave us a realistic preview of what that would really entail, and it was quite a lot of time-sensitive work.
We had to accept that it would be impossible to paint ourselves, given my husband's travel schedule, our nine month old baby, my pregnancy with our second child and not having any family support nearby. Hiring professional painters was money well spent to save our sanity and keep the project on track.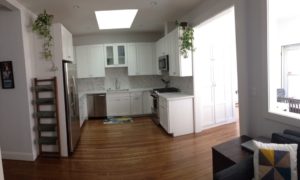 Carefully consider what you want and stick to your decisions.
Changes are costly. Depending on the extent of the remodel required, sometimes it's better to live in the house for a while before starting to renovate. This gives you a really good idea of what you want, so that the end result meets your needs. We weren't able to do this, but we had two months before demolition to mull over a lot of our needs and wants.
We used the time to select the finishes we liked, even though it would be a few months before we'd have to order these for installation. This meant that the contractors were never waiting for us to make a decision, and that moved the process along more quickly.
Despite your careful planning, you'll most likely still have a few changes along the way. In addition to whatever added material costs this brings, your contractor may charge you a project management fee to cover the time it takes for them to rejigger the schedule and coordinate with the subcontractors.
Spend the money on structural things right off the bat. They're much harder to change after the fact.
As surprises come up, you may have to adjust your budget. Prioritize spending money on the structural part of the project — the stuff you won't see when the remodel is finished— and sacrifice some cosmetic elements to balance it out. Believe me, you won't want to reopen the walls once they're closed.  Just do it right the first time.
It really is rewarding to put your personal stamp on your home and make it just the way you want. I promise you the time, money and stress will be worth it. Take lots of pictures of the project and enjoy the ride. Good luck!