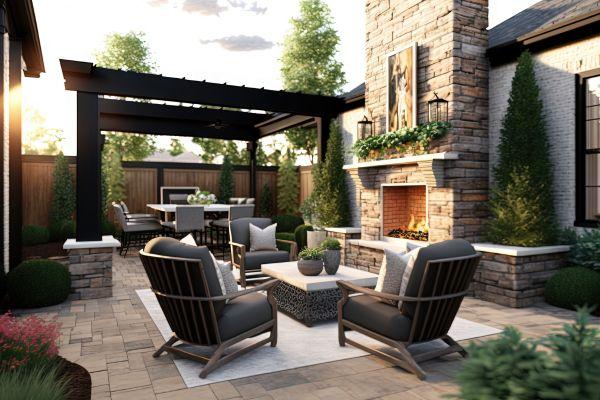 The sun is out, and the weather is shifting. Spring is here, and summer is around the corner. Don't let it sneak up on you without being prepared. We're not talking about a new summer wardrobe! You need to get the house together, specifically the backyard. Check out how to get your backyard ready for the summer.
Do a Pressure Wash
It's been a long winter, and you may have neglected some areas during that time. The weather wasn't exactly inviting homeowners to relax outside, but now's the time to spruce up those areas you ignored during the winter months.
Start with a pressure wash to clear away dirt, grime, and debris. If you have a wooden deck in your backyard, consider resealing the wood after clearing it off. While you're at it, repair any damage you see on the patio. Don't forget to scrub down that grill! Plenty of BBQ days are approaching!
Get New Furniture
Goodbye clouds of gray, hello skies of blue. Out with the old and in with the new. Sometimes, cleaning furniture isn't enough. If you still don't care for your outdoor furniture after a thorough cleaning, update it.
You don't need to do a complete makeover all at once because that can get expensive. Now is a great time to update a few pieces. Look out for any rust, and do your best to remove it. By the time summer arrives, your patio will be complete!
Prepare Your Lawn for Games
Backyard games are the best for the summer. Start thinking about backyard games to play during fun evenings with friends and family. Take advantage of the nice weather with a refreshing water balloon fight or an exciting treasure hunt.
Your grass will endure a lot of foot traffic in the coming months, so consider artificial grass to prevent your lawn from getting torn up. It will always look fresh, and you don't need to worry about your guests trampling your lawn.
Use Bug Repellant
Most amazing things come with a catch. Summer comes with great weather that brings out the bugs. Even if you are in their domain, you don't want them pestering you.
Install bug zappers around your backyard; this is especially important if you plan on hosting guests this summer. Citronella candles and oils work well as insect repellent and can keep mosquitos away.
Check the Lights
Make sure the outdoor lights work. Most have long lifespans, but you should make sure they turn on. Months of disuse could have damaging effects on their quality. You can also hang tea lights around the property to set the mood. Different types of lighting look good in a backyard; everything doesn't need to match. Focus more on coordinating outdoor lighting rather than installing identical fixtures around the yard.
Getting your backyard ready for the summer will have you pumped for all the beautiful days to come!