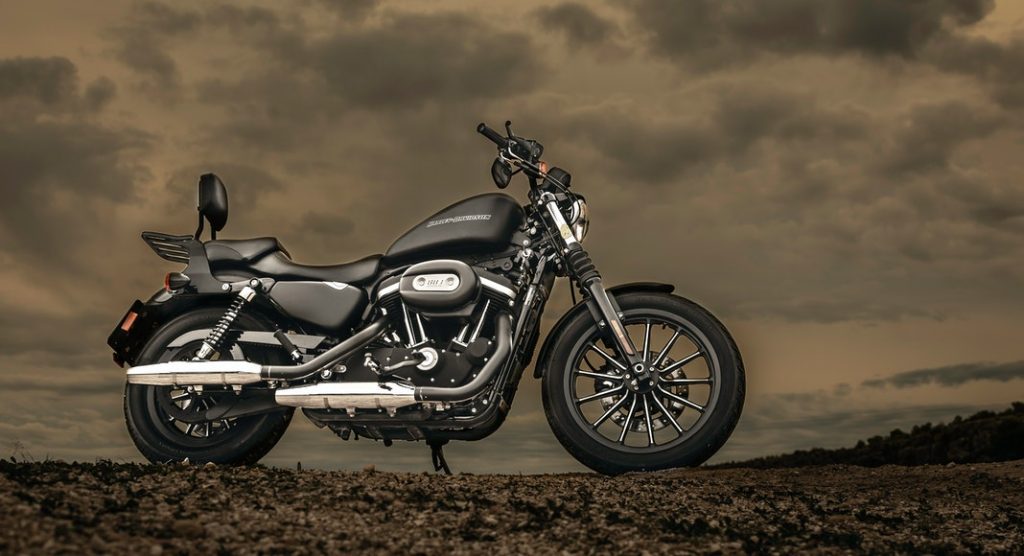 How do you feel about extreme speed on the highway? 
Do you dream about riding away from daily grind feeling the wind in your hair? 
I like the wind part, but to be honest – I am extremely scared to be the one driving. My little one, though, loves the sound of engines, and can stare at motorcycles for long stretches of time. She also calls motorcycles – "mommacycles". 
Isn't that cute?
Imagine the dream
One day I decided to take the "momma" part as a sign to finally bring to life my teenage dream. I see myself sitting on a huge bike with my feet in front of me and the engine revving up as I'm heading down the dreamy Pacific coast.
This summer I was reminded of this dream when I saw a bike crowd near the bar in the Santa Cruz mountains, where we were having dinner. Everyone looked cool in their leather jackets, hanging out next to fancy and serious looking Harleys.
I thought to myself – what would it cost to own a Harley Davidson? 
Now I know . . . 
It is A LOT! 
Not kidding. 
But if it's a dream then why not, right?
We only live once and usually, as moms, we make our kids' dreams come true and forget about ourselves. 
Make it happen
As I was checking the prices on various Harley models (a thought that I should look into other brands of motorcycles didn't cross my mind) a message popped up on the screen. The dealership had options to take a class and learn how to ride safely and to do it right away on one of their Harleys. 
Who could say 'No' to two days of intensive training in the middle of July if that might lead to my magical vision in the future. Certainly not this lady.
I booked the class as soon as I saw a free weekend on my family calendar. My husband was not as psyched about my marvelous idea.
No idea why.
He did say it might be too heavy for me. I was undeterred, especially since I had zero reference on the size/weight of these road beasts. In hindsight he had been onto something. 
My main criteria was that I would look awesome on one and might get away quicker than with a bicycle. And while I don't have a license, the class was promising a fast pass as an extra bonus to those successful individuals surviving their course.
Lesson in survival
The weekend could not come fast enough. 
Living in San Francisco, I had planned a one night getaway to attend the class in Livermore, CA. Driving an hour each way four times is not my idea of fun thus I booked a hotel nearby to rest after the practice. 
Do you know how San Francisco gets in June – July? It's cold, foggy and not your regular California weather. When I booked a class for July, I expected something but definitely not to end up in the middle of a heat wave dressed head-to-toe in jeans, boots and jacket as part of the ensemble. 
If you count the helmet, leather gloves and the heat from the motorcycle – I was looking at a "relatively warm afternoon" in the middle of shade less practice range. 
There were twelve of us in the class, everyone got a motorcycle to drive. We all signed a waiver that we understand that our instructors can kick us out of the class if deemed unsafe for others. Like I knew what that really meant. 
Each practice day is around 6 hours of mental and physical endurance. You get breaks every three hours. If you can't handle the heat and pace – you are out. My only analogy of the experience is you are solving advanced math equations while in a 100° sauna riding a Peloton in full attire.
Sounds fun!
Dreams come true
I got booted out around ⅔ of my first day. 
Half the time I was scared to push the bike into driving though the main rule is "to move and stabilize you need speed". It was a problem for me. I was scared. 
I did get my dream of riding a Harley. 
Not in the sunset with the waves crashing on the shore. However I did manage to put my feet up and ride the bike for a while, even switching between gears and stopping as required. I also got bruises on my legs and sore arms. On top of that – I had a room to myself and no class to attend the next day.
I managed to getaway, sleep, reflect and come out a winner!
Let me know in the comments what is your dream you wish would come true?