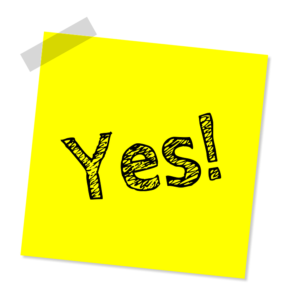 I recently read an article in the September issue of Good Housekeeping magazine about Shonda Rhimes and her new book "Year of Yes." In the article, Shonda was interviewed about her book and what it means to "say yes." As a fan of her writing on Scandal, I was intrigued by the notion of "saying yes" to me. While I have yet to read the book, I want to take the time to illustrate some of the things I will say yes to this new year, and they are in no particular order.
Dates with Friends
I confess it is hard to schedule dates with other mommy friends or non-mommy friends, but I keep trying, because I love to socialize and stay connected. For example, I have a daily phone date during my commute (Thank you Bluetooth!) with one of my closest friends from out of state. For twenty minutes, it's like we are having coffee in the city. With a fellow full-time working mommy/cousin, it took us nearly four months to get a mommy date scheduled. Now that we had one, we are planning the next one. A text message is nothing compared to hearing a familiar voice or sharing a laugh.
Attend Work Social Functions
Last year, with Ilse being an infant, neither my husband or I were excited to attend any work parties or social outings. Ilse was teething and was beginning to eat solid foods. We, as a family, were still getting used to our new daily schedule. This year, we will attend our respective parties, community events, and have a good time. While we don't attend them together, it's important for each of us to attend these work functions and have fun with our coworkers.
Be Okay with Cooking Shortcuts
I am a die-hard "make everything from scratch" baker. Ask anyone. I've spent years perfecting my mini pecan tart recipe (i.e. technique, the caramel, the cooking times) or my annual Thanksgiving turkey (regular brine vs. dry brine, organic bird, cooking the bird upside down). The more active Ilse is, the more I am grateful to have cooking shortcuts, like pre-made pie crusts, frozen vegetables, or "break and bake" cookies (somehow, I burn these!). Cooking shortcuts give me time for other things, like peeling and dicing apples for aforementioned pie crust or just time to do nothing at all.
Make a Job Transition
I recently said yes to this one. It took me months to do it, because I feared the unknown. I loved my team; I was happy (complacent). At the same time, I was also curious about the opportunity to learn something new. With encouragement from my husband and a few dear friends, I transferred to a sister property within my company in Union Square last Fall. And I am loving every minute of it.
Say No
These seems counter-intuitive. But, it's one we mommies need to do more often- Say yes to no. As a multi-tasking mommy, I sometimes say yes to everything. Yes, I will bake for the staff fundraiser. Yes, I will make reservations for ten persons at "fill in the blank" restaurant. Yes, I will cook and entertain Ilse at the same time. It's in my nature to want to "do it all" and attempt to, yet I am not alone (as my husband likes to remind me). I can say no to any activity I don't want to do or find a solution to make it work (like ordering baked goodies from a bakery for said staff fundraiser) or ask him to watch Ilse, so it's less stressful for me.
Someday soon, I will find time to read "Year of Yes." In the meantime, I will uncover other things to "say yes" to. I encourage you to do the same. For me, the biggest takeaway has been just saying yes to me. What are you going to "say yes" to this year?