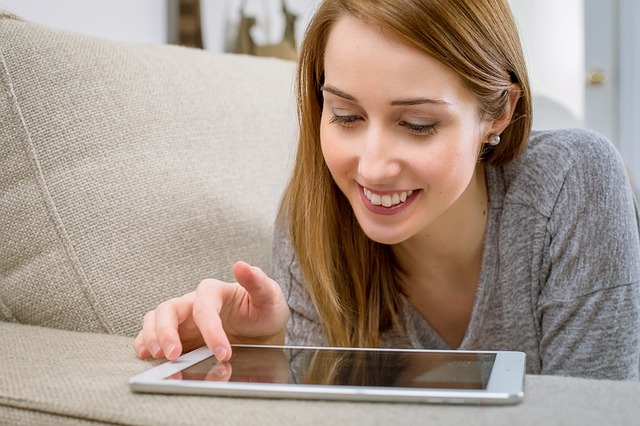 I'll be honest: I dreamt of the old school version of stay at home mom life. I grew up imagining myself putting a roast on while the kids played on the front lawn or planting flowers in the spring like my own mother. As I planned it, there would be other moms on my block, including that best mom friend that I'd grab coffee with or wave to over the picket fence. Life was good in my fantasy of the future, but I was picturing suburban life in the 1950s, and instead, I found myself so urban that I am considered lucky to have my own washer and dryer and to give birth in whatever we're calling this decade (the teens??).
There is no best mom friend next door. No lawn. No white picket fence. But I'm not lonely or forlorn. I'm not wondering what became of me. Not at all. I'm loving mom life, and it's in part because I'm plugged into a virtual world of technology.
Up at 3 am nursing? I pull out my Kindle and catch up on some light reading (who am I kidding, I downloaded all the baby sleep books). Toddler flips out because her burrito "has beans in it"? I text the story to a mom friend and she shoots back what ridiculous thing her child cried about today. Suddenly exasperation melts into hilarity when you have someone to share it with.
I may not have a wise mother of seven down the street to confide in when I'm in over my head, but I can google anything I'm wondering about and Siri isn't offended if I don't make any small talk. Between mommy blogs, facebook groups, and group texts, I find myself surrounded by a wealth of information, experiences, and understanding. Connection is online these days, and it's a good thing.
Aaand it has a dark side. I read a meme recently that first made me laugh but then made me worry. The joke was that a mom wondered how her own mother ever got it all done without the modern conveniences of today when she couldn't seem to catch up. Then her internet went out for 24 hours and she realized exactly how.
So this is real. Technology is a huge distraction and it can take us away from what matters just as fast as it can get us closer. What use is an online grocery order if you use the time you save in a Youtube makeup tutorial black hole? Nothing wrong with makeup tutorials, but if dishes are piling up and we only register our kids' fifth "Mom," our priorities are off. I have to remind myself that social media is addictive and use it responsibly.
I know for a fact that technology and the internet have helped make me happier as a stay at home mom. It has also held me back and I try to stay aware of this. I put limits on myself and make daily to-do lists that I finish before I veg out on social media. At the end of the day, the internet shapes how mom life looks today. That might not be anything like my childhood fantasies, but I love it anyway.