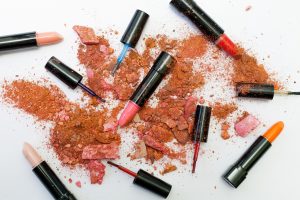 Wearing a mask has become second nature, almost because I still have to think about bringing one whenever I leave our apartment for the day. Like my mask, I now carry a clear bag of sanitation gear (disinfectant wipes, gloves, hand sanitizer, and a spare mask). While my sanitizing gear has increased, my makeup bag has shrunk. Gone are the two-three lipsticks, two eyeliners, pressed powder, and eyeshadow. Since I'm not attending any client events or spending evenings with clients for the foreseeable future, I don't need the extra "evening" makeup. And, it got me thinking:  Could I get through the day with less make-up? Can I wear less makeup and still feel like me?
To know me is to know I love makeup. I have loved makeup my entire life. I love wearing it. I love how I feel when I wear makeup, even on a Saturday when we are just running errands or bumming around at home. I am a firm believer that when a person looks their best, they feel their best. Makeup is like the armor for my self-confidence. I can conquer the world when I am wearing red lipstick and a little eyeliner. My earliest experiences with makeup were of watching my Mama, Lola Sally, or Aunt Barbara put on makeup before they went out for the day. Once in a great while, I was allowed to wear a little lipstick. In general, makeup was reserved for "grownups."  When I was finally permitted to wear makeup at the end of middle school, I never looked back. Wearing red lipstick was my entrance into womanhood.
Up until the last few years, my makeup routine was minimal; it consisted of powder, eyeliner, lip liner, and my signature red lip. If I was going somewhere fancy, I would add eyeshadow and blush. When BB cream, the multi-tasking wonder (concealing, mattifying, and sun-shielding)  arrived,  I added it to the mix. Then I added a nude lip liner and mascara. A five-minute face quickly turned into a fifteen minute face. But I couldn't deny the swagger I had when I wore more makeup, especially when I paired it with a fabulous suit or sheath dress. 
Fast forward to the present…A few weeks ago. I started subtracting items just to see if I could do it. I started with blush, then the BB cream. I kept the moisturizer with sunblock. I tried going without lipstick, but I don't look or feel my best without it.  For my eyes, I kept them made-up since they are the only things people really see. I limit my eye routine to eye gel (Garnier SkinActive Clearly Brighter Anti-Puff Eyeroller is a lifesaver) powder, nude eyeshadow, and waterproof eyeliner. Other than my eye makeup and lipstick, my face is bare. I've come full-circle and have returned to a five-minute face routine. 
Given how hectic life has become with two children, juggling distance learning and work schedules, some parents might contend that a quicker routine would be a good thing. It is and it isn't. On one hand, I appreciate that I can look great with fewer products and less time. At the same time, I appreciate that time for myself and morning self-care. Therein is the moral of my personal story: putting on makeup and wearing makeup is a form of self-care. These days, mamas, we all need a little self-care wherever we can get it. How do you get yours?
As an Amazon Associate we earn from qualifying purchases.