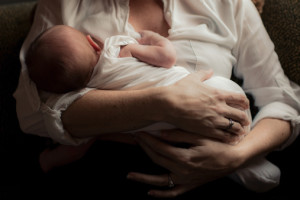 Okay, ladies, here's the truth that no one tells you: Breastfeeding is hard. It can be uncomfortable—I mean painful and frustrating—while wonderful, all at the same time. When my first son arrived, I felt pretty prepared. I had all the clothes cleanly put away in his room, toys waiting to be played with, blankets ready to swaddle. But nothing prepares you for breastfeeding. While for some, it's a breeze, for others it's a terrifying task that can crush your confidence as a new mommy right away.
Here are 10 honest tips to remember:
Breastfeeding isn't for everyone. If you can do it great; if not, that's okay. You are still a loving mother providing for her child. Don't let the pressure of your friends or family get to you. Do your best and if it's not meant to be, move on and just enjoy your baby.
Breastfeeding hurts! Buy a nipple cream before you deliver and use it religiously. There is nothing worse than your sweet baby making your nipples bleed.
Don't judge others about breastfeeding. Whether you are in public or at home, let them do what they need to do. Who are we to judge? We don't know their struggles as a mom or why they have decided to do what they do. 
Wean when you want. I breastfed for 4 months…hooray for me! It was a huge struggle and after three episodes of mastitis and a visit the breast surgeon, my pediatrician told me, "You did it! Great job, now move on. Your antibiotics are making your son sick." I still felt judged when my girlfriends continued to breastfeed for 6, 9 or 12 months. But you have to do your best, no one else's best.
Get a good bra. A lot of women have problems simply because they don't have a bra that fits them correctly. This isn't something you can accurately predict until after your milk comes in. When it does, just take a minute, go online, and get yourself a good one. It's worth the time and money.
Ask for help. Talk about your troubles/ fears about breastfeeding with someone—a friend, your mom or your doctor. Most hospitals offer breastfeeding classes, or you can even hire a lactation consultant to come to your home. Take advantage of these services. If breastfeeding is important to you and you're struggling, take the extra step. It doesn't mean you're less of a mom because you needed a little extra help. And in many cases it could make the experience a whole lot smoother.
Invest in a breast pump. These are a lifesaver to save milk for later or just to use if you are engorged. It's hard to be the only one who can feed your baby; a breast pump allows your loved ones to help. It can give you a brief break to regain your sanity, and it's a great bonding experience for your partner to feed the baby.
Take a minute and step away. Looking back, I feel ridiculous about my anxieties towards breastfeeding and weaning, although at the time, it was all I could think about. I remember crying so many tears. Try to maintain a little perspective. One day you will be looking at your grown children wishing you could cuddle and feed them like you once did. You won't remember the pain, only the joys. The pain is real in the moment—your hormones are out of control, but this too will pass. Remember that.
Be kind to yourself. Sometimes we are a lot nicer to our friends about breastfeeding than we are to ourselves.
Share with others. Help your friends and give support where it's needed. If you see someone struggling, lend a smile or encouragement. We all want the same for our kids, no matter the individual decisions we make: for them to be happy and healthy.