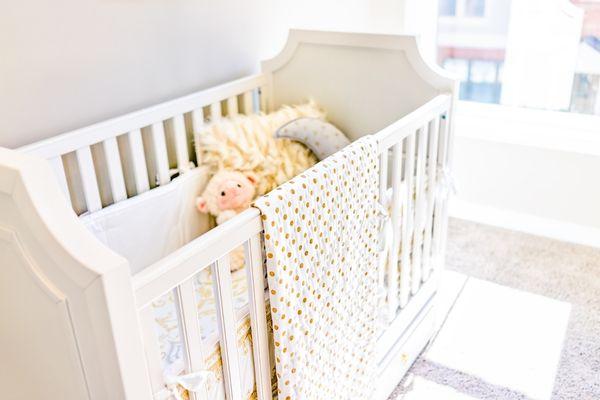 Every new parent creates a list of the most common nursery items to add to their nursery registry. As you can see, there are many things to add, but the most important thing is the crib. Find out what crib bedding essentials you need to add to your baby registry.
Mattress
The crib mattress is often one of the most forgotten items on a baby registry. Make sure to update your registry with crib bedding essentials like a mattress. When searching for one, you never want to buy secondhand for sanitary reasons. A brand-new mattress is better because it hasn't been broken in, and there are no odors or stains.
When you are out shopping, make sure you have the crib's measurements with you; this way, you can compare each one and find a size that'll fit just right.
Skirts
You may consider adding crib skirts to your nursery wish list and registry. Crib skirts are entirely optional, but they do add style to the room. They might seem useless now, but if you use the space underneath the crib for storage, skirts make a great cover to hide any items from view.
Sheets
Sheets are something else you need to have. While blankets are fine to leave out of the crib, a nice breathable sheet completes the room and keeps the mattress protected from dirty diapers, drool, and accidentally spilled formula.
The sheet should be thin and made of cotton or bamboo, as both are breathable and eco-friendly.
Rail Cover
Like skirts, rail covers are great for decorative purposes, but they're much more than just a pretty accent. As your baby grows and starts teething, they may begin to bite on the railing. When this happens, their little teeth leave marks. Prevent that with a rail cover.
A rail cover is soft and safe to grasp. Your little nugget can safely bite without leaving any bitemarks on the crib. This list of crib bedding essentials doesn't end here; you may find yourself wanting to add an extra thing or two to your baby registry. Ensure that these crib bedding essentials are on your baby's registry.