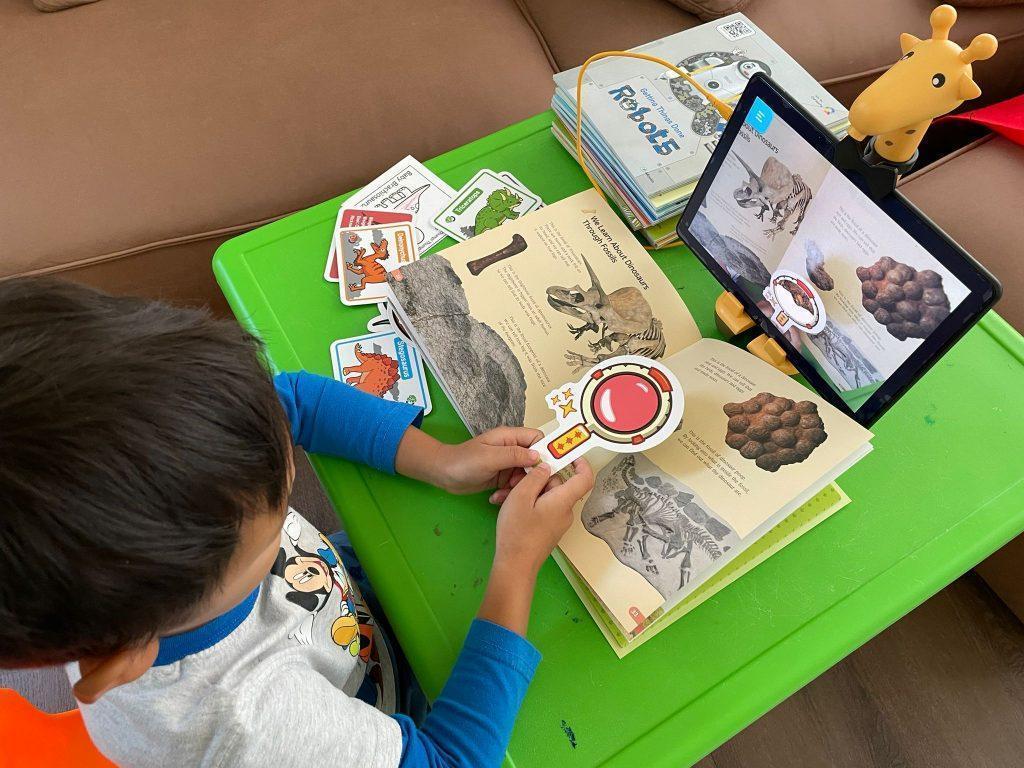 If you're looking for something that makes the best of screen time, Augmented Reality (AR) technology, and creative interactivity, ARpedia checks all the boxes! We don't have a hard limit for screen time with our 4.5 year old, but we try to encourage quality content in what he watches or plays with on his tablet. We came across ARpedia in the middle of summer, just when the novelty of books and toys was wearing off, and couldn't be more impressed with the STEM edutainment set!
Fun Interactive Hands-on Learning Activities with AR Technology
The award-winning ARpedia "Into the Curisoty" kit includes 10 paper books from the "Into the Curiosity Q" Book series, Spotty the Giraffe (a camera-embedded smart tablet holder), and 19 sheets of interactive AR markers (characters that you can design yourself). All you need is to download the ARpedia app onto a tablet to get started! Once you've linked up a tablet to Spotty, open up the ARpedia app and place a book of choice in front of it – that's when the real magic happens. The AR technology takes learning by the book to a whole new level, with smooth transitions between pages and plenty of engaging activities to do on each page. There are also AR markers that you can customize and color to your liking, which will come to life in each story!
Immersive Learning Experience with 3D Contents and Paper Books
I'll be honest – I was so into our ARpedia, that I was almost fighting with my son over who gets to do the activities. These AR activities are super engaging and able to keep our attention across multiple books. There are plenty of activities that you can do, which keeps the learning journey interesting and fresh no matter how many times you've read the book. The books cover a wide range of STEM topics – from robots to dinosaurs, to weather and insects. The paper books themselves have their own storyline, and the AR effects add to that storyline and reinforce active learning with realistic characters and games. Think of it as an encyclopedia coming to life! 
For younger kids who may not have taken a keen interest in reading, ARpedia can help with prolonging their concentration and word associations with their "Into the Community" line. For those who have strict screen time or no screen policy, ARpedia would be a great tool to build digital literacy when you are ready for it. For older students, Arpedia offers a Science Lab line that includes AR science experiments in subjects such as physics, chemicals, biology, and earth. 
Another thing we love about ARpedia is that you have access to soundbites like a frog croaking and visual depictions of a rocket taking off or animal dung without having to look up a video or image. So when my son wondered what a trumpet sounded like, he could open the music book and do the detective work himself! ARpedia makes for a great gift for any occasion, and in my opinion, is truly worth every penny.