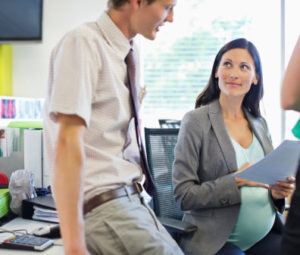 Dressing your pregnant body can be a challenge – especially because it seems like your body is a different size and shape every week!  On top of that, if you're anything like me, you may not want to spend a lot of cash on maternity clothes that will get very limited wear.  
I found it relatively easy to find inexpensive casual options throughout my pregnancy (throw on some leggings and a tunic and call it a day!) but dressing for my business casual office was a definite challenge.  Here were the five staples that got me through:
Blazers – these were my workhorse through pregnancy.  They do wonders to hide the beginnings of a bump early on when you may not be ready to share your news, and they made me feel so much more comfortable when I was farther along as they reduced the prominence of my growing belly.  Perfect over any dress or even over a simple black t-shirt and black pants.  I didn't need to buy any "maternity" blazers, but just made my existing collection work (unbuttoned, of course).

Maternity pants – here is where I would recommend investing!  I've heard there are some great inexpensive maternity jean options out there, but honestly, I bought one pair of high-end black maternity jeans (during a friends & family sale) and wore them 10x more than any of the cheaper pants I tried.  They were flattering and didn't stretch out through the day.  I normally wouldn't wear denim to my office, but I figured black jeans would sneak by and then I could wear them on weekend as well.

Wrap dresses – this is a common maternity dress style, but for good reason.  They are so flattering given the lower neckline and ample room for your bump.  Prints are great, but I also recommend one or two simple black or navy options.  You'll wear this at least once a week!

Maternity tanks and tees – I wore my basic non-maternity items as long as I could, but eventually these just didn't fit in both the chest and stomach!  I purchased some simple black and white options on sale at Gap and these were staples to wear under blouses and blazers, as well as on their own.  They are great to have postpartum as well, before you're ready to go back to your regular clothes.

Non-maternity tops and dresses – Although I highly recommend maternity specific pants and t-shirts, keep your eye out for regular options that will accommodate as well.  I have always had a number of looser-fitting silk blouses, and I was able to make these work for the first 6 months or so.  I also purchased a number of dresses while pregnant that were looser fitting and actually made it almost to the end with me (particular brands that I had a lot of luck with were Vince and Mara Hoffman, as well as some lucky finds at Zara).  I felt good spending the money on these things because I knew I'd get to wear them long after the baby was born.  
No matter what, I promise that by the end of nine months, you will probably be on a very tight rotation of a few options that still fit and will be ready to pack those maternity clothes up for quite a while!  It feels great to get back into your pre-pregnancy clothes (you really get to rediscover your wardrobe after months of separation!)  That being said, have fun dressing your bump while you have it – it's a special time and fun to show it off!