After I told my husband that I was pregnant with our second (surprise) baby, my mind immediately went to telling the kids. We'd crossed this bridge before, telling my then eight year old step-daughter that I was pregnant with my son. She had been asking for a baby sibling since before we got married, so we knew we had it in the bag. This time felt different, though.
At thirteen years old, would she be excited about another baby? We're swapping makeup tips and binge watching Pretty Little Liars together. Will she be okay with watching Babyfirst TV and warming up bottles instead? My son is a little easier, for now. At four, he hasn't really grasped the concept that his life is going to turn upside down right around his fifth birthday.
I spent hours on Pinterest. Announcement ideas have gotten quite impressive, even since my last pregnancy five years ago. My husband and I wanted to make sure our public announcement included the kids because pregnancy is a family affair, impacting everyone – from helping with the younger one when I'm too exhausted to deal to cutting back on Uber Eats orders to save for diapers.
All things related to my pregnancy with son, from his name to the maternity shoot, had to do with soccer. My husband is a huge Chelsea fan, and our little man has been a kicker from the start. Since I'm more of a baseball fan (Go Giants!), we wondered how we could use that to tell the kids about our new little slugger.
With one email to Lou Seal and the Giants, announcing our "tie breaker" baby (Boys – 1, Girls – 1) was set. The Giants family was amazing! They made a sign for us, and even had Lou Seal deliver "Big Brother" and "Big Sister Again" shirts to our seats. The kids had no idea! Now we not only have an amazing memory for them, but we have it on camera so that we can announce it to everyone.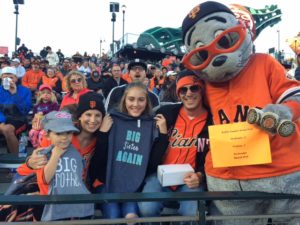 You can spend hours online looking at what everyone else has done. Trust me, there are millions of ideas out there. What is something that means a lot to you and your family? It doesn't have to be elaborate, whether this baby is a fluke fertilization or a calculated conception. I felt pressured to be "super cute" like all the other moms out there. Once I closed my laptop and thought about the unforgettable experience I wanted for my family, it all fell into place.