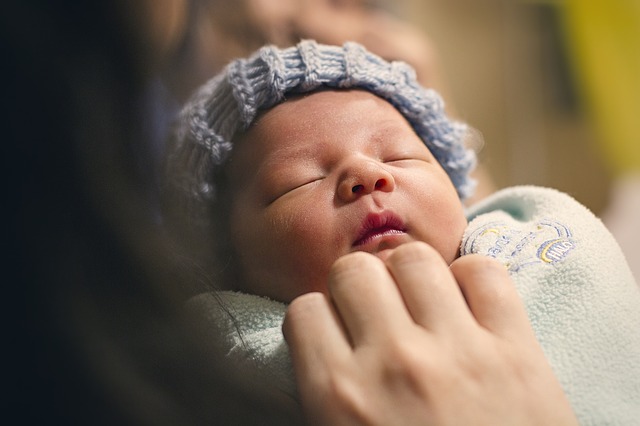 The first few months of having a baby are super intense. We are told to enjoy every minute because they grow so quickly, but, honestly, it is so, so hard. Between feeding, pumping, diaper changes, and lack of sleep, I seriously think it is the most challenging time ever, and it's hard to "enjoy" every moment. Long ago, families all lived near one another. Grandparents, aunts, cousins etc. would help out. There was truly a village to care for both the mother, the newborn, and other children during this fragile time.
I remember when I was having my first daughter, my sister, who lives in New York City, asked me if I would have a baby nurse. I had no idea what she was talking about and quickly learned that a baby nurse is a trained professional who cares for your baby up to about 20 hours a day. My initial thoughts were that I had worked most of my career as a registered nurse and I was not going to have some baby nurse live with me and take care of my baby when I was pretty sure I knew what to do.
I chose to not have any help; my husband and I would manage on our own. Well, that was pretty much a disaster. I likely went through undiagnosed postpartum depression (PPD), we were both sleep deprived which led to marital stress, and I was basically a hot, hot mess as a new mom.
I admire the parents that can do it alone and to me they are superheroes. I was not one of them, and I'm okay with that. So, years later when I had my second (and third) child I decided that I would not try to be the superhero and I would get help. Lots of it. I spent time doing the research and figuring out what this baby nurse was. Did I really need her or could I hire a night doula or just a daytime nanny?
Doula
In the San Francisco Bay Area, it is more common for families to hire night doulas. The word "doula" is a Greek word (δούλα) that means "servant woman." The current job of a doula is to assist the new mother, partner, and family in creating a fulfilling postpartum experience.
What's a doula do?
They offer services such as postpartum care, breastfeeding support, sleep education, infant massage, and general care of the newborn. A doula can work in the day during the postpartum period, or you can hire a night doula. They are non-medical professionals but are trained to care for both the mother and the newborn in this fragile time.
This sounded great, so I inquired a bit more about their services and fees. You can typically hire a doula for either 8-10 hours in the day or 8-10 hours in the night (the few that I researched all varied a bit, so this is just a generalization on hours). Most required a minimum of 4 weeks but were often contracted for the first 6-12 weeks of the newborn's life.
There is quite a bit of flexibility on the total number of nights a week you hire a doula, but they usually recommended a minimum of 2 nights per week. Many families choose to have more. Doulas do not live with you, so this works great for those who may not have the accommodations for live in care or if you are not comfortable with someone living in your home.
What does a doula cost?
So, this sounded great to me. I loved the flexibility, and I found there to be a bit of a range on the cost of hiring a doula. The lowest cost I was able to find was $30 per hour, and the highest I found was $50 per hour. So let's say an average of $40 per hour. GULP!! Let's say I wanted 8 hours a day for 5 days a week and then maybe 4 nights a week for 8 hours. That would be close to $3,000 for the week and there would still be days and nights that I was on my own! This option seemed like it made more sense for someone who didn't need or want AS much help as I was looking for.
Baby Nurse
I went back to the drawing board and wondered how I could get one of these baby nurses that my sister was talking about years ago. I Googled to gather information, joined a mom's group in NYC, and asked local moms about their experience with baby nurses. I found that many of the baby nurses still relied on word of mouth and chose not to go through an agency. When I asked for recommendations, I received several! Although I did look into agencies, I chose to go with the old school word of mouth and checked references by making phone calls.
A baby nurse is an experienced trained newborn specialist who comes to your home and typically lives with you to assist in the day-to-day (and night) care of your new baby. They essentially work 24 hours a day, meaning they are "on call" at all times to care for your baby. They sleep when the baby sleeps and usually ask for a 2-4 hour break for sleeping when it is convenient for you. They typically stay with your baby for as little as a week but generally more like one to three months. Baby nurses are often booked many months in advance and are in touch with you throughout the latter part of your pregnancy. If you deliver early, they will be there!
What does a baby nurse do
?
They will help the mother with breastfeeding (if needed) but essentially they're there for all things baby. They will keep the nursery organized, do the baby's laundry, wash bottles or pumping equipment, and care for your baby for as many hours that you feel comfortable with. You provide room and board, and you discuss ahead of time what their needs will be, such as if they want you to order groceries for them to cook their own meals or if they will eat whatever you eat. All of the details are agreed upon ahead of time so when they come to you, they are there for you and your baby. You can have the time to shower, to sleep (even if you breastfed, they will bring the baby to you, change the diaper, and get the baby back to sleep so you don't ever need to get out of bed at night).
Cost
I found that the average fee for a baby nurse is $300-350 per day, which includes around the clock care. If you averaged out the cost, it is essentially $15 per hour (plus providing room and board). It's still a LOT of money ($2,300/week), but I think it is well worth saving for! It's a large dollar amount and not everyone can afford this, but I personally would rather ask for family and friends to contribute towards having a baby nurse than having fancy baby clothes, furniture, and gear.
For me, and I'm pretty sure my husband would agree, it was life changing! I actually was only mildly sleep deprived (because I still woke up to feed or pump in the first month or so), but the baby nurse brought the baby to my bed and took care of her afterward. I was able to spend quality time with my two other children who really needed their own special attention. I was able to snuggle and bond with my baby whenever I wanted, but I was totally okay with not having to change diapers or have my baby attached to me. I got to choose how much time I spent with the newborn and that allowed me to care for the rest of my family AND, more importantly, myself! I truly believe that it allowed me to recover quicker, avoid PPD, and actually enjoy the first couple of months with my newborn.