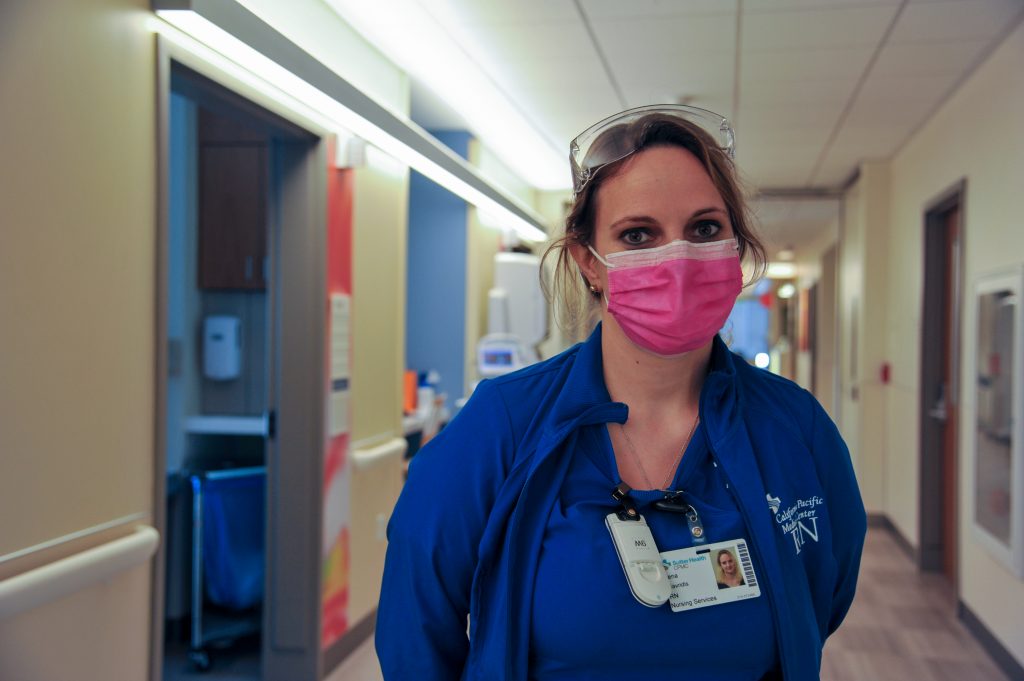 If you're expecting amid the COVID-19 pandemic, some of the most comforting knowledge you can have is understanding how your birthing experience will unfold when you arrive at the hospital—and even in the days leading up to your delivery. As they say, "knowledge is power," and we want to arm our pregnant mothers with the latest information.
In that spirit, I recently had the chance to sit down with two specialists at Sutter's California Pacific Medical Center (CPMC) Van Ness campus hospital who helped answer the questions so many expecting mamas have during these unprecedented times. Laurie Green, M.D., is a notable OB/GYN at CPMC, who is also a Public Health Commissioner for the City and County of San Francisco, and Paula Sulkis, supervises CPMC's Newborn Connections Center, which offers support and education for new moms, such as perinatal classes, support groups, lactation services, and breastfeeding supplies.
Here's what you need to know.
If this isn't your first childbirth experience, you will notice some differences, such as wearing a mask or not being able to have additional friends and family visit you at the hospital, but, for the most part, things will be largely unchanged. If this is your first child, take comfort in knowing that every precaution is being considered and accounted for. CPMC has a long history of delivering happy, healthy babies.
Before Your Arrival
CPMC is now providing COVID-19 testing for moms who have scheduled deliveries and those who arrive in labor. Knowing your COVID status will help care providers in two ways: it will help them make informed decisions about the appropriate level of maternal and newborn care you and your baby may need, and it takes into consideration PPE (personal protective equipment) use.
Will I Need to Give Birth Alone?
Perhaps the biggest question on expecting women's minds is whether they're going to need to labor alone. Rest assured you can bring one support person with you, whether it's your partner, a doula, or your mother. Every support person must be well to enter the hospital and wear PPE, including a face mask (more on masking below).
If you are one of those women who wants your whole family and a bunch of friends in the delivery room, that won't happen this time around. But you will not be required to labor alone. CPMC is well-staffed with experienced delivery clinicians and nurses who will be by your side.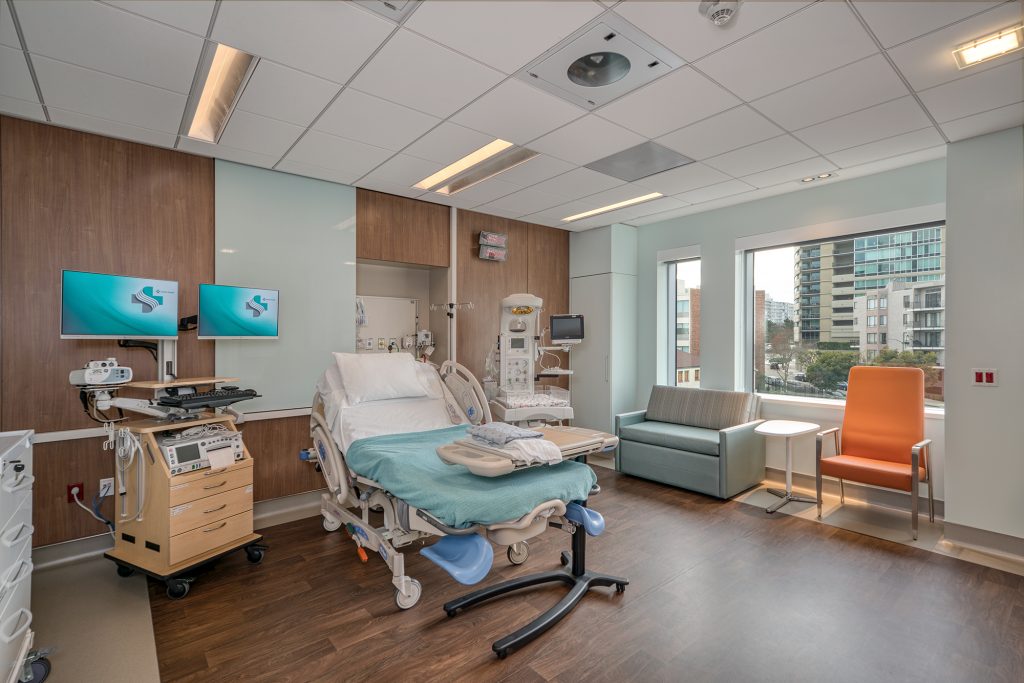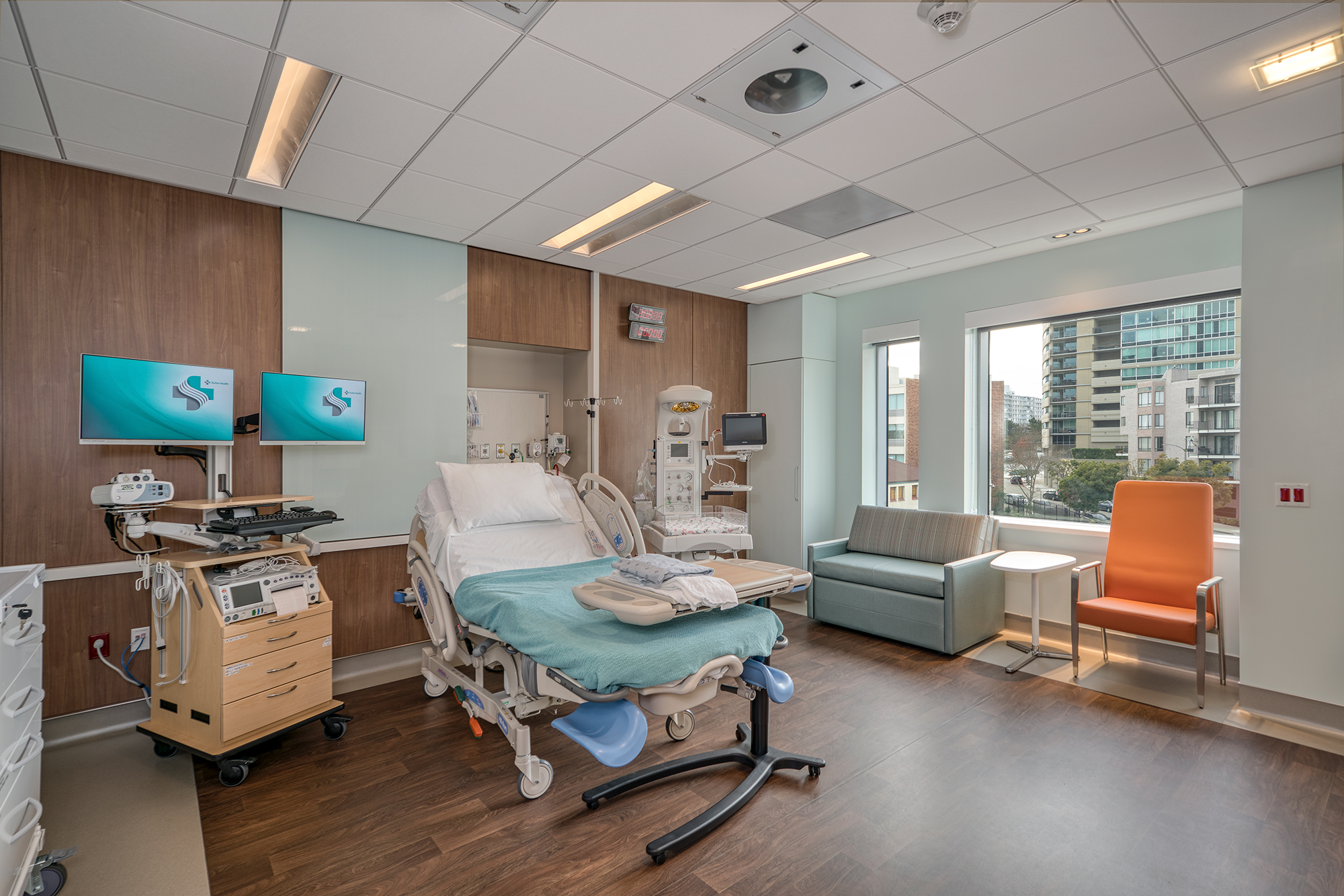 Masking
San Francisco, like several other surrounding Bay Area counties, has mandated that every person must wear a face mask when in public settings to help slow the virus' spread. Hospital grounds are no exception. All patients and visitors must be masked while at CPMC. For expectant mothers and their support person, this means both parties should be masked upon arrival to the facility. If you or your partner are not masked, or if you prefer a procedural mask, one will be provided by the hospital's screening staff.
During early labor, expectant moms and their support person do not need to be masked while they are in their room, unless healthcare workers are present. The same masking protocols generally apply during post-partum and newborn care. Additionally, masks are not required to be worn by the laboring mother while pushing.
How Clean Is a Hospital?
Answer: very. Pandemic or not, CPMC follows strict guidelines to keep the hospital clean. The Labor & Delivery staff are already used to taking maximum precautions, so these procedures are not new, explained Dr. Green. Of course, people do come to the hospital when they are unwell, but in addition to CPMC's rigorous cleanliness standards, at the Van Ness Campus, the Labor & Delivery and Postpartum floors are separate from other departments.
What Happens if I Test Positive for COVID-19?
In the case that a mother tests positive for the virus, extra precautions will be taken before, during and after delivery. During these challenging times, mothers and their doctors will work together to determine the safest level of interaction for all involved. While each mom's case is unique, providers follow CDC recommendations to inform shared decision-making around skin-to-skin contact, isolating away from their newborns, breastfeeding or pumping precautions, partner safety and more.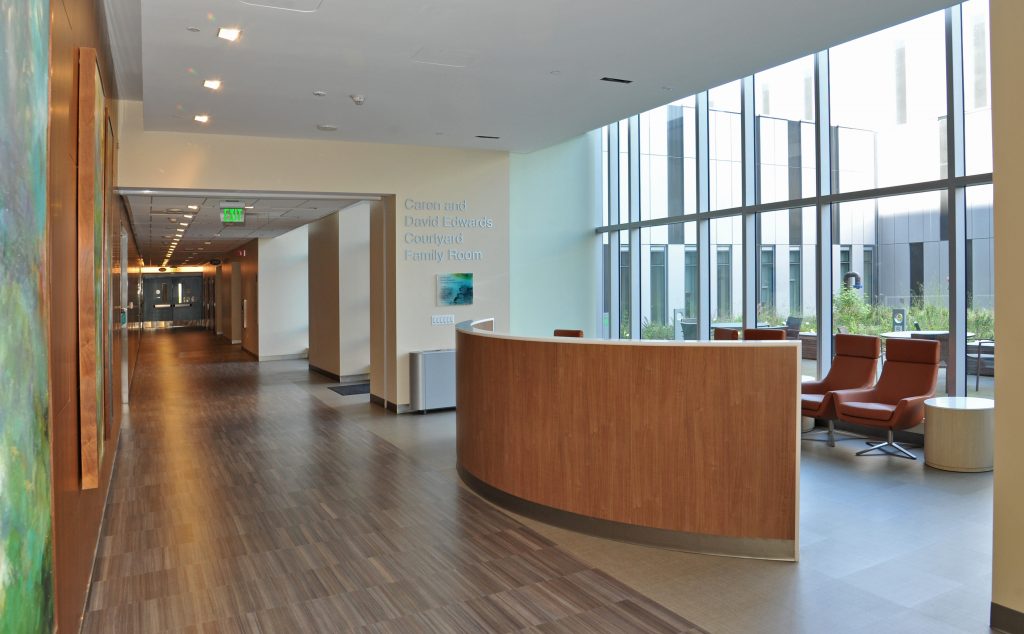 What Else is Different Right Now?
CPMC has altered its prenatal appointment schedule so that all tests and screenings are consolidated into one visit, in an effort to minimize the number of times you need to leave home. Tours, prenatal classes, and lactation support are offered remotely. Even with these adjustments, nothing has been omitted from prenatal education or postnatal support. The lactation support warmline (415-600-6243) is still offered and there is even prenatal yoga online. Pump rentals and supplies such as diapers are available via curbside pick-up and can be coordinated (pre- or post-delivery) by calling 415-600-2229 (BABY).
Any Other Important Details I Should Know?
If you're dreading hospital food – don't! CPMC provides delicious food in-room. Additionally, parents are encouraged to bring their baby's car seat with them upon arrival, so they don't need to leave the building to retrieve it. Anecdotally, OB/GYNs on the unit are also saying that birthing moms are getting more sleep than ever before with less foot traffic and visitors in the hospital. It will be good to catch as many zzz's as you can before heading home.
CPMC has really done an amazing job of putting in extra safety precautions, while not taking away from all they have to offer.