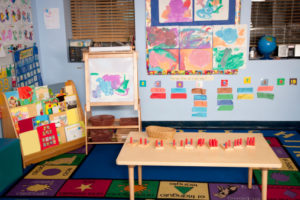 In my hometown, we had a handful of preschools. When I was three years old, my mom picked one, and I went. It's not that simple in San Francisco, and I'm sure you're not surprised. Here are my tips for navigating the admissions process, and you can trust my advice. I learned the hard way; we were waitlisted at every school the first time around.
Decide what's important to you.
Are you looking for a school that follows a certain early childhood development philosophy or has a religious affiliation? What daily/ weekly schedule do you need? What's your budget, and do they offer scholarships? What's your target neighborhood? Do you want a feeder school to a specific private school? There are a host of things to consider when narrowing down your search.
Do your homework.
I didn't know my answers to some of the above questions until I started researching schools. Winnie* is a great place to start. You can search for schools to which you want to apply, and see if they have openings. Of course, nothing can beat word of mouth recommendations, so ask your friends, coworkers, and other parents at the playground. Any personal connections you can make to the school will also help with Tip #5.
Tour first, submit application second.
First, let's talk about timing. You should start the application process a year before you want your child to go to school. Tours begin around September (sign up in advance) and applications are due at the end of December, January, or February. You'll know in March or April whether your child was accepted for the upcoming school year. With some exceptions, it doesn't matter when you submit your application, as long as you get it in before the deadline. I definitely wasted some money paying application fees to schools I later decided weren't a good fit.
**I'll just pause here to let this fact sink in. This article is really about preschool admissions, not elite prep schools or college. Ugh!**
Consider younger siblings.
Once your oldest is accepted, younger siblings are essentially guaranteed a spot in their future class. Hooray! But make sure you look at how your kids' class schedules will work together to avoid logistical nightmares. If they will be in preschool at the same time, the younger class may meet on Tuesday/ Thursday and the older one may meet on Monday/Wednesday/Friday. Or, their classes may meet on the same day but at different times. Your future self will thank you for identifying potential conflicts in advance.
Follow the secret admissions process.
This is where I went wrong the first time. The admissions process outlined on the school website may simply say something like, "Come for a tour, submit your application, pay your fee, and we'll get back to you," but there's more to it than that. The directors of these schools are building a community of families. (That's not B.S. They really are.) They want supportive parents. They want to give spots to families that really want to be there, so they need to get to know you.
Letters of recommendation from current or former families who attended the school go a long way to building your "cred" with the director. Staying in touch after the tour to express your continued interest also helps a lot. Some schools ask for a family picture. Go the extra step and make a little collage, so they get a flavor of your child and your family. Some schools will ask you to participate in fundraisers before you've even been accepted. Do it.
This is why touring becomes so important. Decide which schools are the best fit for your child and family, spend your time on them, and use your judgment on what's needed to make your family stand out.
Here's how my preschool admissions story found a happy ending. We had applied to three schools that offered two-year-old programs. Fewer schools take kids this young, so it's even more competitive. We were waitlisted at all three schools because I did none of what I just told you to do in #5.
I made peace with that and decided I would just sign my daughter up for summer camp (a much easier process) at my favorite of the schools. This would be a test run of the school experience, and we'd try again next year. She did great at camp, and the teachers got to know her well. At the end of summer, I asked if any openings had come up and one had. The director checked with my daughter's teachers to see if she was a good fit, and they gave her the spot!
Repeat, if necessary.
Because I didn't follow my advice outlined in #4, I realized too late that the class schedules at the school my daughter started attending wouldn't work well once my younger son was also there. So, we went through the admissions process all over again this year for three-year-old programs. There are more options for this age, and we got into our favorite one on the first try. Wahoo!
The bigger takeaway for you is to not give up if your child is waitlisted. Stay in touch with the director. Your dedication will pay off, if not this year, then next year.
Good luck! Now, it's time for me to start studying up for kindergarten admissions…
*Editor's Note, June 8, 2017: This post originally suggested KidAdmit, but that site is no longer updating it's data. Check out Winnie for update-to-date data on local preschools.