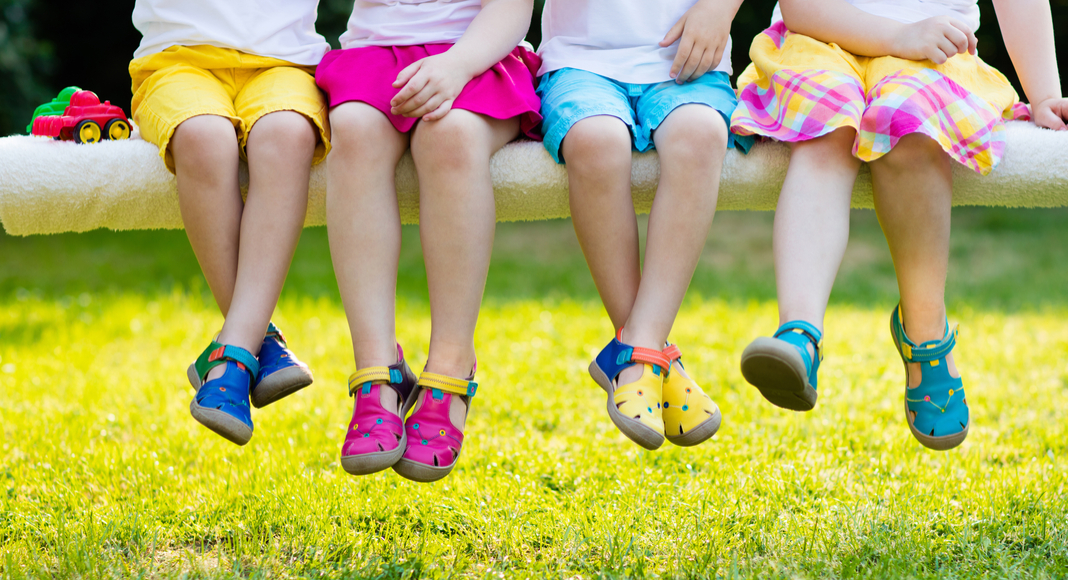 Before my son was walking, I never worried about the shoes on his feet. For infants, shoes are nothing more than an accessory, so even though I always found those infant Nikes and Converses super cute, I didn't find it practical to buy them. Even when he first started to walk, he wasn't walking far enough for me to think about investing in the best pair of shoes for him. Any soft, flexible shoe would do. However, as my son grew and he began walking in earnest, I started to do research on the best kind of shoes for my growing boy.
Here are important factors to consider when buying your child's shoes and some of my go-to brands.
The shoe needs to fit comfortably and have about a thumb's width of room at the toes for growth.
Kids grow SO fast, feet included, so having a little extra room in the shoe allows the feet to have a growth spurt without being smashed into a shoe all day. Also, it prevents ingrown toenails. I know a child who got ingrown toenails because her shoes were too small, and she just didn't even think to tell her mom or dad about it. Check your child's shoes, especially if they aren't the vocal type.
Do not buy shoes with arches.
Arches for adults may be great, but they are not ideal for youngsters learning to walk. Early walkers need to be able to find balance, and the way they do that is by feeling the ground with their feet. Letting your child walk around barefoot is the best way to help them gain better balance and control, so when you're at home, try to follow a "no shoes in the house" policy. When out and about, put your child in flat shoes without an arch so they can feel the ground with their entire foot, not just the ball and heel.
The shoe should be able to bend in half.
This is probably the most important aspect of buying children's shoes, and what makes finding quality shoes challenging at times, but well worth it in the end. If the shoe is flexible enough to bend in half, then the baby/toddler/child is better able to feel their feet and the ground below them, making it easier for them to keep balance.
Imagine if I attached a 2×4 to your foot. I cut this 2×4 to match the size of your foot so it wasn't too long or too short, but then I asked you to wear these to work, to walk upstairs in them, and worse of all, to climb a tree in them. How hard would that be for you to do? This 2×4 is not much different from the thick hard shoes many little ones wear.
Make sure the shoe isn't too heavy.
Kids are running, jumping, walking, and making quick movements with their feet. "Watch me do this, Mom!" If their shoes are heavy, they will weigh them down, making them unable to practice those "special" moves where they attempt a handstand-cartwheel combo.
A Few Final Notes…
Rain boots
In my experience, rain boots are by far the hardest shoe to find that is lightweight and bendable. Most of the rain boots I come across have thick, hard soles and do not bed. Unfortunately, the ones that do match the above criteria, like the Baffin Ice Castle Rain Boots I bought for my son, don't have has many cute patterns or colors as other brands, but they make climbing and keeping feet dry in the rain fun.
Price
I won't lie; I rarely buy my son $10 or $15 shoes. Most of his shoes are in the $50 range. For instance, his last pair of hiking boots cost $60, but I found his rainboots for $20, so the price doesn't necessarily determine the quality of the shoe. If you are on a budget, remember to check second-hand stores, garage sales, Craigslist, or Facebook Market Place.
Size up
One secret a shoe associate told me is that you can go up a size than what is recommended as long as your child isn't tripping over his feet. Luckily, my son was often able to go up a size, probably in thanks to the kind of flexible shoes I bought him. This helps them last much longer.
Favorite Brands
Here are some of the brands I've found and really love for my son. (This section contains Amazon affiliate links.)
See Kai Run is a great brand for everyday shoes and hiking shoes. Plus, their customer service is AMAZING! Target just started selling a See Kai Run Basics line, which seems a little cheaper price-wise, but still has a flexible sole, etc.. I just bought a pair last weekend, so we will see how they hold up.
I also really like the Bobux iWalk shoes, and Converse is another good brand, often at a more reasonable price point. They have flexible shoes, and I noticed that for kids they make the toe area wider than they do for adult styles.
Baffin Kids' Ice Castle Rain Boots
are the ones I purchased for my son. They are lightweight, especially for a rain boot. They will keep feet warm in the cold and have a flexible sole. They're the only rain boots I have found that won't break the bank.
BOGS rain boots
are also great for keeping your child's feet warm on rainy days.
I really believe having my son wear shoes that bend has made his balance and physical agility as good as it is today, so I'll continue to buy him higher quality shoes and don't see this changing any time soon.