This post contains Amazon affiliate links.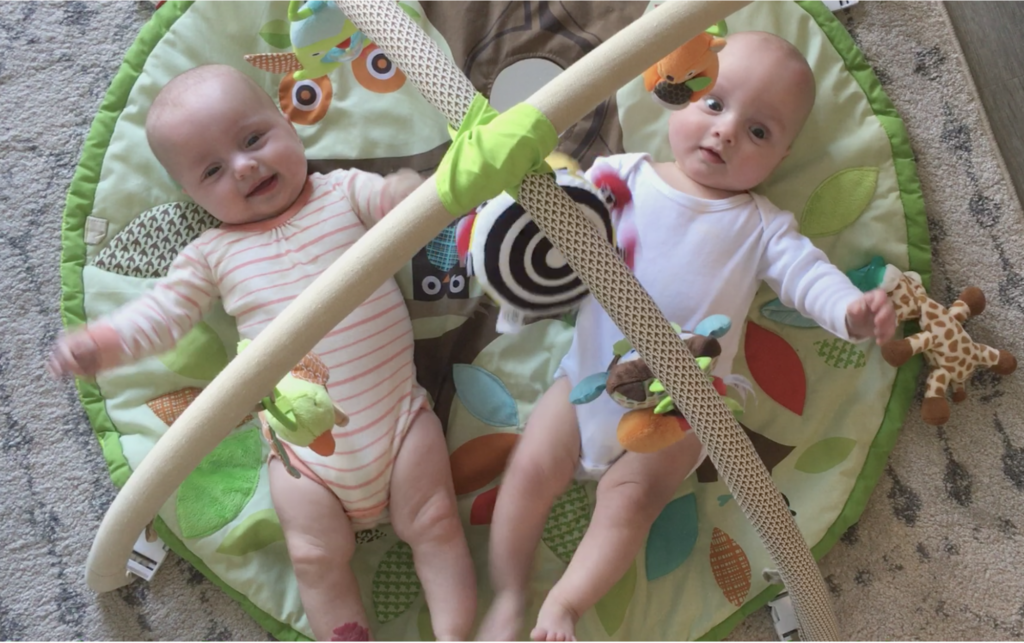 Once the sheer shock of being pregnant with twins has worn off, you'll probably start panicking about needing DOUBLE the amount of stuff. My mind was spinning at the thought of changing hundreds of diapers and washing dozens of bottles. (At four months, we'd already gone through over 2,000 diapers!)
It'll be helpful to have doubles or multiples of some items but you don't have to up the quantity for everything. Especially in a city and apartment where space is extremely limited, I hope this list will help you prioritize both financially and spatially.
You only need one:
Nursing pillow – It's called the TwinZ. It's massive but necessary for nursing AND bottle feeding.
Swing – You have no idea if they'll even like it. We opted for the MamaRoo because it has a really small footprint. (4moms gives a 20% discount to families with multiples, just email them!) It's helpful to have a way to rock Baby A handsfree while dealing with Baby B.
Playmat – They'll be small enough to share one for a while. Plus, now we just have "stations" where they rotate through all the different play areas so it's actually better to have different play options.
Bouncy Seat – Again, you'll likely rotate the babies through different "devices" so we found double of these kinds of things to be overkill.
Bathtub (or none!) – We've actually found it really fun to just get in the tub with them.
Get more than one:
Baby Box! – I thought these were unnecessary at first but they came in SO handy. They are free and you can just ask for 2 (or 3!) if you have multiples. They are GREAT for moving around the house and having a safe sleeping space. We even put them inside the crib so they'd feel a little more snugly but would get used to being in their room.
Crib – After our twins outgrew their boxes, we moved them right into their cribs and skipped bassinets all together. This one will likely be a personal preference based on your space and sleeping preferences.
Baby Carrier – We got two Ergos and they are definitely worth it. We often wear the babies for walks that would be tough with the stroller. They are also helpful for wearing a fussy baby around the house and traveling.
Highchair – Unfortunately, I don't have any space-saving hacks for this one unless you have a table or counter where you can use one of those hook on chairs.
Drying Rack – You'll have an obscene amount of bottles and pump parts to wash so just go ahead and get two of these (the white ones are less visually aggressive).
Car seats – Hopefully, this is obvious!
Luckily, living in a city like San Francisco means that you can likely get hand-me-downs for many items. Don't be shy about swapping and sharing with other twin families – it's such a big help! Shoutout to the SF Parents of Multiples group for graciously sharing clothes, playmats, a play table with us!
[hr]
Shop Alessandra's Top Picks