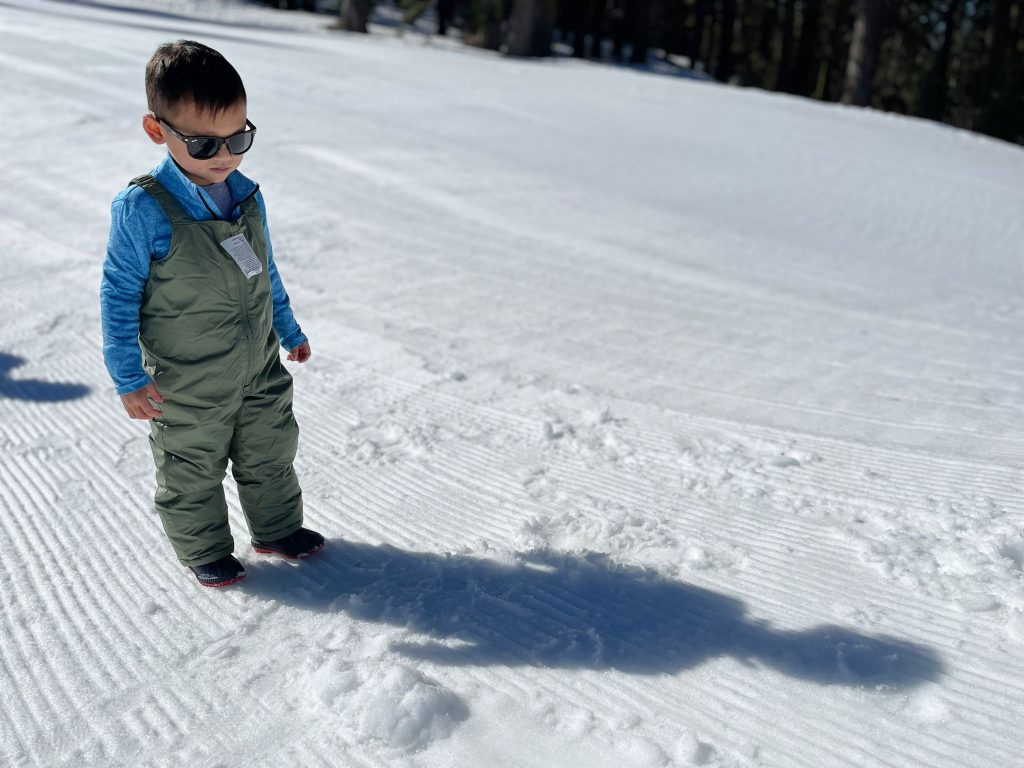 Growing up in Canada means I have gotten very familiar with snow. Being away from the harsh Ontarian winters for quite some time now, I've gotten back my craving for the cold, white powder. More importantly, I wanted my little man to experience the joys of playing in the snow. Best of all, living in the Bay Area means we travel to the snow and won't need to deal with the black, slushy aftermaths of snowfall at home. Here are some steps our family has taken that yielded a successful snow trip.
Pack Snow Gear and Snacks in Advance
You don't want to find out the hard way (e.g. two and a half hours out) that one of the mitts is lying on the garage floor at home. So pack your bags early in the week and allow yourself a bit of time to double-check. In terms of snow play gear, you can't go wrong with multiple layers of lightweight clothes, waterproof boots, multiple pairs of warm socks (go with wool), mitts, waterproof pants/suit, thermal layers, beanie/hat that covers both ears, sunscreen, and last but not least – polarized sunglasses/sun goggles. If it's your little one's first trip out to the snow, opt to rent snow equipment instead of committing to a big purchase.
Plan for an Early Start Starting the Day Before
Adjust to the early start of departure day at least 24 hours in advance. This means you may need to shift or skip naps the day before, and don't make it hard on yourself by force-feeding the little ones a dinner that you know they won't like (or would take 2 hours to eat) the night before. Put your kids in comfortable clothes for the road trip instead of pajamas – game changer.

Treat it like a Road Trip Twice as Long
You're literally going up the mountains. This means minimal cell reception, ever-changing road conditions, winding roads, and things of that nature. If your trip is forecasted to take 4 hours one way, treat it like an 8-hour road trip. Double the entertainment, double the snacks, double the drinks, double the pit stops, double the portable battery, double the music playlist, double the cash… you get the drift.
Check the Weather Forecast and Road Conditions
It's always good to check your destination's weather and road conditions right before you head out. Watch out for icy roads, high winds, and areas where you may need tire chains. Check your tire pressure and plan out gas refuels/charging stops.
Play Safe and Have Fun!
Let it go! You don't need to do everything on the itinerary. Chances are, you will end up doing only one activity. If it's your little one's first time encountering snow, just being in the winter wonderland alone is novel enough for them. Let them discover the snow in their own way! If they end up sitting on a snow mound and digging their fingers in the snow, then so be it. If you end up trying out a more extreme sport (remember, most snow sports are considered extreme sports) like skiing, snowboarding, or snow tubing, just remember to be vigilant and keep a safe distance from other beginners.