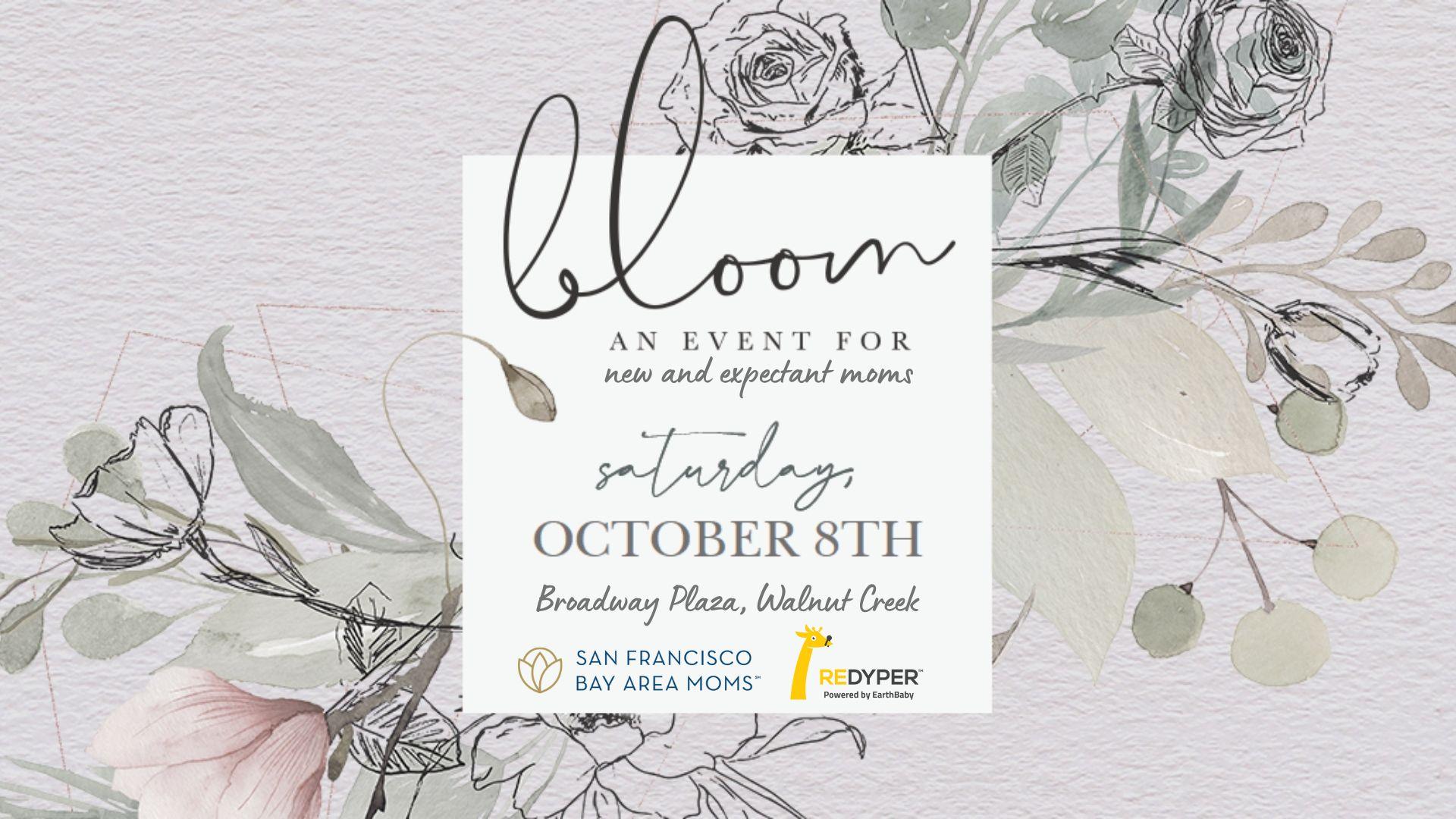 THANK YOU, New and Expecting Moms!
We are so happy to have you join our 6th annual Bloom, a celebration of all things motherhood!
WE ARE YOUR MAMA TRIBE! We hope you had a  great time mingling with other moms, meeting our experts, and learning about how to make your mom life easier with the products and services offered by our amazing sponsors. Don't forget to access our expert panel below about topics related to pregnancy, birth, postpartum, infant care, and more!
Stay tuned and check back on our BLOOM page for details about our 2023 Bloom Event!
REDYPER Powered By EarthBaby is proud to offer a FREE sign up trial to those families who are interested in composting their diapers and keeping their babies' diapers out of landfills. Disposable diapers are the 3rd largest contributor (by volume) to US landfill sites where they will stay for 500+ years.  And it doesn't matter what type of diaper you use.  Even diapers advertised as plant-based, biodegradable or compostable will take 500+ years to break down in a landfill. These diapers can only fully break down in a commercial composting facility that is equipped to handle human waste. Temperatures must reach 150 degrees to ensure that the resulting soil is safe for reforestation and landscaping projects.
USE CODE 'BLOOM' on www.earth-baby.com and receive 1 pack of plant-based diapers, 1 pack of plant-based wipes, and 4 weeks of delivery, pick up, and compost service for FREE with your first order!
This offer is not to be combined with other offers. New customers only.
No minimum contract necessary. Cancel at any time. We simply want families to try out our amazing diapers and service to see how easy saving the environment 1 diaper at a time truly is. Also, you don't have to leave the house for diapers anymore! Not only will your family be diverting diapers from Bay Area landfills, but our plant-based diapers are better for your baby's bum, preventing diaper rash and keeping toxic chemicals away from baby's sensitive skin. If baby is already at home you can start anytime. If you are still expecting, we suggest signing up now and scheduling your first diapering supplies to arrive at least 2 weeks before your little one's due date. We will only begin your service once baby is at home and your family is ready.
Join thousands of Bay Area families who are protecting our planet for future generations, 1 diaper at a time!
BLOOM Sponsors
Get to know each of these amazing BLOOM partners during our event. Each business offers something wonderful for San Francisco Bay Area moms or moms-to-be and we are pleased to have these great brands join us!
Oath curates intimate groups of mothers and combines these with a world-class medical team to deliver an entirely new kind of care. Consider us your guide for the whole parenthood journey, from pregnancy to adolescence.

Dr. Sarah Mitchell created Helping Babies Sleep to empower tired, frazzled parents with the knowledge, tools, and confidence to get their children to become independent sleepers. She helps by educating parents on their child's age-appropriate sleep needs, guiding them through sleep training options, and coaching parents through the process of getting their little ones to sleep in my online course or one on one in sleep coaching packages.

It's Yoga Kids® is the premier provider for high-quality yoga instruction, education and publishing. Our superpower connects our proven evidence-based system with any age from newborn to teens. We train educators and parents so the whole community can unite body, mind and heart to create a Positive Force in the world. Touching toes is not required. 😉

Christina Kutches, owner of Love Bug Photography, specializes in Newborn, Family, and Maternity photography.

At Bright Horizons, we know childhood is a treasured time. We believe it is our responsibility to provide environments and experiences that capture the joys of childhood, nurture each child's individual growth and development, and pave the way for success in school and life.

Julia Getzelman, M.D. is a board-certified pediatrician and a member of the American Academy of Pediatrics. Dr. Getzelman graduated with a bachelor's degree in Psychology from Stanford University with Distinction and Phi Beta Kappa. She later earned her medical degree from Yale University and completed her residency at Children's Hospital Oakland. In 2007, Dr. Getzelman founded GetzWell Personalized Pediatrics, a membership-based primary care and consulting practice with two San Francisco locations, Marina/Cow Hollow and the Noe Valley offices, where patients and the GetzWell professional team build deep and lasting relationship to help their children thrive. The GetzWell team is committed to providing whole kid health from infancy through early adulthood with integrative medicine, personalized treatment plans, advanced genetic testing, and 24/7 access to caring physicians trained at the best medical schools in the country.

Nothing says, "I love you" like a beautiful, delicious cake! These handmade, detailed, and personalized creations are the perfect ending to any celebration!

June Care connects families looking for childcare with stay-at-home parents who can help care for their kids. Earn money while parenting by coming a June Care host, or request high-quality, flexible childcare by a qualified and fully vetted parent in your neighborhood at 

junecare.co

.

Pepito's Paletas is a local minority, woman-owned CO-OP business, sharing in the profits. We are combining traditional Mexican paletas with modern, vegan healthy recipes to create a healthy option in the market. We deliver in our 8-hour signature frozen box to reinvent the frozen dessert experience and eliminate plastic and freezers using biodegradable wrappers.

The Enloe Creative offers authentic family photography and a simple path to beautifully printed artwork. To complete the story, we also build custom picture frames of salvaged wood from local neighborhoods.

Your children's 

safety

 is at the top of your mind- our's too! That's why we've developed an ever-growing hub of information filled with all the things you need to know or keep in mind to ensure your kids are safe. Together, we hope you will join with thousands of parents who have signed the 

Child

 

Safety

 

Pledge

 and are helping us create a movement to keep children safe.

Loop rents and delivers baby gear & toys by the month in NYC and the Bay Area. Every item in our selection arrives sanitized, packaging-free, and fully assembled.

Mercury Coach helps parents, couples and individuals stop negative unconscious patterns and create and enjoy meaningful lives through education, direct intervention and group coaching.

Located in Walnut Creek, CA - Broadway Plaza is an open-air shopping center with 80 specialty shops including Nordstrom, Macy's, Apple, and lululemon, plus delicious restaurants like True Food Kitchen, Boudin, and P.F. Chang's. It is also home to co-working space Industrious. Both Life Time Athletic and Pinstripes will be opening in 2023.

Farmstead is on a mission to change groceries forever. We deliver fresh, groceries to your door, at the same prices as grocery stores, with no fees. How do we do that? Through the power of technology. Our proprietary software lets us order and delivers with maximum efficiency. We're working to develop a new grocery system that makes grocery delivery awesome for everyone—not just people who can pay crazy high fees.

Expert Panel

We are so excited to bring back a panel of experts to share valuable insights and tips to address your pregnancy, baby, and mama-related questions/concerns!

San Francisco Bay Area Moms is an open-source parenting resource destination, and prides itself in providing quality, professional, and authentic content to families in the Bay Area. Our passion-driven team of dedicated moms dedicates their time and energy to pour their souls out and share their expertise with you.

If you would like to show your support, please consider giving a token of appreciation to keep us going during these unprecedented times. For every $10 received, we will donate $1 to Safe and Sound.

Be a SF Bay Area Moms Insider!