(This post is sponsored by Snip-its.)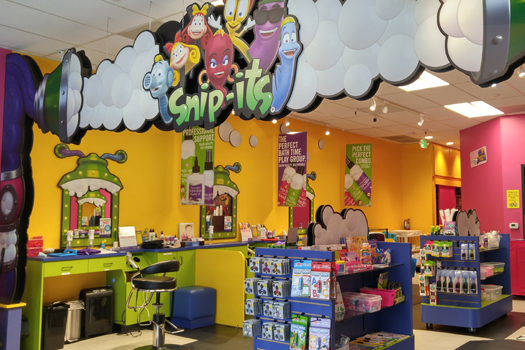 Finding a kid-friendly hair salon that actually gives your child a good haircut is no small feat. That's why there's a lot of excitement about Snip-its opening this Sunday, June 10, at Westgate Center in West San Jose. It is located between the Nike and Gap stores, facing the parking lot.
Snip-its is a child-focused salon where Snips and The Gang entertain their pint-sized guests with activities, games, and stories while specially-trained stylists expertly cut your child's hair. There's even a Magic Box that dispenses a prize at the end of every service! Beyond a traditional haircut, the salon offers a wide variety of kid-friendly spa services, ear piercing, and Snip-its professional hair care products.
Snip-its' goal is to make every child feel comfortable and has gone so far as to partner with the national organization, Autism Speaks, to develop a one-of-a-kind stylist training program to accommodate children with Autism.
You're invited to this Sunday's grand opening from 1-4 p.m. where you can take advantage of $9.99 haircuts, free face painting, temporary tattoos, treats, and prizes, including a grand prize drawing for a Value Pack of five haircuts ($120 value). The first 75 families will receive a free gift, and 10% of proceeds from the first week will be donated to ten local autism organizations throughout the community! Customers just need to mention their school name in order for that school to receive the donation.
June 10, 2018
1:00 – 4:00 PM
Westgate Center
1600 Saratoga Ave, Suite 233
West San Jose
408-475-8564