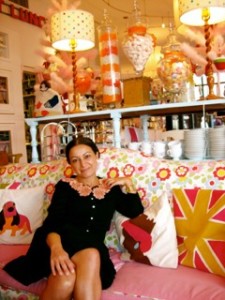 My daughter recently got invited to her first birthday party for a friend. This isn't an adult party disguised as a kid's party, like my friends and I all throw, but a party for her actual friend from preschool whose parents I don't know. It got me thinking about party planning and etiquette for kids' parties. In a stroke of luck, I just met a neighbor who plans children's parties! Simla Akyol owns It's a Piece of Cake, an award winning, custom children's party and event planning service in the Bay Area. I plied Simla with my questions about throwing children's parties. Here are her fabulous insights.
What has been your favorite event to plan?
Every event has something special about it, so in a way, they're all my favorites. I really like stretching kids' imaginations with a bit of an educational twist: travel-related themes like "International Carnival" or "Victorian Tea Parties" with little etiquette lessons are fun.
What's the most extravagant event you've planned?
Sometimes the icing on the cake for a special event is, quite literally, ice. We did a party in Marin County where we brought in snow for kids to sled, make snowmen, and have snow ball fights. We also set up an ice rink. It sure was a winter wonderland!
What party details help add a "wow factor" to a party?
Sometimes parents become consumed with coming up with "bigger and better" ideas, which is always more costly. Keep in mind that the idea is for kids to have fun. To me, properly planned, age-appropriate activities and/or entertainment is the biggest "wow factor."
What's the best way to start party planning?
•Establish The Basics — Be clear from the beginning on your date, your guest list, the order of the event, your food, drink and entertainment requirements. This way you can plan efficiently and in plenty of time.
•Keep It Simple — Make a plan and stick to it, break tasks down into smaller, more manageable steps.
•Delegate — Even if your party is a small one, don't take on everything yourself. Your guests or close family and friends will have an array of talents among them, so why not utilize them?
What is the typical order of events to keep a party running smoothly?
For school age children:
0:00-0:15 Everyone arrives
0:15-0:30 Ice breaker activities like decorating name tags or applying temporary tattoos
0:30-0:50 Arts & crafts activities
0:50-1:30 Play organized games or have a performer
1:30-2:00 Sing Happy Birthday/Cake/ Goodbyes
How far in advance should parents start planning a party, if they need to book a venue and/or entertainment?
Six to eight weeks — If you are having the party outside of your home, especially in a city like San Francisco, I'd say it's never too early to book the venue.
What are some tried and true activities for kids?
Younger children, like 3-4 year olds, have short attention spans, so I recommend keeping the party to no more than 90 minutes and moving them from activity to activity. They love treasure hunts or scavenger hunts. Music, story telling, and role playing are always the winners for this age group.
Older children like obstacle courses, hula hoop contests, and tug a war. If the party is indoors or there's not enough space for physical games, then having a performer is a must, I'd say.
What are popular alternatives to traditional goody bags?
I encourage my clients to go with one, high-quality item instead of traditional goody bags.
Useful or educational items like art kits, books, puzzles, lunch bags, pretend and play items are good choices, or have the kids make their own favors.
Many arts and crafts projects can serve as both an activity and a take-home gift item. Have party guests paint and decorate their own plant pot, then give them a little plant or some seeds to take home and grow. Most little ones will love taking care of their little plant at home, and it's a great way for them to learn responsibility. Fun and educational!
You can also go the charity route. We love to make donations in the names of the kids attending the party. Each child gets a certificate and sometimes we include an appropriate small gift to go along with the donation, like cookies from Cookies for Kids' Cancer.
It would be great for families to start more exploring more alternative ideas like this.
Are you seeing a trend of invitations requesting no gifts?
Yes definitely! Especially for kids under three years old.
When guests do bring gifts, should the birthday boy or girl open them in front of guests or wait until they've left?
Most definitely open gifts after the party! It is also a wonderful way to end a day. But please, please make sure your child knows this rule and is on board with it in advance. Pre-party reminders for this plan might be necessary.
At what age is it appropriate to have a kid-only party where the parents drop off their kids?
Six to seven years old — If parents are dropping off children, be sure you know about any food allergies or relevant medical conditions. Have parents' contact information handy and make sure you have enough adult supervision.
What's the best way to be a courteous guest at a child's birthday party?
Send your RSVP promptly and notify the host in advance, if you need to bring siblings to the party.
What one piece of advice do you make sure to share with all of your clients?
Parents can often get wrapped up in the stress of organizing and forget to have fun and enjoy the event. My piece of advice to all parents and my clients, "Please have fun at your child's party!"