It's that time of year again. Every parent has "Register for Summer Camp" on the top of their to-do list. Ugh! We hear you. And so, we put together a Summer Camp Guide to make finding the perfect camp for your little camper this year super easy. Try something new, learn a new skill, make new friends- that's what summer is all about!
This guide has two sections: San Francisco and The Peninsula so you can quickly browse your local area camps. We also have tips, comprehensive lists with ages, and sleep-away camps at the very end.
We would like to give a special thanks to all of our sponsors! If you would like to be added to this guide, please email us at info@sanfranciscomomsblog.com
Enjoy! Let's make your child one little happy camper!
San Francisco
This program is open to all junior students 8th grade and up. Come and try the sport of rowing in a fun and informative camp designed for beginners! Each camp runs for one week and includes rowing, land training, video review, nutrition, and rowing in both small and large racing shells. No experience necessary! Just bring warm exercise clothes, and a desire to learn and have fun. If you chose to do more than one week every session will also include an advance group that will pick up where they left off continuing to row better and get fitter. Camps are offered weekly starting June 2- August 11th, except for the week of July 3rd.
1 Harding Park Road San Francisco CA 94132
415-254-4828
CodeREV Kids has partnered with over 50 schools across California to bring our revolutionary tech programs to kids ages 6 – 14. Join us this summer for exciting week-long courses in Robotics, Minecraft Modding, Wild Web Design, App Creation, Game Design, 3D Modeling and more! Our classes are led by highly trained expert instructors and guarantee a low student to teacher ratio. No experience necessary, but experienced coders will still feel challenged!
One-week Camp Sessions – June 5, 12, 19, 26; July 3, 10, 17
San Francisco – Outer Sunset: Lawton K-8 School
San Francisco – Sunnyside/Glen Park: Sunnyside Elementary School
See our website for our South Bay locations!
415- 658-5915
The University of San Francisco would like to invite all baseball players 6-13 years old to our San Francisco Baseball Academy All Star Camp! Our 5-day camp will cover all aspects of the game, ranging from hitting, pitching, fielding and base running through similar techniques and drills used by the University of San Francisco Dons Baseball program. We will also cover various aspects of baseball that are translatable to everyday life. Providing campers close instruction through our small camper to counselor ratio (8:1) allows our campers to learn the game of baseball under the close supervision of our staff. Camps are offered weekly starting June 12- August 11th, except for the weeks of the June 26th and July 3rd. Camp Hours: 9:00am-3:30pm
Join us for summer learning that will help your child prevent SUMMER LOSS in Reading and Math! We will help them stay attached to learning they received last year and connect them to what's coming. We offer summer reading programs in-office, and one-on-one tutoring both in person and via Skype!
Our goal is not just to teach content; our goal is to help your child feel their strengths as a learner.
Children that believe they are strong academically are the adults that will make change in their world. Children that believe their voices and thoughts matter will be adults who speak with conviction convincingly about things that they believe in. Children that can listen to others' perspectives will be adults who are compassionate when others speak to them.
Our tutoring courses and reading programs strive to strengthen our students as strong, powerful world changers.
To Register email: jennifer@victorygardenkids.com or call: 650-632-2808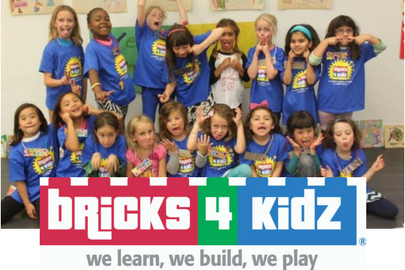 Bricks 4 Kidz's goal is to provide an opportunity for for both girls and boys to learn about fun and engaging STEM concepts that are age appropriate. By learning through play, kids can develop a passion for STEM without even knowing it. We use a mix of media besides LEGO® bricks to teach STEM concepts.
Camp locations:
Recess Urban Recreation – Potrero Hill
Peek-a-boo Factory – West Portal
STEMful-SF – Bernal Heights
Ages and dates vary per location.
30 29th Street, San Francisco
415-727-2300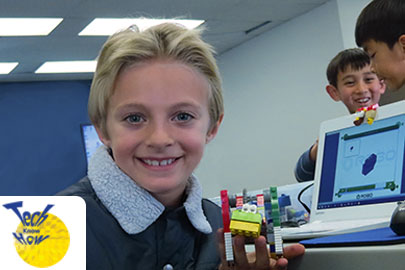 Our week-long Summer camps offer a variety of fun and enriching hands-on projects which teach students how to use technology creatively; available to students, ages 5-15, at over 20 locations in the San Francisco Bay Area. Camps include building projects with LEGO® gears and motors, Robotics with MINDSTORMS® EV3® and LEGO® WeDo®, Pokémon Game Design with Scratch®, Minecrafter's Lab, Girls Technology Camp, and Programming with Java® and Python®.
San Francisco | Diamond Heights | Shepherd of the Hills | June 6, 2017 – June 16, 2017 & July 31, 2017 – August 11, 2017
San Francisco | Noe Valley/Castro | Marin Preparatory School | June 19, 2017 – July 28, 2017
San Francisco | Sunset District | Holy Trinity Church – The Christopher Center | June 5, 2017 – June 23, 2017 & July 3, 2017 – August 11, 2017
553 Pilgrim Dr. Suite D, Foster City, CA 94404
(650) 638-0500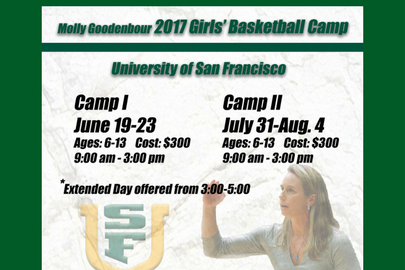 The Molly Goodenbour Basketball Camps on the campus of University of San Francisco are dedicated to providing basketball camps that are both instructional and informative along with creating in a great atmosphere to learn! The coaching staff here at University of San Francisco prides itself on teaching the game of basketball to players of all ages and ability levels.
Session I: 6/19-6/23 ~ Monday-Friday 9:00AM-3:00 PM (extended care option available)
Session II: 7/31-8/04 ~ Monday-Friday 9:00AM – 3:00 PM (extended care option available)
Location: War Memorial Gymnasium-San Francisco, CA
707- 228-4697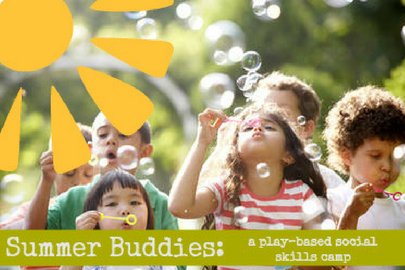 Summer Buddies is a four-week camp designed to teach, practice and reinforce social skills for students ages 4-8. Using creative weekly themes, we engage students of all abilities in music, art and facilitated social play.
Monday-Friday 8am-3pm the weeks of July 17th , 24th, 31st and August 7th
1438 38th Ave, San Francisco CA 94122
415- 463-5472
469 Hill St. San Francisco, CA 94114 (415) 337-4369
6th- 11th graders: Session I: June 26-30 Session II: July 3-7 Session III: July 17-21 Session IV: July 31-August 4
93 Moraga Ave. San Francisco, CA 94129 (415) 751-4000
Ages 3-6 and 7 &up camps run weekly June 12th – August 18th, except the week of July 3rd
2101 Taraval Street San Francisco, CA 94116 415-297-3072
Kindergarten – 5th grade camps run weekly May 30th – August 4th
San Francisco locations: Bernal/Portola, Marina, Noe, Potrero Hill, Richmond, Sunset & The Presidio 415-282-6673
Pre-K – 8th Grade. Camp runs June – August.
*MV Code Camp highlighted in Peninsula section also has a SF location!
The Peninsula
Team Esface Hoop Camp aims to inspire basketball development and build character in campers by combining structured basketball instruction, skills and drills, fun contests, and daily 5 on 5 games with innovative and embedded life lessons.

Camps: locations vary, Redwood City
Primetime Hoop Camp: Boys and Girls 6-18yrs. Weekly camps June 19th- August 11th except the weeks of July 3rd and July 24th.
AAU Elite Hoop Camp: Division 1 AAU players 11-15 yrs. Weekly camp the weeks of June 26th and July 17th.
Girls Only Hoop Camp: Girls 8-14yrs. Week of July 10th.
1155 Broadway #110 Redwood City 94603
650-644-5582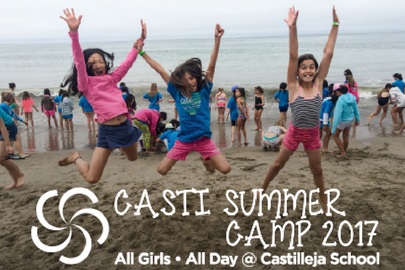 Casti Camp at Castilleja School is an all-day camp for girls entering grades 2-6 where fun, learning, and friendships are the focus. Casti Camp offers a range of age-appropriate activities including athletics, art, science, computers, writing, crafts, cooking, drama, dance and music classes each day. Our counselor-in-leadership-training (CILT) program is open to girls entering grades 7-9. Dates: Four two-week sessions from June 12 – August 4; CILTs enroll in four-week sessions.
1310 Bryant Street Palo Alto, CA 94301
650-470-7833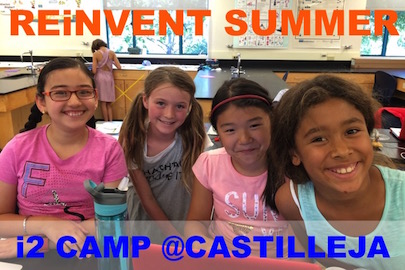 i2 creates hands-on STEM camps for girls ages 9-13 with courses in life sciences, engineering, programming, and more. Courses have been designed in close partnership with many of the world's leading STEM organizations, including MIT, the US Naval Academy, Bose, and the Raspberry Pi Foundation. Dates: Five one-week sessions from June 19 – July 21.
1310 Bryant Street Palo Alto, CA 94301
650-470-7833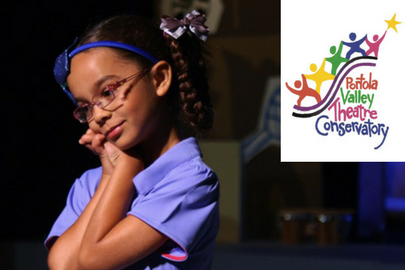 Make friends, tell great stories, and participate in an awesome summer camp experience! Check out the variety of offerings for students in Pre-K through High School and register today! Our 2017 summer theme is "Rise Up"! We will be exploring what it means to take your future in your own hands and run with it! Internships available for high school students.
Camp Sessions:
Session I (June 19th – July 14th) – The Lion King JR (grades 4-8) Session II (July 17th – July 28th) – 101 Dalmatians KIDS (grades 1-6) Session II (July 17th – July 28th) – Urinetown (grades 9-12) Session II (July 17th – July 28th) – Tech Camp (grades 6-8) Session III (July 31st – Aug. 11th) – Hamlet (grades 6-9) Session III (July 31st – Aug. 11th) – The Lion King KIDS (grades 1-5) Session IV (Aug. 14th-18th) – Storybook Theatre (ages 3-5) Session IV (Aug. 14th-18th) – Musical Theatre Review (grades 1-4)
945 Portola Road Portola Valley, CA 94028
650- 851-8282 ext. 105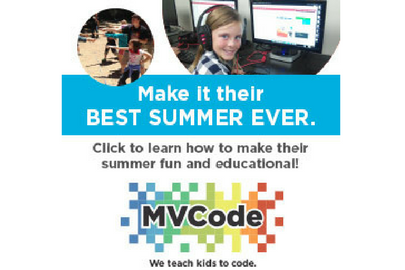 Week long camps run all summer teaching coding, robotics, Minecraft plugins, and web and game development for students in 1st-8th grade. Campers also participate in daily outdoor play – fun team building activities and games. Prepare your Child for the future – while having fun!
928 Woodside Road, Redwood City, CA
3236 Geary Blvd, San Francisco, CA
415-569-2112
*TechKnowHow Camp and Camp Edmo highlighted in SF section also have Peninsula locations!