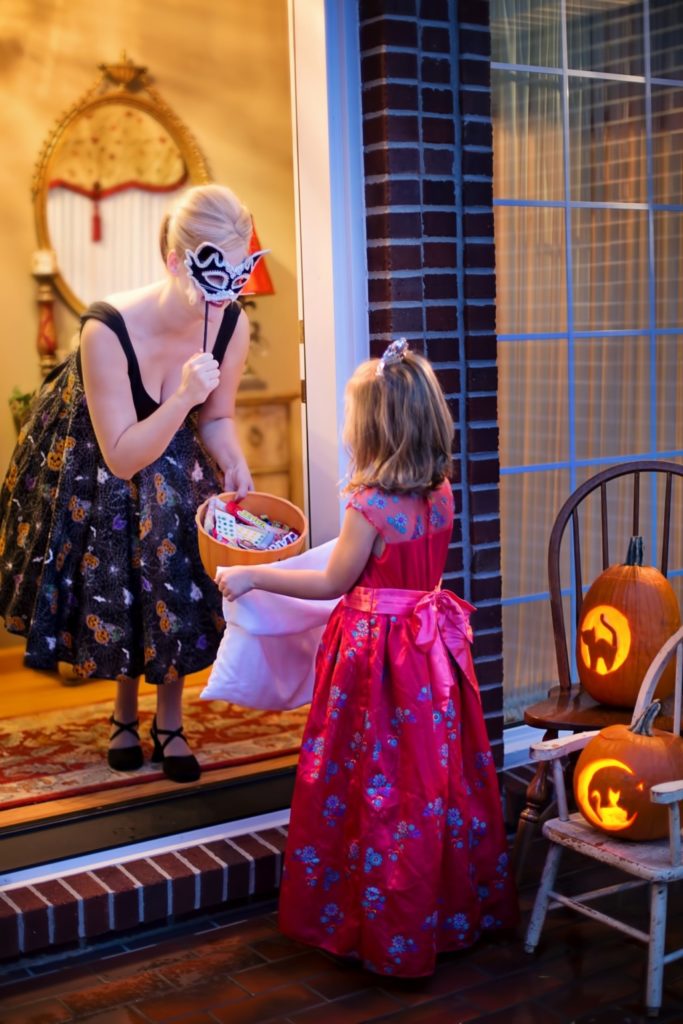 In the twelve years I've lived in San Francisco, I've had one trick-or-treater visit me on Halloween. The lack of doorbell rings wasn't a big deal before having kids, but now that my children are at a prime trick-or-treating age, it's time to figure out exactly where families in the city are going to show off their adorablely costumed kids and collect their treats. It turns out that there are lots of places to go trick-or-treating around San Francisco and Zillow even named us the best city for trick-or-treating in 2017!
I've polled moms from around the city, and here's the scoop:
Where
Click on the name of each neighborhood below to pull up a Google map showing where it's located in the city or check out our interactive map at the end to find the hot spots closest to you.
When
I haven't gotten a straight answer out of anyone on what time trick-or-treating actually begins. Some businesses hand out candy all day, which is ideal for younger children. By 5:00 PM, you'll see a lot of people out on the streets and by 6:00 PM, it'll be really packed. Find out even more details about the trick or treating in your area by asking local moms in your neighborhood.
Join Your Facebook Neighborhood Group
What else
If you happen to live in one of these trick-or-treating meccas, consider handing out food-allergy friendly treats and putting your name on the Teal Pumpkin Project map.
And remember to check out our guide to pumpkin patches and October events for more fall fun and Halloween activities.
Trick-or-Treating Hot Spots By Neighborhood
Bernal Heights: The shops on Cortland hand out candy. Also check out the area around Precita Park on Treat St.
Cole Valley:  Belvedere St. is shut down to cars because this street will be packed with trick-or-treaters.
Forrest Hill:  This neighborhood off of Portola Dr. and Laguna Honda Blvd. will have trick or treaters all over.
Glen Park:  Chenery between the central town area and Glen Park Canyon and Randall St are sure bets.
Hayes Valley: Trick-or-treat at local stores along and around Octavia Blvd. from 4-6pm. Pick up your map at Hayes Valley Art Works to know which merchants are participating.
Jordan Park/ Laurel Heights: Jordan and Commonwealth Avenues between Geary and Euclid are closed to traffic.
Lake St. District: Walk along Lake St from 7th Ave to 22nd Ave. There will be plenty of kids all along the way.
Marina: Halloween Party at Moscone Recreation Center (1800 Chestnut Street) from 10 a.m. to noon for kids under 5 years old. There will be a neighborhood costume parade, merchant trick-or-treating and activities at the rec center for tots! Avila St. is closed off to traffic later in the day.
Miraloma Park: Rockdale Drive and Chaves (opposite direction from Miraloma Elementary school) is the place to go. Juanita Way near Chaves usually has houses ready for trick-or-treaters with way less of a crowd.
Mission:  Meet at the fire station on Shotwell & 19th St at 5:30 for trick-or-treating fun. Trick-or-treating will continue on Shotwell St between 19th & 22nd St; Cumberland St. between Guerrero and Dolores should be closed to cars.
Noe Valley:  Fair Oaks St. is blocked off around 22nd St., and walk along 24th St between Diamond and Church Streets. The shops on 24th St hand out candy, and you'll notice which side streets are trick-or-treater ready.
NoPa: The neighborhood association has a party on Grove St. that's closed off to car traffic.
Pacific Heights: Jackson St. is the place to go for trick or treating fun the whole family will enjoy. Fillmore Street merchants also hand out candy during business hours.
Potrero Hill: The shops on 18th St. give out candy and many homes do, too.
Presidio Heights: Try the cul-de-sac of Presidio Terrace (closed to the public in 2020), then walk down Washington St. or trick-or-treating along the businesses on Sacremento Street from 3:00-5:30pm.
The Richmond (Inner): Trick or treat at the merchants along Clement St. between Park Presidio Blvd and Arguello from 2-6pm. Spot the stencils on the sidewalk for treats!
Russian Hill:  Leavenworth St. between Filbert and Lombard St. will have decorated houses ready for you.
St. Francis Wood: You'll see lots of trick-or-treaters all over the neighborhood, which is bordered by Portola Dr. and Monterey Blvd.
Sea Cliff: Anywhere within this small enclave between 27th and 32nd Aves north of California St.
SoMa: The shops inside the Westfield Mall hand out candy, and the mall's food court makes dinner a no-brainer.
Sunset: 28th Ave between Lincoln and Irving; Wawona St. near Pine Lake Park is the spot. Stonestown Galleria hosts trick-or-treating from 5-7pm on Halloween as well.
West Clay Park: This tiny street off of Lake St. at the eastern start of Sea Cliff goes all out for the holiday.
West Portal:  This family-friendly neighborhood will have plenty of trick-or-treaters. Visit the shops on West Portal Ave and follow the crowds.
Did we miss some? Drop us a line on Facebook or comment below, and we'll update the list.
Happy Halloween!